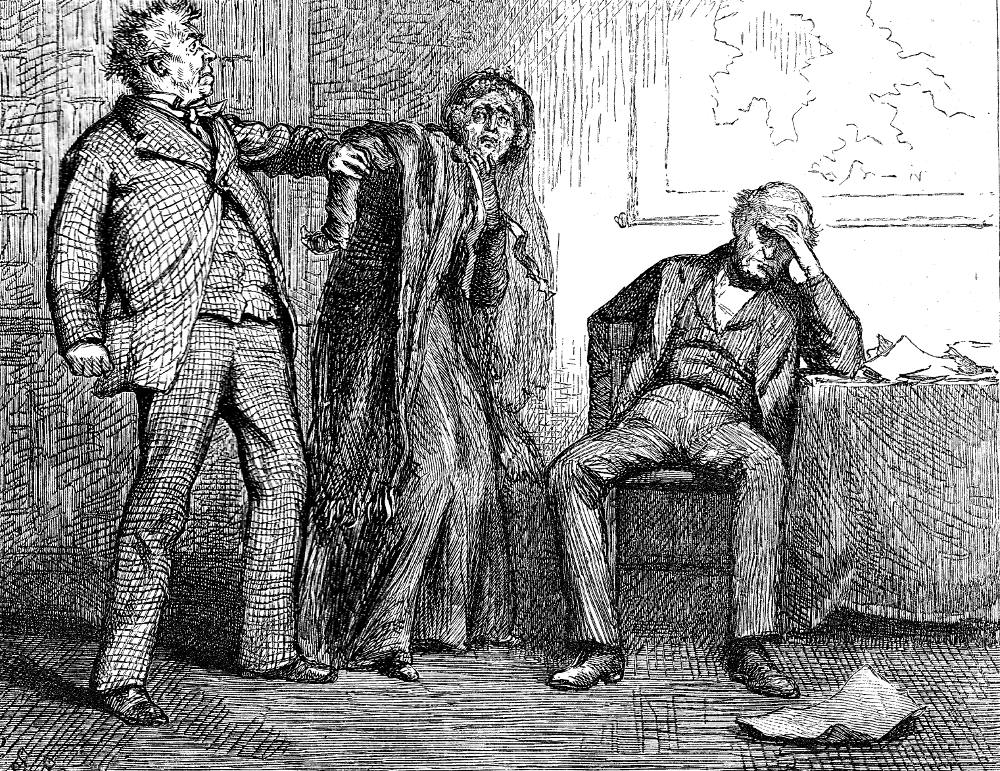 "If you can't get it out, Ma'am," said Bounderby, "Leave me to get it out" by Charles S. Reinhart. 13.1 cm wide by 10.3 cm high. This plate illustrates "Garnering," Chapter Three, "Very Decided" in Charles Dickens's Hard Times (American Household Edition, 1876), 208. Running heads: "A Classical Ruin" (207) and "Josiah Bounderby, of Coketown" (209).
Context of the Illustration: The Breakup of the Bounderbys' Marriage
"Tom Gradgrind," replied Bounderby, knocking the flat of his hand several times with great vehemence on the table, "I speak of a very special messenger that has come to me, in reference to Louisa. Mrs. Sparsit, ma'am, stand forward!"
That unfortunate lady hereupon essaying to offer testimony, without any voice and with painful gestures expressive of an inflamed throat, became so aggravating and underwent so many facial contortions, that Mr. Bounderby, unable to bear it, seized her by the arm and shook her.
"If you can't get it out, ma'am," said Bounderby, "leave me to get it out. This is not a time for a lady, however highly connected, to be totally inaudible, and seemingly swallowing marbles. Tom Gradgrind, Mrs. Sparsit latterly found herself, by accident, in a situation to overhear a conversation out of doors between your daughter and your precious gentleman-friend, Mr. James Harthouse."
"Indeed!" said Mr. Gradgrind.
"Ah! Indeed!" cried Bounderby. "And in that conversation —"
"It is not necessary to repeat its tenor, Bounderby. I know what passed."
"You do? Perhaps," said Bounderby, staring with all his might at his so quiet and assuasive father-in-law, "you know where your daughter is at the present time!"
"Undoubtedly. She is here." [Book Three, "Garnering," Chapter Three, "Very Decided," 207]
Commentary
The chapter's initial setting is Mr. Bounderby's recently-rented suite in a London hotel in St. James's Street, a locale possibly so designated by Dickens because the St. James of the first century was called both "The Just" and "The Lord's Brother" in The New Testament; shortly back at Coketown, poetic justice will be meted out upon two of the story's villains: the indignant Bounderby and his malicious agent, "The Bank Fairy."
In a triply comedic comuppance, Sissy has already dismissed James Harthouse; now Bounderby (Gradgrind's brother-in-arms in the Hard Fact political faction) dismisses Mrs. Sparsit, while Gradgrind (depicted here in a much less distorted and more normal form than in previous Reinhart plates) at last accepts the error of his anti-sentiment stance. The sketchily realised map of the world behind Gradgrind may be intended to suggest that, because he paid it too little attention, his own domestic world is collapsing about him. His hand to his brow (to ease the pain, or perhaps to block out the quarrel between Bounderby and Mrs. Sparsit), the exhausted father takes upon himself the blame for the marital breakup as he openly concedes to his indignant son-in-law that his daughter has just left, and that "we are all liable to mistakes" (Book III, Ch. 3).
Finally, the formerly "indefatigible" Mrs. Sparsit cringes before Bounderby, who of course is looking for someone other than himself to blame for Louisa's humiliating him publicly by running off with Harthouse (he has not yet received Gradgrind's letter announcing the breakup of the marriage, and is still crediting Mrs. Sparsit's account of events). The "classical ruin" and "The Bully of Humility" have returned to Coketown by train and driven by coach to Stonelodge, in the study of which Reinhart has set the twelfth plate. Here he calls upon Mrs. Sparsit to recount for his father-in-law the conversation between his daughter and his "precious gentleman-friend" (207). Bounderby's being disabused of his wife's conduct and his learning of her having returned to Stonelodge have already occurred before we encounter the illustration, which therefore underscores Bounderby's acting in ignorance of the facts and his misplaced faith in Mrs. Sparsit's account. Bounderby has asked for her aplogy for her "Cock-and-a-Bull" fabrication, but Mrs. Sparsit has taken refuge in tears. In fact, by the time we reach page 208 he has already led her to a waiting coach, and has dismissed her from his service.
Scanned image and text by Philip V. Allingham [You may use this image without prior permission for any scholarly or educational purpose as long as you (1) credit the person who scanned the image and (2) link your document to this URL in a web document or cite the Victorian Web in a print one.]
Bibliography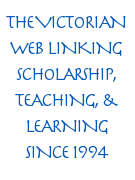 Dickens, Charles. Hard Times for These Times. Illustrated by C. S. Reinhart. The Household Edition. New York: Harper and Brothers, 1876.
_______. Hard Times for These Times. Illustrated by Harry French. The Household Edition. London: Chapman and Hall, 1877.
Houfe, Simon. The Dictionary of Nineteenth-Century British Book Illustrators and Caricaturists. Woodbridge, Suffolk: Antique Collectors' Club, 1978.
Pennell, Joseph. The Adventures of An Illustrator Mostly in Following His Authors in America and Europe. Boston: Little, Brown & Co., 1925.
---
Created 22 October 2002

Last modified 1 August 2020