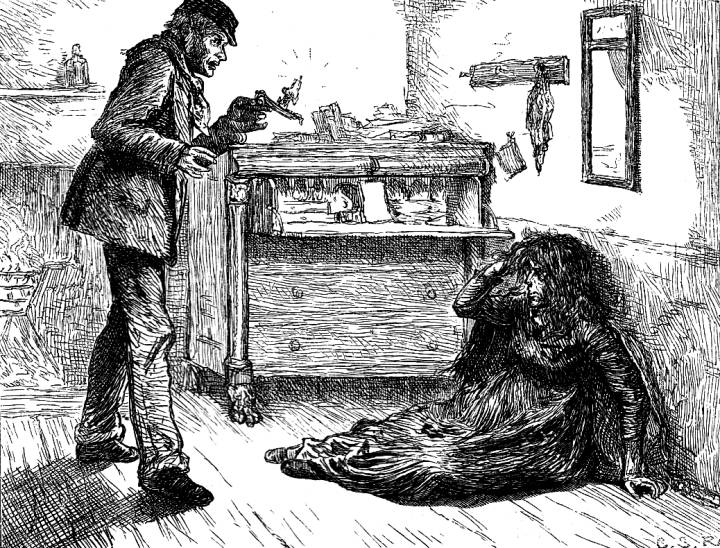 "Heaven's Mercy, Woman! . . . .Hast Thou Come Back Again!" by Charles S. Reinhart (1844-1896). 13.5 cm wide by 10 cm high (horizontally. This plate illustrates Book One, end of Chapter Ten, "Stephen Blackpool." Charles Dickens's Hard Times, which appeared in American Household Edition, 1870. P. 146.
Having bidden his friend Rachael goodnight after their day at the factory, Stephen, his cap still on, enters his room above a little shop and lights a candle to discover that his slatternly wife, an opium addict and alcoholic, has returned. Significantly, in the text he "stumbles" against her (presumably she is on the floor), for she is the stumbling block to his relationship with Rachael and to his having a normal family life. Normally, the eye first moves towards the principal figures in an illustration and then notes the background details, but here Reinhart has fcussed our attention on the bureau with its lion's-paw legs, to which we are introduced simultaneously through the letter-press at the top of the page and in the plate. In contrast to the room at The Pegusus's Arms in the previous illustration, this room has been personalised with books and papers on a desk in the corner of the room (right), ands is lit by a fireplace (left). "A few books and writings were on an old bureau in a corner, the furniture was decent and sufficient" (Ch. 10). These personal objects, however, Reinhart has but sketchily shown (and omitted entirely the three-legged table beside which Mrs. Blackpool has fallen) because his emphasis is on the figures of the honest mechanic, candle held in his upstage (left) hand, and his quasi-human wife, steadying herself with her left hand as she pushes the tangled hair from her face with her right (upstage) hand, as in the letter-press. Though her face in plate 4 is "stolid and drowsy" (Ch. 10) as Dickens remarks, we have no sense of her swaying to and fro, nor of her gesticulating. The moral infamy with which Dickens invests her we intuit from her general blackness, her cat-like face hidden behind a veil of uncombed hair, and the claw-like left hand which echoes the claw-like foot of the bureau.
Reinhart's own background is worth noting in connection with his sympathetic treatment of Stephen Blackpool, for as a young man in his native Pittsburgh he was employed in railway work and at a steel factory, before he left America to study art in Paris and Munich.
Scanned image and text by Philip V. Allingham [You may use this image without prior permission for any scholarly or educational purpose as long as you (1) credit the person who scanned the image and (2) link your document to this URL in a web document or cite the Victorian Web in a print one.]
Bibliography
"Charles S. Reinhart." 1911Encylopedia.org. Web. 1902.
---
Created 10 October 2002

Last modified 6 January 2020