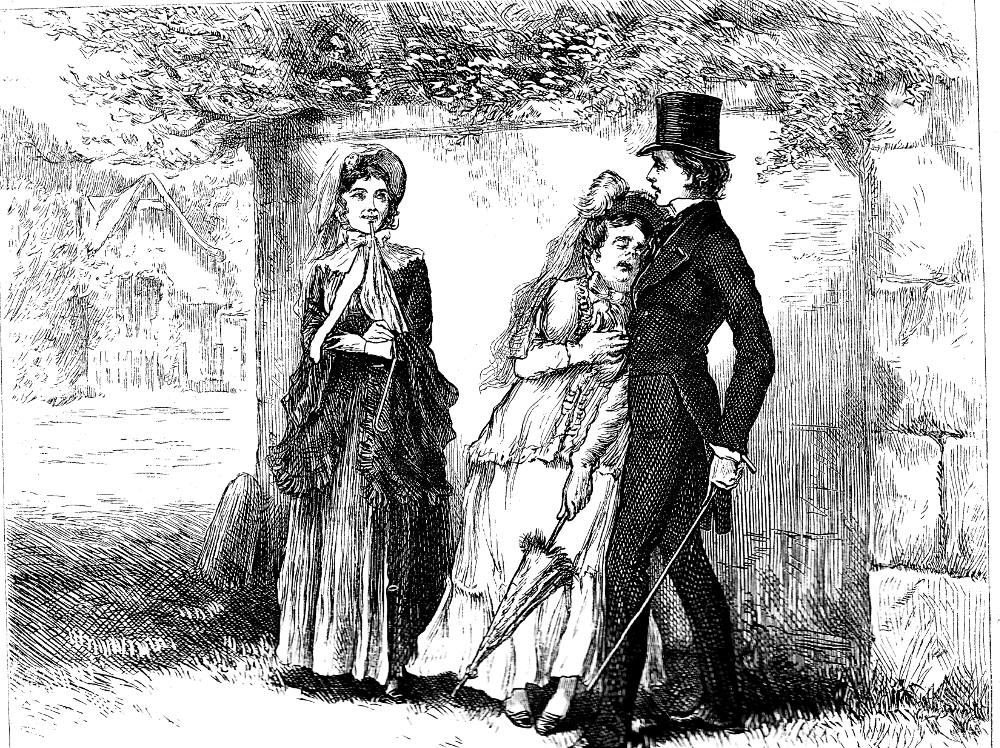 "Dear me," said Nicholas as the brown bonnet went down on his shoulder again [Page 66] by Charles Stanley Reinhart (1875), in Charles Dickens's The Life and Adventures of Nicholas Nickleby, Harper & Bros. New York Household Edition, for Chapter XII. 9.3 x 13.4 cm (3 ¾ by 5 ¼ inches), framed. Running head: "Miss Squeers in a tender frame of mind" (65). [Click on the image to enlarge it.]
Passage Illustrated: Fanny working hard at entrapping Nicholas
"There; he says it was not his fault, my dear," remarked the wicked Miss Price. "Perhaps you were too jealous, or too hasty with him? He says it was not his fault. You hear; I think that's apology enough."
"You will not understand me," said Nicholas. "Pray dispense with this jesting, for I have no time, and really no inclination, to be the subject or promoter of mirth just ow."
"What do you mean?" asked Miss Price, affecting amazement.
"Don't ask him, 'Tilda," cried Miss Squeers; "I forgive him."
"Dear me," said Nicholas, as the brown bonnet went down on his shoulder again, "this is more serious than I supposed. Allow me! Will you have the goodness to hear me speak?"
Here he raised up the brown bonnet, and regarding with most unfeigned astonishment a look of tender reproach from Miss Squeers, shrunk back a few paces to be out of the reach of the fair burden, and went on to say:
"I am very sorry — truly and sincerely sorry — for having been the cause of any difference among you, last night. I reproach myself, most bitterly, for having been so unfortunate as to cause the dissension that occurred, although I did so, I assure you, most unwittingly and heedlessly."
"Well; that's not all you have got to say surely,' exclaimed Miss Price as Nicholas paused.
"I fear there is something more," stammered Nicholas with a half-smile, and looking towards Miss Squeers, "it is a most awkward thing to say — but — the very mention of such a supposition makes one look like a puppy — still — may I ask if that lady supposes that I entertain any — in short, does she think that I am in love with her?" [Chapter XII, "Whereby the Reader will be enabled to trace the further course of Miss Fanny Squeer's Love, and to ascertain whether it ran smooth or otherwise," 65]
Related material by other illustrators (1838 through 1910)
Scanned image, colour correction, sizing, caption, and commentary by Philip V. Allingham. [You may use this image without prior permission for any scholarly or educational purpose, as long as you (1) credit the person who scanned the image, and (2) link your document to this URL in a web document or cite the Victorian Web in a print one.]
Bibliography
Barnard, J. "Fred" (il.). Charles Dickens's Nicholas Nickleby, with fifty-nine illustrations. The Works of Charles Dickens: The Household Edition. 22 vols. London: Chapman and Hall, 1875. Volume 15. Rpt. 1890.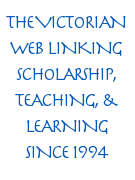 Dickens, Charles. The Life and Adventures of Nicholas Nickleby. With fifty-two illustrations by C. S. Reinhart. The Household Edition. New York: Harper & Brothers, 1875.
__________. "Nicholas Nickleby." Scenes and Characters from the Works of Charles Dickens, being eight hundred and sixty-six drawings by Fred Barnard et al.. Household Edition. London: Chapman and Hall, 1908.
---
Created 12 April 2021