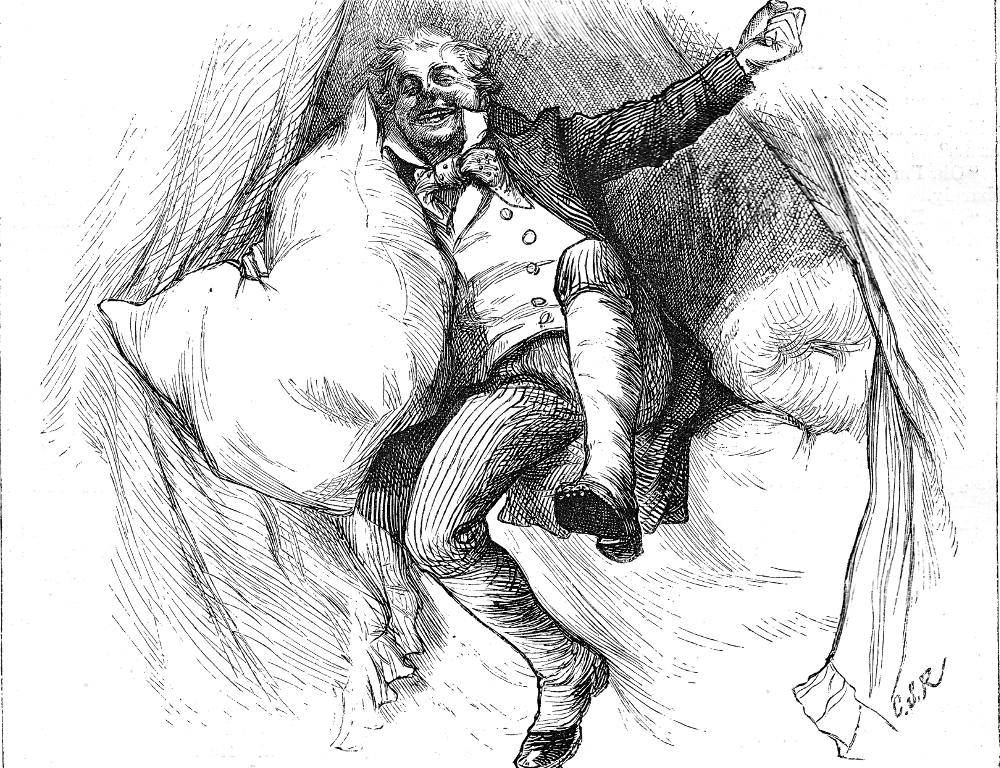 John was sitting on the bed, with the reddest face ever seen [Page 213] by Charles Stanley Reinhart (1875), in Charles Dickens's The Life and Adventures of Nicholas Nickleby, Harper & Bros. New York Household Edition, for Chapter XXXIX. 10.7 x 13.6 cm (4 ¼ by 5 ⅜ inches), framed. Running head: "Smike Makes Off" (215). [Click on the images to enlarge them.]
Passage Illustrated: John Browdie effects Smike's escape through subterfuge
Mrs. Browdie, however, without discovering any great alarm, observed that she had seen him so once before, and that although he was almost sure to be ill after it, it would not be anything very serious, and therefore he was better left alone.
The result proved her to be perfectly correct for, while they were all sitting in Mr. Snawley's parlour that night, and just as it was beginning to get dusk, John Browdie was taken so ill, and seized with such an alarming dizziness in the head, that the whole company were thrown into the utmost consternation. His good lady, indeed, was the only person present, who retained presence of mind enough to observe that if he were allowed to lie down on Mr. Squeers's bed for an hour or so, and left entirely to himself, he would be sure to recover again almost as quickly as he had been taken ill. Nobody could refuse to try the effect of so reasonable a proposal, before sending for a surgeon. Accordingly, John was supported upstairs, with great difficulty; being a monstrous weight, and regularly tumbling down two steps every time they hoisted him up three; and, being laid on the bed, was left in charge of his wife, who, after a short interval, reappeared in the parlour, with the gratifying intelligence that he had fallen fast asleep.
Now, the fact was, that at that particular moment,John Browdie was sitting on the bed with the reddest face ever seen, cramming the corner of the pillow into his mouth, to prevent his roaring out loud with laughter. He had no sooner succeeded in suppressing this emotion, than he slipped off his shoes, and creeping to the adjoining room where the prisoner was confined, turned the key, which was on the outside, and darting in, covered Smike's mouth with his huge hand before he could utter a sound. [Chapter XXXIX, "In which another old Friend encounters Smike, very opportunely and to some Purpose," 213-214]
Commentary: John Browdie's Delight at Putting One Over on Squeers
This is all a North Country ruse to help Smike escape from the locked room in Squeers's lodgings. John's pretended indisposition has enabled him to climb into Squeers's bed. Now he can barely contain his joy at outsmarting the schoolmaster, and must stuff the corner of the pillow into his mouth to stifle his laughter. Reinhart takes a different approach from that of his transAtlantic co-worker, Fred Barnard, by offering a character study of the jovial dialectal characte, focussing on him rather than on his helping Smike escape from Squeers's clutches. The reader's delight in Browdie's besting Squeers and effecting Smike's escape is enhanced by Reinhart's portrait of the triumphant Yorkshireman in Squeers's own bed, celebrating his strategic victory over the repressive schoolmaster.
Other Editions' Versions of the Jovial John Browdie (1867-1876)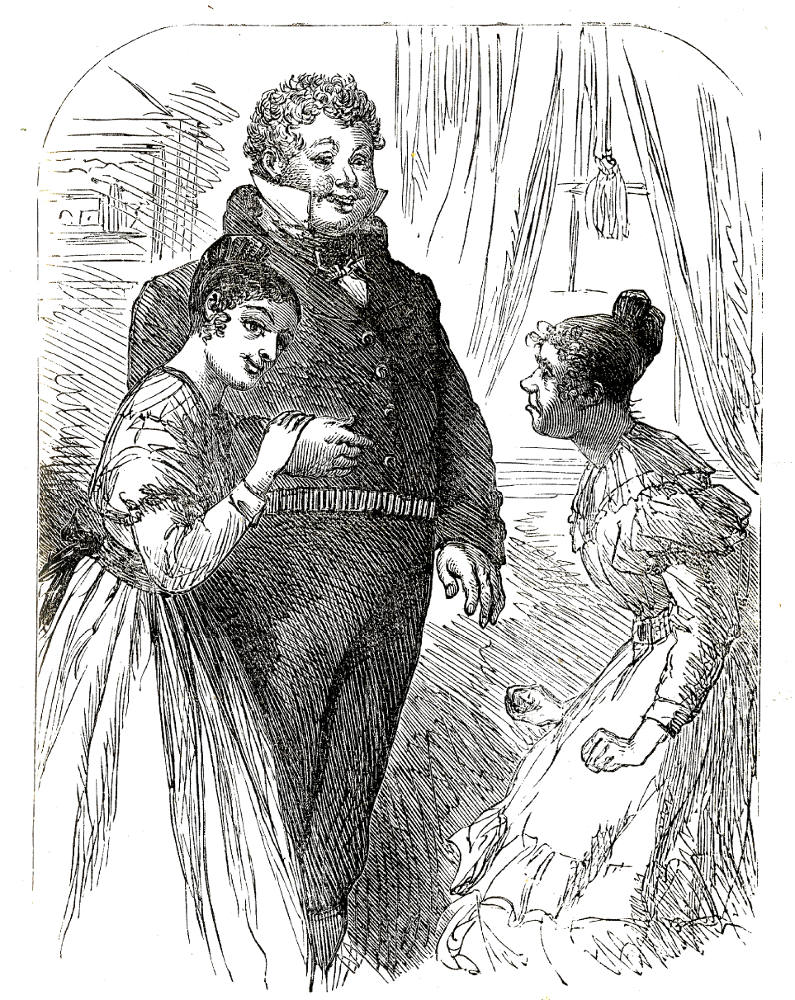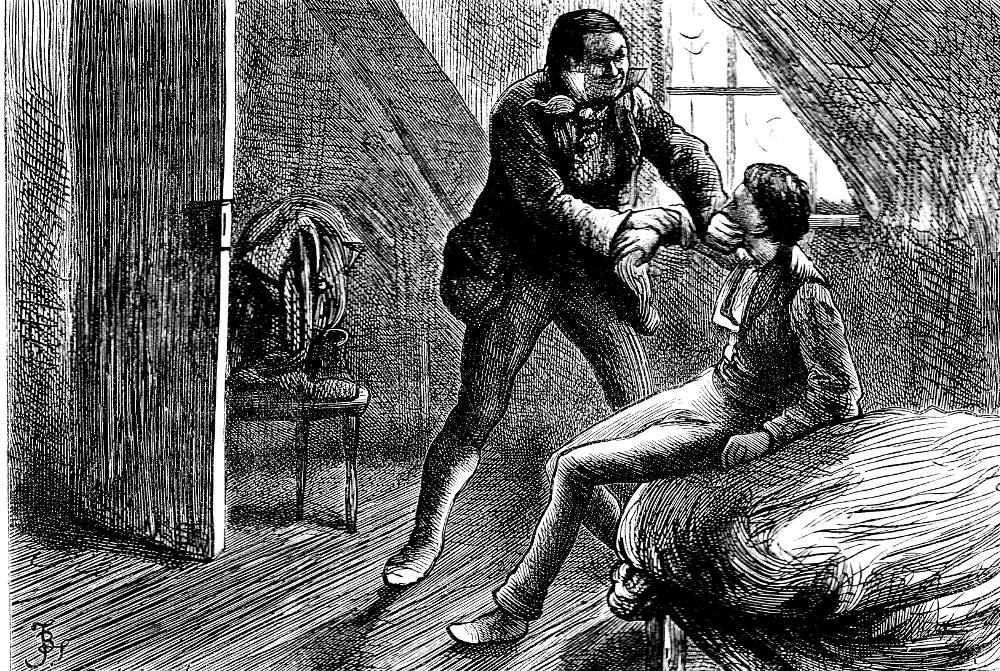 Left: Sol Eytinge, Jr.'s Diamond Edition study of the jolly Yorkshireman, his wife, and her best friend: John and Mrs. Browdie and Fanny Squeers (1867). Right: Fred Barnard's British Household Edition interpretation of John's facilitating Smike's escape: Darting in, covered Smike's mouth with his huge hand before he could utter a sound (1875).
Related material by other illustrators (1838 through 1910)
Scanned image, colour correction, sizing, caption, and commentary by Philip V. Allingham. [You may use this image without prior permission for any scholarly or educational purpose, as long as you (1) credit the person who scanned the image, and (2) link your document to this URL in a web document or cite the Victorian Web in a print one.]
Bibliography
Barnard, J. "Fred" (il.). Charles Dickens's Nicholas Nickleby, with fifty-nine illustrations. The Works of Charles Dickens: The Household Edition. 22 vols. London: Chapman and Hall, 1875. Volume 15. Rpt. 1890.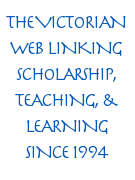 Dickens, Charles. The Life and Adventures of Nicholas Nickleby. With fifty-two illustrations by C. S. Reinhart. The Household Edition. New York: Harper & Brothers, 1875.
__________. "Nicholas Nickleby." Scenes and Characters from the Works of Charles Dickens, being eight hundred and sixty-six drawings by Fred Barnard et al.. Household Edition. London: Chapman and Hall, 1908.
Schweitzer, Maria. "Jean Margaret Davenport." Ambassadors of Empire: Child Performers and Anglo-American Audiences, 1800s-1880s. Accessed 19 April 2021. Posted 7 January 2015.
---
Created 29 August 2021