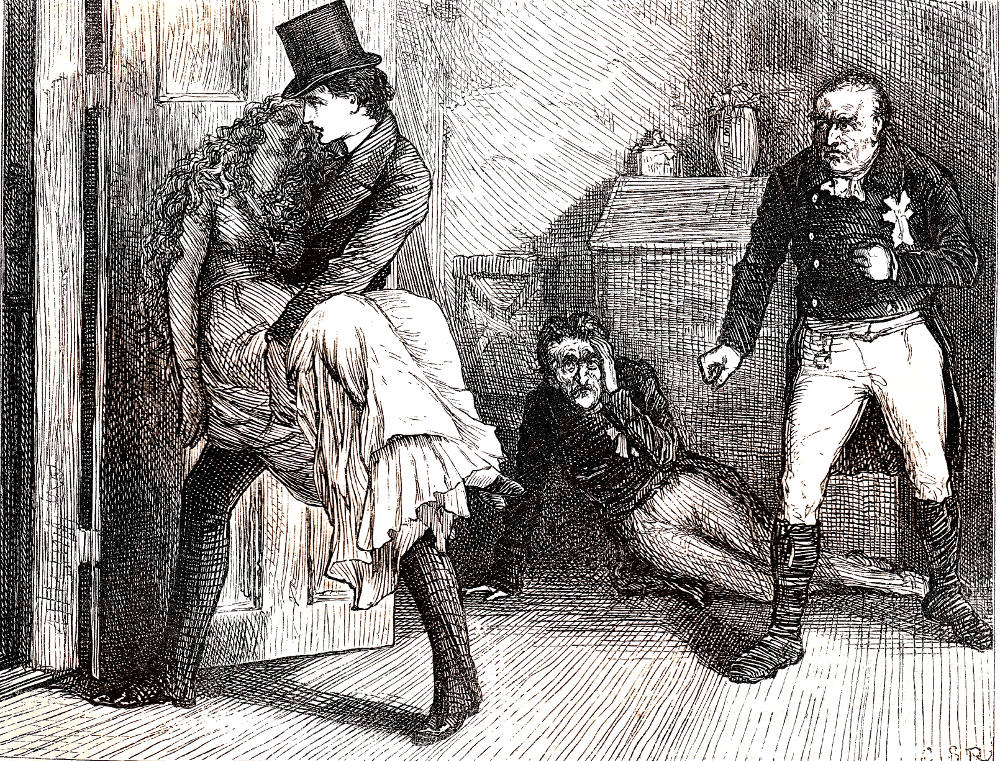 And then, taking the beautiful burden in his arms, rushed out. [Page 295] by Charles Stanley Reinhart (1875), in Charles Dickens's The Life and Adventures of Nicholas Nickleby, Harper & Bros. New York Household Edition, for Chapter LIV. 10.4 x 13.6 cm (4 by 5 ⅜ inches), framed. Running head: "Death of bray" (295). [Click on the images to enlarge them.]
Passage Illustrated: Nicholas Absconds with Gride's Bride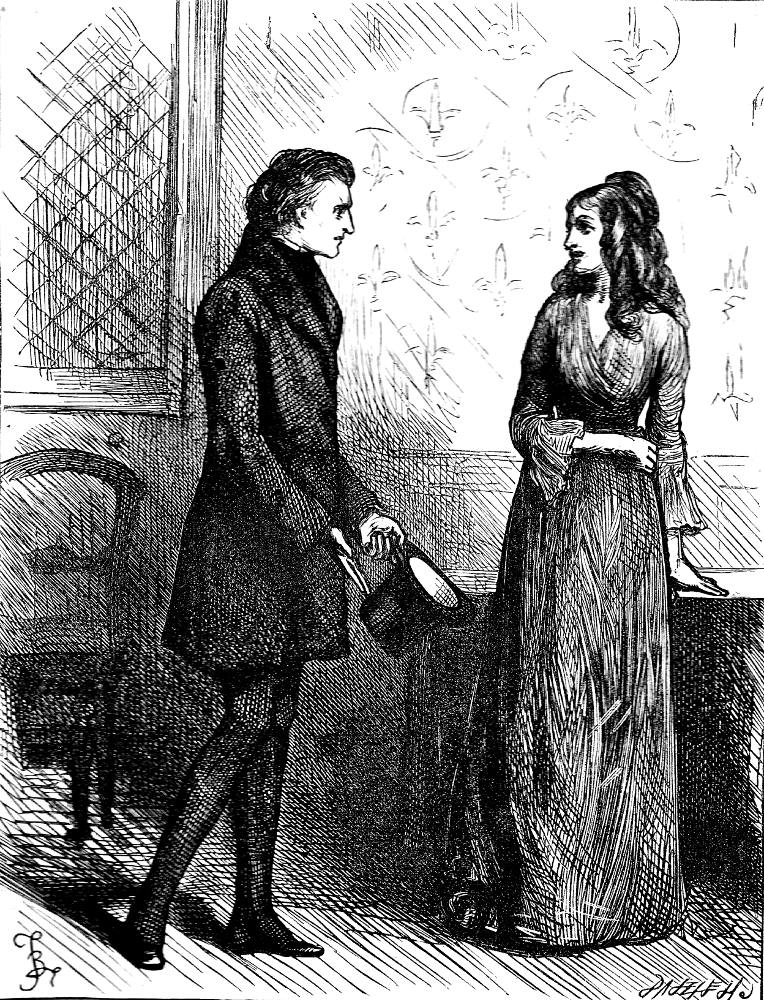 Above: Fred Barnard's 1875 woodblock engraving of Nicholas's entreating Madeline not to go through with the marriage: "I must beseech you to contemplate again the fearful curse to which you have been impelled." (1875)
"This man," said Ralph, in a voice scarcely intelligible, "this man claims his wife, and he shall have her."
"That man claims what is not his, and he should not have her if he were fifty men, with fifty more to back him," said Nicholas.
"Who shall prevent him?"
"By what right I should like to know," said Ralph. "By what right I ask?"
"By this right. That, knowing what I do, you dare not tempt me further," said Nicholas, "and by this better right; that those I serve, and with whom you would have done me base wrong and injury, are her nearest and her dearest friends. In their name I bear her hence. Give way!"
"One word!" cried Ralph, foaming at the mouth.
"Not one," replied Nicholas, "I will not hear of one — save this. Look to yourself, and heed this warning that I give you! Your day is past, and night is comin' on."
"My curse, my bitter, deadly curse, upon you, boy!"
"Whence will curses come at your command? Or what avails a curse or blessing from a man like you? I tell you, that misfortune and discovery are thickening about your head; that the structures you have raised, through all your ill-spent life, are crumbling into dust; that your path is beset with spies; that this very day, ten thousand pounds of your hoarded wealth have gone in one great crash!"
"'Tis false!" cried Ralph, shrinking back.
"'Tis true, and you shall find it so. I have no more words to waste. Stand from the door. Kate, do you go first. Lay not a hand on her, or on that woman, or on me, or so much a brush their garments as they pass you by! — You let them pass, and he blocks the door again!"
Arthur Gride happened to be in the doorway, but whether intentionally or from confusion was not quite apparent. Nicholas swung him away, with such violence as to cause him to spin round the room until he was caught by a sharp angle of the wall, and there knocked down; and then taking his beautiful burden in his arms rushed out. No one cared to stop him, if any were so disposed. Making his way through a mob of people, whom a report of the circumstances had attracted round the house, and carrying Madeline, in his excitement, as easily as if she were an infant, he reached the coach in which Kate and the girl were already waiting, and, confiding his charge to them, jumped up beside the coachman and bade him drive away. [Chapter LIV, ""The Crisis of the Project and its Result," 297]
Commentary: Nicholas absconds with Gride's Bride
The plate's title lends a further degree of irony to the climactic moment since Nicholas and death providentially rescue Madeline Bray from Gride's clutches as once again Nicholas frustrates his uncle's designs. The melodramatic nature of the scene in chapter 54, "The Crisis of the Project, and its Result," so obvious in the rhetoric of Nicholas as he cows the misers, is also reflected in the physical disposition and poses of the characters in Phiz's plate. Thus, text and illustration work together to underscore a memorable moment in the main plot. While the indignant youth (centre) attempts to comfort Madeline Bray (her limp hand signifying her unconsciousness) with his left hand, he denounces the two malignant plotters (Ralph Nickleby and Arthur Gride, left) as "Wretches" with his right hand.
The melodramatic sequence beginds with the arrival of the aged groom and his best man to collect their prize at Bray's apartments near the King's Bench Prison. Madeline's father, conflicted about granting his permission for the marriage, had retired with his daughter when Nicholas and Kate unexpectedly arrived, just before a thump on the floor above them announces Bray's collapse. Bray has died of either stroke or heart attack, presumably as a result of the stress engendered by the insupportable situation. The precise moment that Phiz has realized is when, having carried Madeline insensible downstairs to be ministered to by his sister (identified by her bonnet in the illustration) and tearful servant (right), as the virtuous hero of the melodrama Nicholas notes that the villainous Gride's hold over Bray has miraculously come to an end: "That the bond, due today at twelve, is now waste paper. That your contemplated fraud shall be discovered yet. That your schemes are known to man, and overthrown by Heaven. Wretches, that he defies you both to do your worst!" (Part 17, August 1839).
The theatrical composition of the vertically-oriented illustration focuses the reader's attention on the commanding posture and gestures of the protagonist by placing him in the centre and his adversaries to the left. The bridegroom and his best man, still wearing "a couple of large white favours" pinned to their coats, look faintly ridiculous as well as cowed. Phiz emphasizes their wrinkled, shrunken visages in contrast to Nicholas's youthful countenance and manly demeanour. Implausible as this plot gambit may sound, Dickens prepares us for it through Bray's mentioning a dream he had about the floor falling away from under him as he was about to escort Madeline to the ceremony.
Relevant Illustrations from Earlier Editions (1839-1875)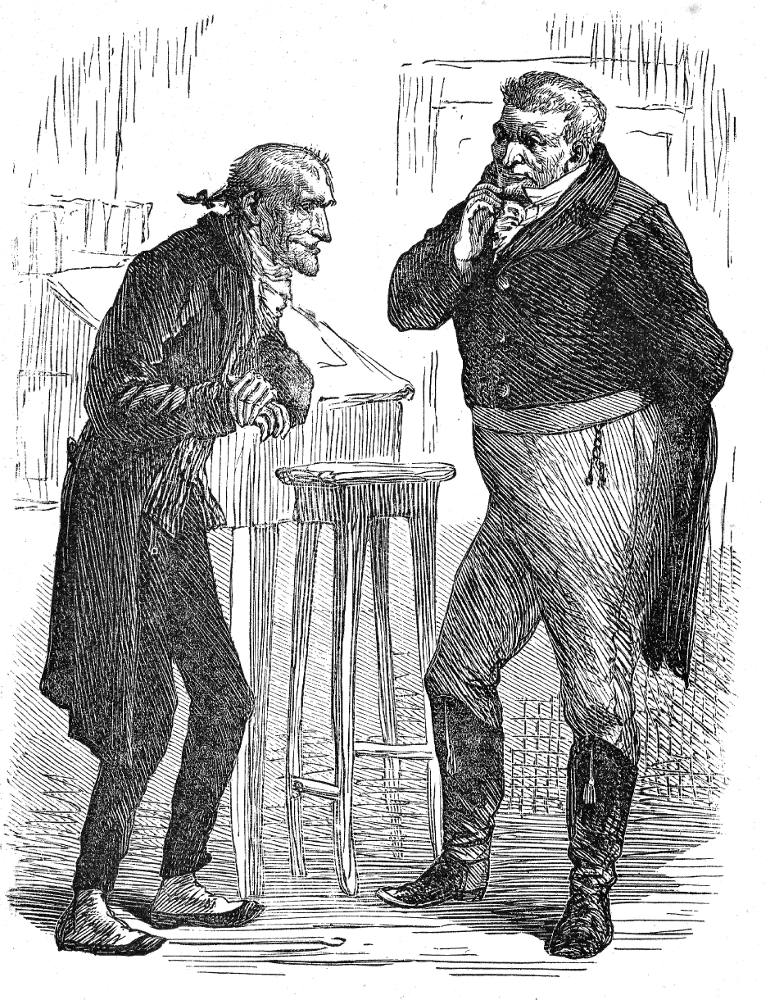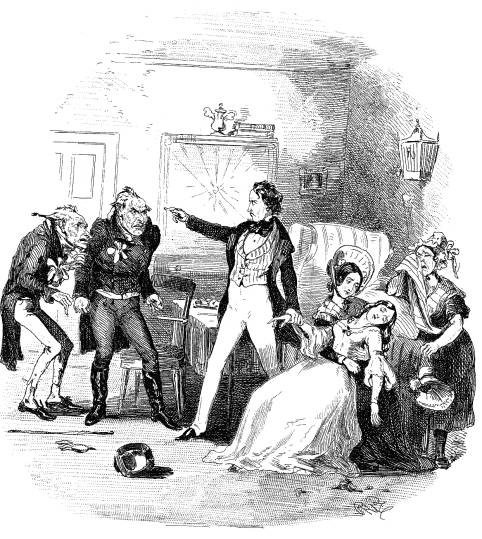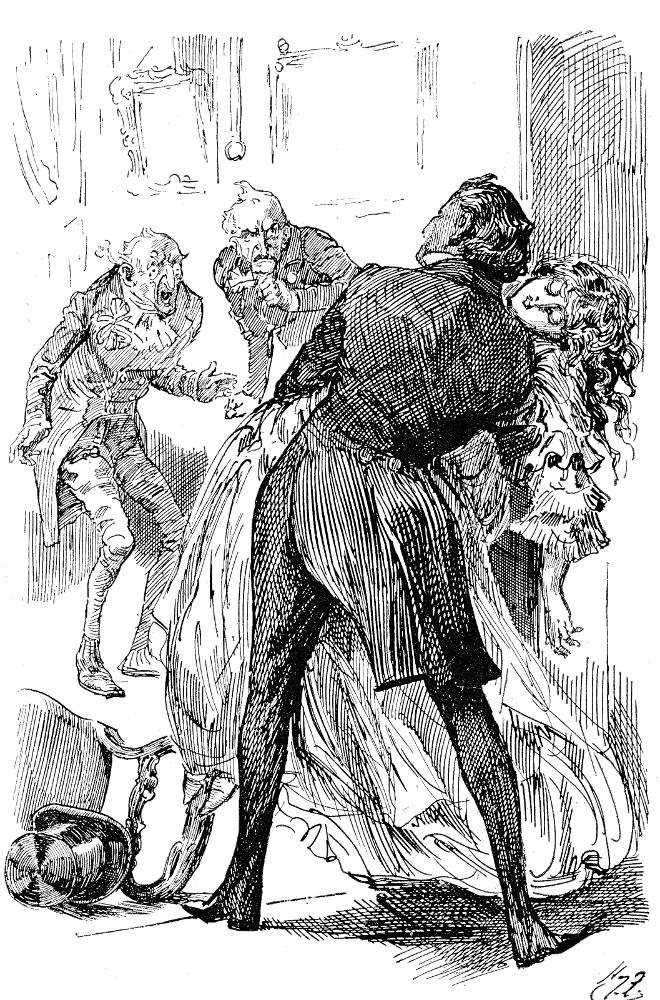 Left: Sol Eytinge, Jr.'s Diamond Edition study of the novel's miserly villains: Ralph Nickleby and Arthur Gride (1867). Centre: Fred Barnard's Household Edition illustration for this chapter involves Nicholas's entreating Madeline not to go through with the marriage: "I must beseech you to contemplate again the fearful curse to which you have been impelled." (1875). Right: Harry Furniss's energetic and more focussed version of the elopement: Nicholas rescues Madeline (1910).
Related material by other illustrators (1838 through 1910)
Scanned image, colour correction, sizing, caption, and commentary by Philip V. Allingham. [You may use this image without prior permission for any scholarly or educational purpose, as long as you (1) credit the person who scanned the image, and (2) link your document to this URL in a web document or cite the Victorian Web in a print one.]
Bibliography
Barnard, J. "Fred" (il.). Charles Dickens's Nicholas Nickleby, with fifty-nine illustrations. The Works of Charles Dickens: The Household Edition. 22 vols. London: Chapman and Hall, 1875. Volume 15. Rpt. 1890.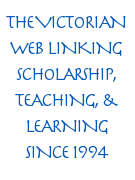 Dickens, Charles. The Life and Adventures of Nicholas Nickleby. With fifty-two illustrations by C. S. Reinhart. The Household Edition. New York: Harper & Brothers, 1875. I.
_______. Nicholas Nickleby. With 39 illustrations by Hablot K. Browne ("Phiz"). London: Chapman & Hall, 1839.
_______. Nicholas Nickleby. Illustrated by Harry Furniss. The Charles Dickens Library Edition. 18 vols. London: Educational Book, 1910. IV.
__________. "Nicholas Nickleby." Scenes and Characters from the Works of Charles Dickens, being eight hundred and sixty-six drawings by Fred Barnard et al.. Household Edition. London: Chapman and Hall, 1908.
---
Created 18 September 2021