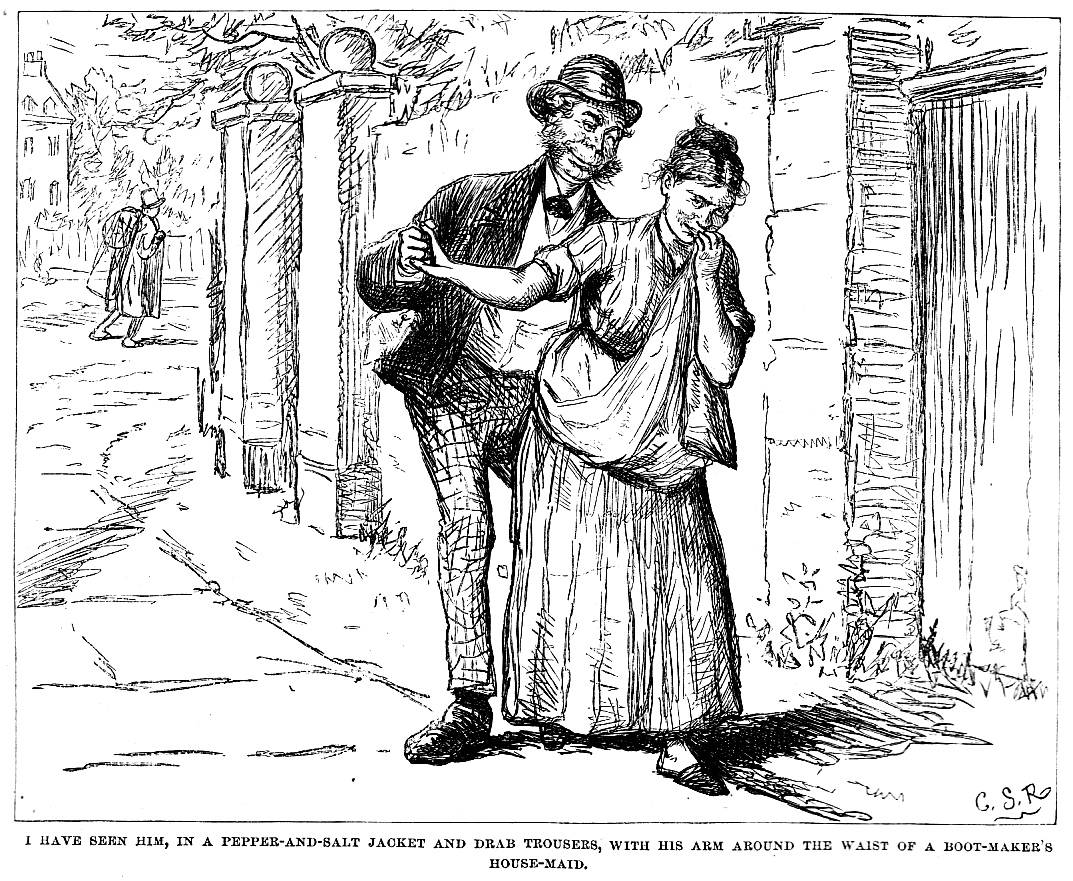 I have seen him, in a pepper-and-salt jacket and drab trousers, with his arm around the waist of a boot-maker's house-maid by Charles S. Reinhart (1844-96). 10.3 cm high by 13.3 cm wide (half-page, horizontally mounted in the middle of page 73). [Click on image to enlarge it.]
The wood-engraving illustrates a scene on page 72 in "Arcadian London," the sixteenth chapter in Charles Dickens's The Uncommercial Traveller, this essay having first appeared in All the Year Round on 29 September 1860. The American Household Edition, also containing Reinhart's wood-engravings for Hard Times (1854) and Fildes' for The Mystery of Edwin Drood (1870), was published by Harper and Brothers in 1876.
Passage Illustrated
I have mentioned Saville-row. We all know the Doctor's servant. We all know what a respectable man he is, what a hard dry man, what a firm man, what a confidential man: how he lets us into the waiting-room, like a man who knows minutely what is the matter with us, but from whom the rack should not wring the secret. In the prosaic "season," he has distinctly the appearance of a man conscious of money in the savings bank, and taking his stand on his respectability with both feet. At that time it is as impossible to associate him with relaxation, or any human weakness, as it is to meet his eye without feeling guilty of indisposition. In the blest Arcadian time, how changed! I have seen him, in a pepper-and-salt jacket — jacket — and drab trousers, with his arm round the waist of a bootmaker's housemaid, smiling in open day. I have seen him at the pump by the Albany, unsolicitedly pumping for two fair young creatures, whose figures as they bent over their cans, were — if I may be allowed an original expression — a model for the sculptor. I have seen him trying the piano in the Doctor's drawing-room with his forefinger, and have heard him humming tunes in praise of lovely woman. I have seen him seated on a fire-engine, and going (obviously in search of excitement) to a fire. I saw him, one moonlight evening when the peace and purity of our Arcadian west were at their height, polk with the lovely daughter of a cleaner of gloves, from the door-steps of his own residence, across Saville-row, round by Clifford-street and Old Burlington-street, back to Burlington-gardens. Is this the Golden Age revived, or Iron London? [Chapter 16, "Arcadian London," p. 72-73]
Commentary
Reinhart's approach to the chapter on "Arcadian London," that is, a London in a carnival spirit, so different from its staid, work-a-day form, has no parallel in the British Household Edition volume, illustrated by Edward G. Dalziel. According to Slater and Drew, the setting is London's fashionable West End at an unfashionable season, August and September, "close to the Burlington Arcade, a permanent covered shopping mall of a kind becoming common in London and other European capitals" (181). The "Arcadian" of the piece's title is a pun, in that it alludes not merely to to the Burlington Arcade near Bond Street, where Dickens likely lived in rooms for a brief time before his apartment at the offices of All the Year Round was ready for his reception in the late summer of 1860, but also to the classical Arcadia of the pastoral tradition, a green valley in Thessaly where bashful nymphs and simple shepherds dance and make romance in such works as Sir Christopher Marlowe's "The Passionate Shepherd to His Love."
Reinhart's illustration reflects the jocular tone of Dickens's text. The doctor's confidential servant is anything but sober, discrete, and restrained in this scene of urban courtship as he has abandoned the servant's black linsey-woolsey for the garb of a blade of the turf. However, Reinhart has given the would-be swain checkered rather than drab trousers and a simian visage, perhaps to suggest a reversion to a more primitive type. The boot-maker's housemaid bashfully accepts his advances, there being but one distant passerby (upper left) to observe them. The theatrical backdrop is a respectable garden wall in London's West End, with a multi-storey and multi-chimneyed townhouse in the upper left to establish the tone of the neighbourhood.
Scanned image and text by Philip V. Allingham [You may use this image without prior permission for any scholarly or educational purpose as long as you (1) credit the photographer and (2) link your document to this URL in a web document or cite the Victorian Web in a print one.]
Bibliography
Bentley, Nicolas, Michael Slater, and Nina Burgis. The Dickens Index. New York and Oxford: Oxford U. P., 1990.
Dickens, Charles. The Uncommercial Traveller, Hard Times, and The Mystery of Edwin Drood. Il. Charles Stanley Reinhart and Luke Fildes. The Household Edition. New York: Harper and Brothers, 1876.
Dickens, Charles. The Uncommercial Traveller. Il. Edward Dalziel. The Household Edition. London: Chapman and Hall, 1877.
James, Henry. "Charles S. Reinhart." Picture and Text. New York: Harper and Brothers, 1893. Pp. 61-78.
Scenes and Characters from the Works of Charles Dickens; being eight hundred and sixty-six drawings, by Fred Barnard, Hablot Knight Browne (Phiz); J. Mahoney; Charles Green; A. B. Frost; Gordon Thomson; J. McL. Ralston; H. French; E. G. Dalziel; F. A. Fraser, and Sir Luke Fildes; printed from the original woodblocks engraved for "The Household Edition." New York: Chapman and Hall, 1908. Copy in the Robarts Library, University of Toronto.
Slater, Michael, and John Drew, eds. Dickens' Journalism: 'The Uncommercial Traveller' and Other Papers 1859-70. The Dent Uniform Edition of Dickens' Journalism, vol. 4. London: J. M. Dent, 2000.
---
Created 24 April 2013

Last modified 6 January 2020