Henry Courtney Selous is primarily known as the author of The Opening of the Great Exhibition (1851), a large and imposing oil that hangs in London's Victoria and Albert Museum. Yet Selous was also an outstanding illustrator of heroic and literary subjects whose publications include striking interpretations of Shakespeare (1864-8); a visual panorama of Kingsley's Hereward the Wake (1870); and a number of 'outline' books in the style of August Moritz Retzsch (1779-1857). In this own time, Selous was routinely described as a 'genius' of 'singular talent' ('Keble', Times, 10), a popular artist whose works entranced a large bourgeois audience. Obscured by the 'golden age' of the Sixties, his work was for many Victorians a definitive showing of epic themes that acted as a corrective to the comedy of Cruikshank and Leech, and as an exuberant alternative to the modern settings and introspection of the Sixties.
Born on 25 April 1803, Selous's background was solidly middle-class. Descended from French Huguenots with ancestral ties in Jersey, Selous was the son of the miniature painter Gideon (George) Slous (1777-1839), and Sophie Ann Lokes (1775-1847), a native of St. Helier. The extended family had lived in London since the mid-eighteenth century, and following a series of moves Gideon established his household in a comfortable home at 2 Panton Street, Deptford. It was here, as Stephen Taylor explains, that the Selouses enjoyed the status of the 'cultured and well-to-do classes' (5). Henry was educated at home and benefited from a liberal education in music, literature and painting.
His ability in art was precocious. Schooled by his father, he entered the Royal Academy at the unusually early age of fourteen. Here he underwent the rigorous classical training associated with the R.A. Studying from the antique, with a special interest in copying from the Elgin Marbles, he distinguished himself as a draughtsman and was awarded a medal for his figure drawing. This was to be the first of numerous awards, and following completion of his training he quickly established himself as a jobbing painter who could work in a variety of styles and modes.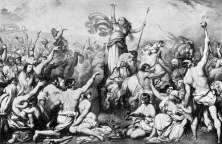 Boudicca Haranguing the Iceni. [Click on thumbnail for larger image.]
Academic in manner, with an outstanding capacity to represent the human figure in dynamic situations, his paintings ranged from portraits to landscapes, from battle-scenes to pictures of a Favourite Cat (1818, untraced), from vast panoramas to intimate genre. Some of these were converted into best-selling engravings and others were widely exhibited. One of his paintings, Jersualem in its Grandeur (1860, exhibited 1872, untraced) went on international tour, scoring a massive hit when it was displayed in the United States. Selous also achieved success in the Westminster Hall Exhibition of 1843, where he won a second prize of two hundred pounds for his cartoon of Boudicca Haranguing the Iceni (present whereabouts unknown).
Armed with this success, Selous changed his name in the mid to late '30s from 'Slous' to its original form of 'Selous'. This was to prevent confusion with his father, whose father had in turn Anglicized 'Selous' (the family's original name, righly pronounced 'Selloo'), to make it fit in. But Selous's mode of art could barely have formed a greater contrast with his father's intricate cameos. Gideon worked on the microscopic scale of Hilliard, but his son's pictures were huge.
He learned how to paint on a vast scale in the thirties, when he was employed by Robert Burford (1781-1861) as an assistant at work on the gigantic panoramas that were displayed at Burford's premises in Leicester Square. During this period, which lasted from the early thirties to around 1850, Selous contributed to dioramic pictures such as the Description of Summer and Winter Views of the Polar Regions (1850). These colossal works were the early Victorian version of the IMAX cinema; figured as a viewing spectacle, they moved the observer up and through a series of platforms, compelling him or her to engage with an all-embracing vista. Selous's work was praised by The Times and his Journal for the years 1833-4 (now in the Victoria and Albert Museum, London), gives a vivid insight into his scrupulous approach to trompe d'oeil and the building of visceral light effects.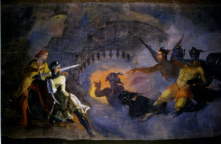 Panorama illustrating Pilgrim's Progress [Click on thumbnail for larger image.]
Carol Cronquist has argued that he is 'primarily remembered' (36) for this work, but critical judgments are extremely difficult to make because only one of his dioramas, a 'moving' version of the Pilgrim's Progress that toured America and was produced in conjunction with a team of American painters, has survived (Saco Museum, Maine). His British panoramas no longer exist. Cut up and re-used at the end of each show, as if they were theatrical backdrops or illustrated posters, Selous's large-scale work was tantalizingly ephemeral.
Yet he was concurrently producing more permanent images in the form of plate books and illustrations for literary texts. Shifting, apparently effortlessly, from the vast scale of the panorama to the format of the page, he embarked on a parallel career as an illustrator. Working in lithography, steel engraving and engraving on wood, he quickly mastered the technical requirements of contemporary graphic art.
His earliest work was in the form of illustrations for his brother Angiolo's Tales of a Rambler (1836), and this was quickly succeeded by outline versions of The Tempest (1836), The Pilgrim's Progress (1844), and Scenes from the Life of Moses (1850). Able to shift from picture book to interpolated wood-engravings in densely printed text, he also worked as an illustrator of traditional English authors such as Bunyan, Byron and Milton, and as the interpreter of texts in translation, notably Burger and La Motte Fouque. These included his intimate designs on wood for James Burns and S. C. Hall, some of his best illustrations appearing in The Book of British Ballads (1842), The Four Seasons (1845), and Poems and Pictures (1846). However, his greatest achievements were those produced at the end of his career. Foremost among these is his illustrated version of Shakespeare. Commissioned by Charles Cowden Clarke as a cheap fireside edition for family reading, published initially in parts and then in the form of a substantial three-volume book (1868), Selous's illustrated tome was a monumental work, offering some hundreds of striking designs. He completed this epic theme with Hereward the Wake (1869, dated 1870), a folio picture-book which celebrates heroic Englishness with a remarkable intensity and vigour. Dynamic to the point of breathlessness, it seems an achievement of youth, rather than the final commission of a man aged sixty-seven.
Tirelessly creative and inventive, Selous's restless movement from paint to page brought material rewards. A mature self-portrait (National Portrait Gallery, London) presents an image of Selous as a pillar of the establishment. His later years were spent in considerable prosperity, although it is interesting to note that he never became an associate of the Royal Academy. He dabbled in the stock market and for amusement wrote children's books under the pseudonyms of 'Kay Spen' and 'Auntie Kay'. His career success was clinched, however, by a family union. His daughter married wealth in the form of Henry Webb-Medley, a successful entrepreneur, and it was in the Webb-Medley's house, Winsford Tower, Beauworthy, Devon, that Selous died on 23 September 1890. The Times and other obituaries spoke respectfully of his creativity, and his fame was confirmed when a street close to one of his homes in Camden Town was named after him.
---
Last modified 15 May April 2009