Early Life and Career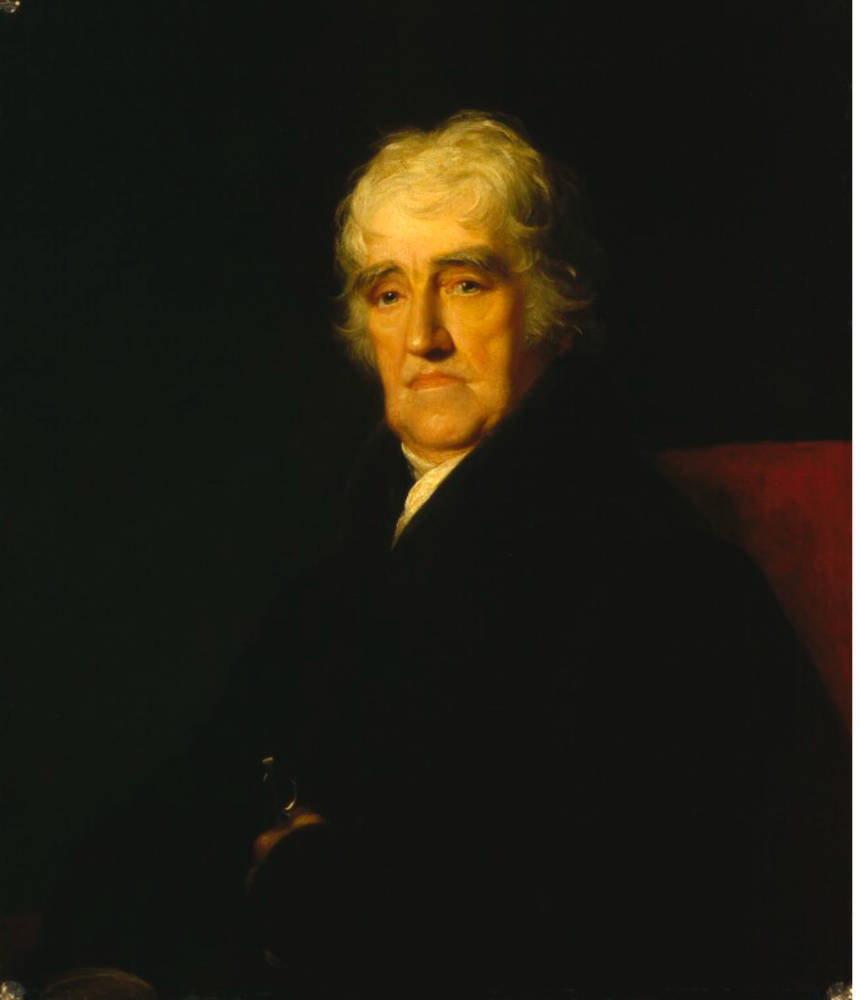 Thomas Stothard by James Green. Click on image to enlarge it.
Thomas Stothard, R. A. (1755-1834) had a successful career as a painter, illustrator, commercial artist, and designer much in demand in the London publishing industry. Because he had a delicate constitution as a child, his parents sent him at the age of five to be raised by a relative in the more salubrious county of Yorkshire. From boyhood Stothard, the son of a prosperous inn-keeper at Long Acre, exhibited a talent for drawing and painting, and he apprenticed to a draughtsman in a commercial design establishment in Spitalfields, working on patterns for brocaded silks, rather than with an established artist.
In leisure hours during his apprencticeship, Stothard created illustrations for his favourite poems, which came to the attention of James Harrison, the editor of the Novelist's Magazine, which ran from 1780 to 1788. This periodical, which eventually ran to twenty-three volumes, sold at six pence per week, and had a typical print-run of 12,000. When Stothard's master died, the young Stothard switched to a career in art, working closely with engraver James Heath on the magazine. They had plenty of opportunity for the kind of drawing at which Stothard excelled, since each complete volume typically contained a number of re-printed novels, including Tobias Smollett's Peregrine Pickle and Humphrey Clinker, Henry Fielding's Tom Jones and Joseph Andrews, Jonathan Swift's Gulliver's Travels, and Samuel Richardson's Pamela; or, Virtue Rewarded and The History of Sir Charles Grandison. According to Ralph Nicholson Wornum (1812-77), Stothard produced nearly 150 designs; over his lifetime, the figure probably exceeds five thousand, of which only perhaps three thousand were actually engraved. Having lived in London most of his life, Stothard died on 27 April 1834, and was interred in Bunhill Fields burial ground.
Stothard's career as a painter
Stothard was elected an associate of the Royal Academy of Arts in 1792 and an academician in 1794. In 1812 the Academy appointed Stothard as its librarian. His major decorative commissions include the painting of the staircase of Burghley House, Amon, near Stamford in Lincolnshire, with subjects of War, Intemperance, and the Descent of Orpheus in Hell (1799-1803); scenes from Froissart and Monstrelet for a mansion in Hafod, North Wales; and the cupola of the upper hall of the Advocates' Library, Edinburgh, with Apollo and the Muses, and figures of poets and orator (1822).
Among his designs were the frieze for Buckingham Palace (never executed, owing to the death of George IV on 26 June 1830) and an ornamental shield which an association of London merchants commissioned for the Duke of Wellington in 1814. Although a plaster cast is now in the Victoria and Albert Museum, one may still see the gilt silver shield, executed by Green, Ward, and Green and cast by Benjamin Smith, the Wellington Museum, Apsley House, Hyde Park Corner. Completed in 1820, the eight low-relief sculptures on the shield depict significant moments in Wellington's military and political career.

The Pilgrimage to Canterbury by Thomas Stothard (1755-1834). 1806-07. Oil on oak. 18 x 952 mm. Collection: Tate Britain No1163. Click on image to enlarge it.
His most widely reproduced painting is an elegant panel entitled The Pilgrimage to Canterbury (1806–07), now in the Tate Gallery, London. The engraving based on it, begun by Luigi and continued by Niccolo Schiavonetti and finished by James Heath, attained considerable popularity. His most significant canvas, The Vintage, exhibited in 1821 and now in the National Gallery, reflects his admiration for the vivid colouration of Baroque master Peter Paul Rubens.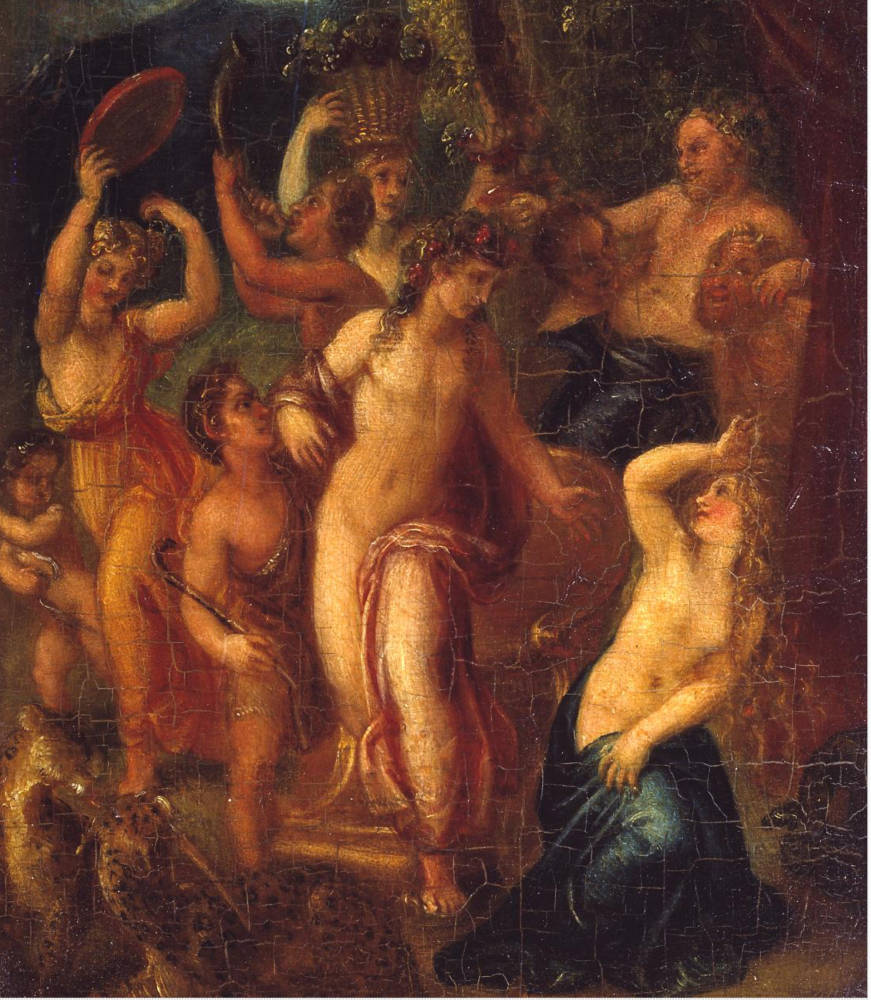 Left: The Vintage. Right: Nymphs and Satyrs. Both courtesy of Tate Britain. [Click on images to enlarge them.]
Stothard's Illustrations
Stothard's most famous illustrations appear in Samuel Rogers's Italy: A Poem (1830), on which he worked with J. M. W. Turner From 1786 Stothard worked with a gifted copper plate engraver, Thomas Fielding, producing arcadian scenes such as those in The Life and Adventures of Robinson Crusoe (1790, 1820). Fielding produced some of these copper-plate illustrations in colour, sometimes achieving stunning effects. Stothard's design work was free-ranging and lucrative: plates for pocket-books, tickets for concerts, illustrations to almanacs, and portraits of popular actors.
Stothard's most important illustrated works
Daniel Defoe's

Robinson Crusoe

in the

New Magazine

(1790)
Daniel Defoe's

Robinson Crusoe

in Stockdale's later edition
John Bunyan's

The Pilgrim's Progress

(1788)
Harding's edition of Goldsmith's

Vicar of Wakefield

(1792)
Alexander Pope's

The Rape of the Lock

(1798)
The works of Solomon Gessner (1802)
William Cowper's

Poems

(1825)
Boccaccio's

The Decameron

Samuel Rogers's

Italy, A Poem

(1830)
Samuel Rogers's

Poems

(1834)
Related Materials
Bibliography
Coxhead, Albert Crease. Thomas Stothard, R.A., an Illustrated Monograph. London: A. H. Bullen, 1906.
Defoe, Daniel. The Life and Adventures of Robinson Crusoe, Written by Himself. Illustrated by Thomas Stothard; engraving by C. Heath. London: Bliss, Sands, and Foster, 1820.
---
Last modified 31 January 2018