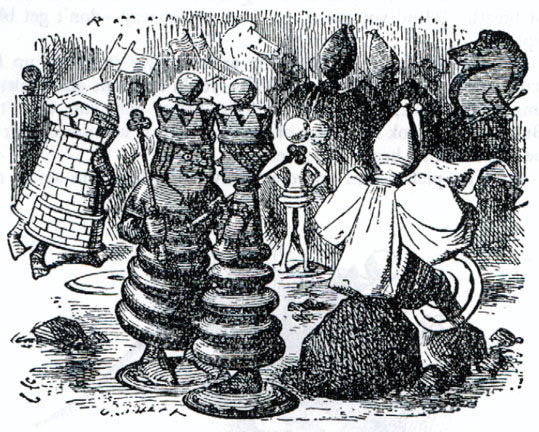 The Chess Players by Sir John Tenniel; wood-engraving by Dalziel. Published in 1871. Illustration for the first chapter of Lewis Carroll's Through the Looking Glass. [Student assistants from the University Scholars Program, National University of Singapore, scanned this image and added text under the supervision of George P. Landow. You may use the image without prior permission for any scholarly or educational purpose as long as you (1) credit the site and (2) link your document to this URL in a web document or cite the Victorian Web in a print one.]
The artist's approach here corresponds perfectly with the text itself: "The chessmen were walking about, two and two!" The King and Queen, the two Castles and a pair of white pawns are all faithfully drawn as described, with others less discernible in the distance. However, the prominence given to the two Bishops in the foreground is puzzling. They play no part in the narrative: could Tenniel be seizing an opportunity to make fun of the elaborate vestments of High Church Ritualism? Tenniel had as recently as 1866 contributed a number of critical church-related pictures to the pages of Punch, including his 'Over the Way' of November 17 1866, which shows an austerely dressed Dr. Protestant rebuking the clergy of richer vestments, with the words "Take your gewgaws...I won't have them." Perhaps with a view to just such a further anti-establishment tilt, the artist here (above) has shown his foreground White Bishops to be reading what appears to be an illustrated newspaper. How Bohemian of them! Meanwhile a close examination of the Red Bishop in the background shows that he has been given somewhat of a nonsense face, reminiscent of the clock-face in Tenniel's previous and related illustration. Partially hidden by the illustrator, this bishop is also waving what seems to be a contentiously large ritual decanter. Readers may draw their own conclusions.
That aside, Tenniel seems purposely to have infused his entire scene with the convivial atmosphere of a Victorian social gathering. According to the protocol for such events, wherever one partner went and was seen, the other would be there too. And if dinner invitations were sent out, the number would be even: ten was a party, eleven or nine an embarrassment. Tenniel would have been well-versed in this, though it must be said that the leading (and satiric) graphic commentator on such matters was surely his younger fellow-artist, George du Maurier. As for Lewis Carroll himself, from as early as 1855, with his new academic and social life in a busy Oxford college, he would have been thoroughly grounded in this Victorian protocol.
Such was Carroll's interest in these matters that, for a brief period in May 1871 - with another even briefer one in November that year - he took it on himself to design seating-plans for the dinner-parties he arranged in his own college rooms, and for similar social events held by some of his close friends. Examples of these hand-drawn plans appear in his regular Journal entries. One is given on Saturday 13 May, during the months before the first appearance of his long-awaited Through the Looking-Glass (Diaries, 6: 149-151). Earlier that day he had made a rare visit to the nearby Deanery, for croquet and music, and "Alice [Liddell] came over in the evening" (149). The party of six depicted in his table-plan shows himself now flanked by his older sister Fanny and younger sister Margaret, and separated from Alice whom he had carefully seated between Margaret and his brother Wilfred. Alice was the youngest there, seated across the table from Henrietta, Carroll's youngest sister. Whatever Carroll might have felt about her at that stage, proprieties were fully and thoughtfully observed.
Carroll's sociability may surprise some readers who see him as a shy Oxford don, at ease only among children. But this aspect of his maturity is quite apparent from the chronology of his life, particularly from his visits to Lord Salisbury at Hatfield House, with its large New Year Party gatherings (see c. 1870 onwards). As late as June 1889 Carroll was still visiting there and reporting such items as, "On Friday I took into dinner Miss Maxwell, on Saturday Lady Gwendolen, on Sunday Lady Maud". He also walked out with a Miss Alderson on the Saturday, and with a Col. Smith on the Sunday (8: 467). He was, as this illustration suggests, and as we shall find in Chapter 8, quite conversant with the social scene.
Admittedly, the conviviality of Tenniel's opening illustration does sit uneasily beside the more melancholy tones of Carroll's introductory frame-poem, with its implied reference to his now distant relationship with Alice, who by this time was about nineteen years old:
And though the shadow of a sigh
May tremble through the story,
For "happy summer days" gone by,
And vanish'd summer glory -
It shall not touch with breath of bale
The pleasance of our fairy-tale.
It is worth noting that Carroll's employment of the word "pleasance" here not only reminds us of Alice (whose middle name was Pleasance), but, with its mild, old-fashioned flavour, suggests (like the table-plan described above) his personal rectitude in the relationship.
Bibliography
Carroll, Lewis. Lewis Carroll's Diaries. The Private Journals of Charles Lutwidge Dodgson. Vols. 6 and 8. Ed. Edward Wakeling. England: Lewis Carroll Society, 2001 and 2004.
---
Created 2000
Last modified 14 November 2021