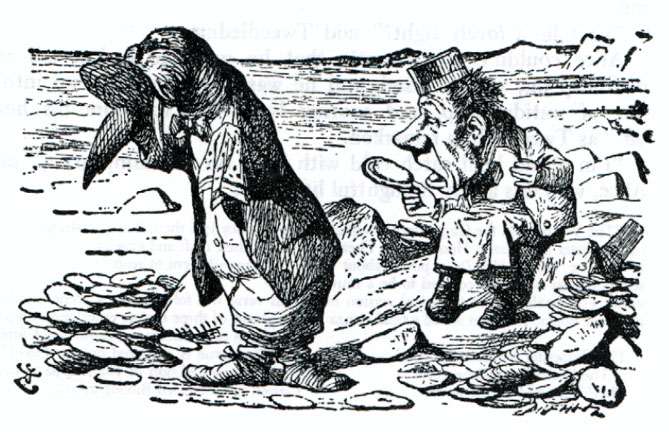 The Walrus and the Carpenter — Illustration to the fourth chapter of Through the Looking Glass by John Tenniel. Wood-engraving by the Dalziels.
"It seems a shame," the Walrus said,
"To play them such a trick,
After we've brought them out so far,
And made them trot so quick!"
The Carpenter said nothing but
"The butter's spread too thick!"
In 2000 student assistants from the University Scholars Program, National University of Singapore, scanned this image and added text under the supervision of George P. Landow. See below for commentary. [You may use this image without prior permission for any scholarly or educational purpose as long as you (1) credit the site and (2) link your document to this URL in a web document or cite the Victorian Web in a print one. ]
The Walrus and his partner are memorable largely because of a single verse in the Walrus's now classic nonsense rhyme: "The time has come," the Walrus said, "to talk of many things:/ Of shoes - and ships - and sealing-wax/ - Of cabbages - and kings…" (v.11 of Tweedledee's poem "The Walrus and the Carpenter," recited to Alice). But it is unlikely that Carroll ever intended us to be simply amused by them. Rather, his imposing beginning to this stanza, followed by his carefully crafted but ridiculous concatenation of items unrelated except by letter or sound, seems to seed the notion of the pair's total incompetence, both mental and moral. No wonder Alice replies, "This was a puzzler," when Tweedledum asks her which of the two she liked better. Carroll, the product of a world dominated by the Bible and moral teaching, could never have imagined that a twentieth- and twenty-first-century readership would miss the element of criticism here.
His own attitude towards the pair is shown by developments some fifteen years after the appearance of Through The Looking Glass, when Carroll finally succeeded in bringing his two Alice stories to the stage. With the assistance of journalist-dramatist Henry Savile Clarke (1841-1893), as librettist, the long-awaited dramatisation became a reality, with "Wonderland" as Act One, and "Looking Glass" as Act Two. Entitled finally Alice in Wonderland. A Dream Play for Children, the two-act operetta opened at the Prince of Wales's Theatre, London, on the afternoon of Thursday 23 December 1886. Carroll's written consent of September 1886, was on condition that there should be "no suggestion ever of coarseness" in any aspect (see Diaries 8: 291).
Carroll attended the play a week later, on Thursday 30 December, accompanied by his cousin Margaret "Meta" Poole, some thirty-three years of age, and child-friend Marie Van der Gucht, born in 1874. He greatly enjoyed Act One, but found Act Two "flat," and was especially critical of "the Walrus etc." which had "no definite finale" (311). By Monday 3 January 1887, he was in London to meet with "Mr. Savile Clarke about the play." Carroll had drafted "a finale" for the Walrus episode, bringing into the play, with Savile Clarke's approval, "three ghosts of oysters." On the Friday of that week he again visited the play, with a child friend, but made no comments about any additions. Presumably, they had not yet been included (see 312-313 and n.515).
On Tuesday 1 February 1887 Carroll again attended the "Wonderland" play, accompanied by child friends Edith Rix, then some twenty years old, the actress and long-time friend Florence Terry, then Mrs. W. Morris, and new child friend Lily Flyter, born in 1875. The newly conceived oyster-ghosts he now found "are a great addition," and produced "an effective end" for the Walrus and Carpenter. He had written a terminal stanza to Tweedledee's poem about them, in which, after they had eaten all the young oysters, the satiated pair then laid themselves down to sleep — "And of their craft and cruelty/ The punishment to reap" (313. n. 515). The "first Oyster-ghost," Carroll's important child friend and actress Isa Bowman, made it quite clear that the shifty pair got their just deserts.
Punch

parodies and allusions to "The Walrus and the Carpenter"
Bibliography
Carroll, Lewis. Lewis Carroll's Diaries. The Private Journals of Charles Lutwidge Dodgson. Vol. 8. Ed. Edward Wakeling. England: The Lewis Carroll Society, 2004.
---
Last modified 8 May 2021