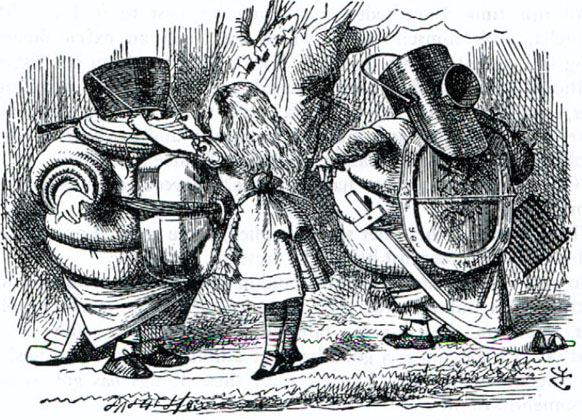 Arming for the Battle over the Rattle — Illustration to the fourth chapter of Through the Looking Glass by John Tenniel. Wood-engraving by the Dalziels.
Alice said afterwards she had never seen such a fuss made about anything in all her life - the way those two bustle about - and the quantity of things they put on - and the trouble they gave her in tying strings and fasterning buttons — "Really they'll be more like bundles of old clothes than anything else, by the time they are ready!" she said to herself, as she arranged a bolster round the neck of Tweedledee, "to keep his head from being cut off," as he said.
Student assistants from the University Scholars Program, National University of Singapore, scanned this image and added text under the supervision of George P. Landow. See below for commentary. [You may use this image without prior permission for any scholarly or educational purpose as long as you (1) credit the site and (2) link your document to this URL in a web document or cite the Victorian Web in a print one.]
Bellicose interests and warlike scenes had inevitably been part of Lewis Carroll's early years in post-Napoleonic, ambitious Victorian England, though they were quickly muted and sublimated as the writer passed into greater maturity. From childhood, naturally, he would have himself played such mildly combative games as did the Tweedles, with his own brothers, Wilfred and Skeffington, no doubt with much assistance from a favourite older sister for dressing up on winter days in the playroom. That helpful role is here assigned to Alice with the two bickering brothers.
At age twenty, and by then an undergraduate at Christ Church, Oxford, Carroll showed his patriotism by acknowledging the death of the Napoleonic victor and hero, the Duke of Wellington, on Wednesday 14 September 1852; and by recording the passage through Oxford, in October that year, of the Queen's train from Balmoral to Windsor, with "a large gathering at the railway station to see her go by", (Diaries 10: 431 as Appendix).
Naturally, the Crimean War of 1854-56 did not go unreported in his Journals, and in March 1855 he mentioned reading Tennyson's poem "Balaclava"; more "melancholy" war news came in June, and then "the glorious intelligence" of the fall of Sebastopol with the Russian defeat in September (Diaries 1: 72, 104, 130). In the following year, with the signing of the Peace in March 1856, we sense a more sombre and henceforth more pacifist Lewis Carroll, as he committed to his journal the Latin phrase quo sit perpetua (which shall be perpetual). Within a further brief ten days he had despatched to Train magazine his commemorative Crimean poem - not of soldiers and battles, but of the work of Florence Nightingale (2: 58, 61). Entitled "The Path of Roses," it contrasts man's "path of thorns" with woman's path, "to hide the thorns in flowers."
Later chapters of Carroll's Through The Looking Glass will return to the themes of soldiers and battles, as in Chapter 7, with the Looking-Glass-world armies,in the battle between the Red and White Knights. By then, however, we shall see that Lewis Carroll's abiding intention, brilliantly depicted by his illustrator Tenniel, is rather to satirise and ridicule all warlike activities.
Bibliography
Carroll, Lewis. Lewis Carroll's Diaries. The Private Journals of Charles Lutwidge Dodgson. Vols. 1, 2 and 10. Ed. Edward Wakeling. England: The Lewis Carroll Society, 1993, 1994 and 2007.
_____. Three Sunsets and Other Poems. London: Macmillan, 1898.
---
Last modified 9 May 2021