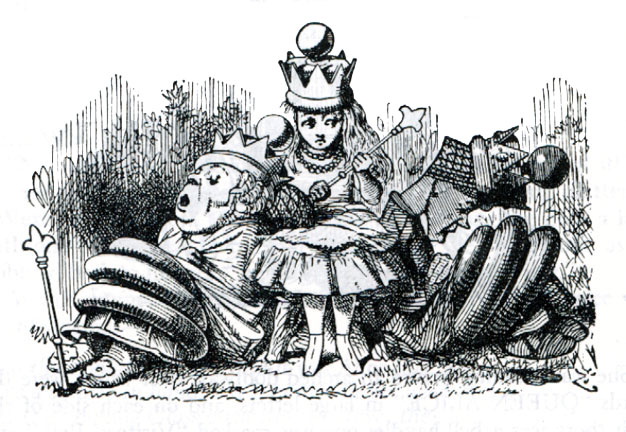 Red Queen, and White Queen, and Alice, and all — Illustration to the ninth chapter of Through the Looking Glass by John Tenniel. Wood-engraving by the Dalziels.
"Hush-a-by lady, in Alice's lap!
Till the feast's ready, we've time for a nap.
When the feast's over, we'll go to the ball —
Red Queen, and White Queen, and Alice, and all!"
In 2000 student assistants from the University Scholars Program, National University of Singapore, scanned this image and added text under the supervision of George P. Landow. [You may use this image without prior permission for any scholarly or educational purpose as long as you (1) credit the site and (2) link your document to this URL in a web document or cite the Victorian Web in a print one.]
The present commentary on Tenniel's illustration continues from the previous one. The illustrator's familiarity with royal persons, at the political and satirical level, is well seen in his not infrequent full-page contributions about them in Punch: for example, his poignant depiction of 23 September 1865, of Victoria as Queen Hermione from Shakespeare's The Winter's Tale , Act V, Sc.3, in which Tenniel succeeds in gently expressing "all England's" desire that the queen should return to the people from her four years of mourning for Albert. Those four years would in effect become forty, from 1861-1901, prolonged figuratively at least by the late change of head on Victoria's coinage. But, before that, Tenniel would commemorate Victoria's Diamond Jubilee of 1897 in his resplendent Punch contribution: The Queen's Year, with a woodcut by Joseph Swain.
In Alice's Adventures in Wonderland, Carroll's opening frame poem "All in the golden afternoon" had succinctly presented a somewhat different "regency" amongst the three Liddell sisters. That earlier hierarchy may be seen in verse 3:
Imperious Prima flashes forth
Her edict "to begin it" -
In gentler tones Secunda hopes
"There will be nonsense in it!" -
While Tertia interrupts the tale
Not more than once a minute.
This suggests an age-related parallel, with Prima as Lorina Liddell (b. 1849), then aged thirteen to fourteen years old at that time; Secunda as Alice Liddell (b. 1852), then ten to eleven years old, and Tertia as Edith Liddell (b. 1854), then eight to nine years old. Such a logical hierarchy would also reflect the social realities of Carroll's first encounters with the sisters through the summer of 1856, with Lorina, then aged seven, and quickly becoming Carroll's familiar "Ina"; together with older brother "Harry", born in 1847, and soon to be sent to boarding-school, being the first, whilst Alice and Edith were still largely hidden away in the nursery. Another, earlier, template was likely provided by Lewis Carroll's own final trio of younger sisters, Louisa, Margaret and Henrietta Dodgson, all separated by intervals of a mere one or two years.
A further useful approach to Tenniel's depictions of Alice and the other Queens is suggested by their theatricality. Carroll himself was a theatre-goer, undeterred by his college and professional edict, as church deacon, not to attend such entertainments. In December 1856, whilst just short of his twenty-fifth birthday, he attended the Princess's Theatre, London, for a performance of A Midsummer Night's Dream. Writing about her role as Titania, the Fairy Queen, based on the Roman Diana and earlier pagan Moon Goddesses, he described Miss Leclerque romantically as being "beautiful ... [in]... scenes almost beautiful beyond description". The following month he returned, this time to appreciate in glowing terms the same role played by actress Kate Terry, then 12 to 13 years of age (Carroll, Diaries, 2: 124; 3: 14). The latter, her sisters and entire actress family, would become lifelong friends of the Christ Church Oxford don.
Another possible approach to the three Queens is through Carroll's mathematical mindset, and the long established significance of the ancient Babylonian number system based on "3" (and prolonged into the Victorian money/coinage: 3d, 6d, twelve-pence shilling, 240-pence pound sterling, all based on or divisible by the factor "3"). In many ways, then, Carroll as author could have been drawn to creating this threesome — by the three young sisters of both his own and the Liddell families; by the three Queens of the stage, Titania, Miss Leclerque and Kate Terry; and by his mathematical bent. Interestingly, Alice finds herself not infrequently part of other groups of three: with the two Tweedle brothers, the Lion and the Unicorn, and the Red and White Knights, for example.
In his final children's story Carroll would again covertly weave himself into just such dynamic personal triangles: as the ever-present Narrator with the two fairy children Sylvie and Bruno, and as the constant friend of Lady Muriel and Dr. Arthur Forester. The Sylvie and Bruno tale would also host a whole chapter based upon a further and persistent "return" of Queen Titania, disguised amidst the knockabout theatricality of frogs and fairies involved in the losing and finding of the Queen's baby (see Sylvie and Bruno, Ch. XXIV).
Related Material
Bibliography
Carroll, Lewis. Sylvie and Bruno. London: Macmillan, 1889.
_____. Sylvie and Bruno Concluded. London: Macmillan, 1893.
_____. Lewis Carroll's Diaries. The Private Journals of Charles Lutwidge Dodgson. Vols. 2 & 3. Ed. Edward Wakeling. England: Lewis Carroll Society, 1994 & 1995.
Dyer, Ray. Lewis Carroll's Sylvie and Bruno with Sylvie and Bruno Concluded. Scholar's Annotated Edition. 2 vols. in 1. Leicester: Troubador, 2015.
_____. Lewis Carroll's Lady Muriel. Scholar's Annotated Edition. Leicester: Troubador, 2016.
---
Last modified 11 October 2021