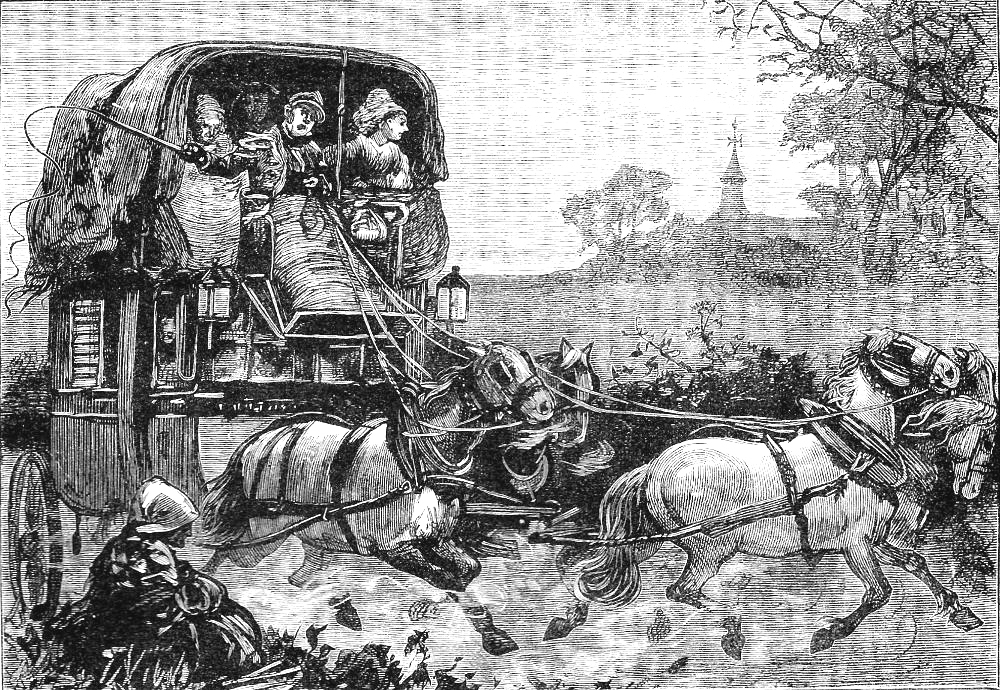 The Malle Post by J. Gordon Thomson, in Charles Dickens's Pictures from Italy, and American Notes, second chapter, "Going through France," facing title-page. Wood-engraving by E. Dalziel, 4 by 5 ¼ inches (10.4 cm high by 13.5 cm wide), framed. Scanned image, colour correction, sizing, caption, and commentary by Philip V. Allingham. [You may use this image without prior permission for any scholarly or educational purpose as long as you (1) credit the person who scanned the image, and (2) link your document to this URL in a web document or cite the Victorian Web in a print one.] Click on the image to enlarge it.
Passage associated with the Illustration
Then, there is the Diligence, twice or thrice a-day; with the dusty outsides in blue frocks, like butchers; and the insides in white nightcaps; and its cabriolet head on the roof, nodding and shaking, like an idiot's head; and its Young-France passengers staring out of window, with beards down to their waists, and blue spectacles awfully shading their warlike eyes, and very big sticks clenched in their National grasp. Also the Malle Poste, with only a couple of passengers, tearing along at a real good dare-devil pace, and out of sight in no time. Steady old Curés come jolting past, now and then, in such ramshackle, rusty, musty, clattering coaches as no Englishman would believe in. . . . [Chapter 2, "Going through France," p. 7; descriptive headline: "To Chalons"]
Commentary: Dickens Notices French Coaches on the Road South
Having purchased for himself and his family a lumbering old coach for the journey overland to Genoa in 1844, Dickens seems to have a heightened appreciation of other passenger vehicles on the road from Paris to the south of France. For Thomson, a New Man of the Sixties deeply rooted in the Railway Age, the frontispiece serves not merely as the Dickens family's transition from France to Genoa, but also as a throwback to the romance — and the massive inconveniences — of coach travel in the previous transportation era. Thomson has situated the vehicle, passengers, and horses in the French countryside, as suggested by the small parish church in the background.
Although Dickens does explain the significance of the Malle Post's galloping past his own diligence, any Briton who had travelled in France in the eighteenth and early nineteenth centuries prior to the coming of the railways would likely have known that the more commodious malle coach replaced the trunk-cart used to transport the mails in the reigns of Louis XV and Louis XVI. The malle post proved a considerable advance in comfort over the old trunk-cart, which was an unsprung, covered, two-wheeled vehicle drawn by three horses. In addition to mail, the malle coach could carry passengers and some luggage. Since it was heavier and larger, riding on four wheels, suspended on springs, it required four or five horses. The front part, the cabriolet, contained the coachman and a single passenger next to him, as in this realistic interpretation. Thomson shows three travellers In the central part, the coupe. Because the malle poste carried mail in its trunk and its rapid delivery was important, by royal decree of 4 February 1820, the malle coach was the only vehicle on French high roads granted the "galloping privilege." In his 1877 illustration of the Dickenses' journey south, Thomas Nast alludes to the inconveniences and dangers of travelling by coach in Italy's pre-railway age in Detained by an Inundation in the chapter "Through Bologna and Ferrara."
Related Material
References
Dickens, Charles. Pictures from Italy. Illustrated by Samuel Palmer. London: Chapman and Hall, 1846; rpt., 1850.
Dickens, Charles. American Notes for General Circulation and Pictures from Italy in Works. Illustrated by Marcus Stone. Illustrated Library Edition. London: Chapman and Hall: 1862, rpt. 1874.
Dickens, Charles. Chapter Two, "Going through France." Pictures from Italy, Sketches by Boz, and American Notes. Illustrated by A. B. Frost and Thomas Nast. The Household Edition. New York: Harper and Brothers, 1877. Pp. 70-82.
Dickens, Charles. Chapter Two, "Going through France." Pictures from Italy and American Notes. Illustrated by A. B. Frost and Gordon Thomson. London: Chapman and Hall, 1880. Pp. 10-13.
Orestano, Francesca. "Charles Dickens and Italy: The 'New Picturesque'." Dickens and Italy: Little Dorrit and Pictures from Italy, ed. Michael Hollington and Francesca Orestano. Cambridge: Cambridge Scholars, 2009. Pp. 49-67.
---
Last modified 5 May 2019