This brief account of Harrison Weir as a "doggy person" appeared in C. H. Lane's Dog Shows ... and Doggy People in 1902 (see bibliography for full details). The illustration was scanned and the text formatted for our website by Jacqueline Banerjee. You may use the image without prior permission for any scholarly or educational purpose as long as you (1) credit the source and (2) link your document to this URL in a web document or cite the Victorian Web in a print one. [Click on the image to enlarge it.]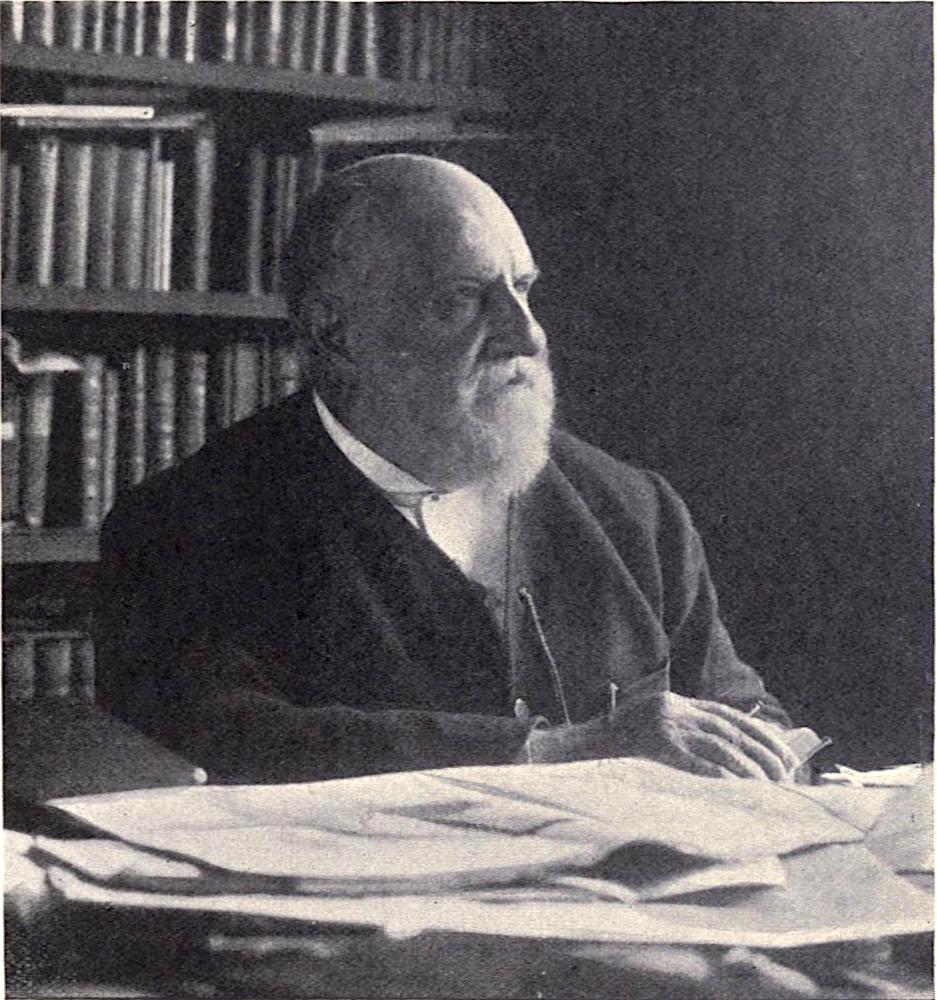 Harrison Weir, F.R.H.S. From photo by C. E. Corke, Sevenoaks.
I SUPPOSE in the whole range of those artistically interested in all branches of natural history there is no more popular name to conjure with than this gentleman's, who throughout the active years of a long life has devoted his talents with pen and pencil to the great advantage of the people of the age in which he has lived. Mr. Harrison Weir is the oldest living of the Pressmen who attended the old Smithfield Shows when they were held in Aldersgate Street over sixty years since. It was on one of his visits to these shows that he suggested the establishment of dog shows, and although he was not on the Committee or took any apparent share in the work, many of the views he expressed were adopted afterwards by Messrs. Corbett, Brailsford, and others who were connected with the early shows.
Mr. Harrison Weir, besides his immense amount of work in designing many of the principal race cups of the United Kingdom, and illustrations for numberless books, magazines, etc., has been a frequent contributor to the Illustrated London News (and is the oldest survivor of the original staff), the Graphic, and the Field, and was often to be seen at the London and Birmingham Shows (as I well remember watching him when, as a boy, I was occasionally one of the visitors) sketching the dogs for the pictures to appear in those papers.
I need not tell my readers that he has not confined his attention to dogs, as he illustrated many other kinds of animals in Wood's Natural History, published by Routledge, and we know from his book, Our Cats, how admirably he draw's those animals, which, I have been told by artists, are amongst the most difficult to pourtray correctly. And as for the feathered world, I think he has few equals and no superior in the charming pictures he has given the world of poultry, pigeons, and cage-birds.
Mr. Harrison Weir drew for the Graphic in its first year of publication. He drew the portrait of the first Japanese Spaniel, then called a Chinese Pug, for the Illustrated London News in 1853 or 1854. The dog in question was said to have been taken at the sacking of the Emperor's palace, and he has two vases and a bronze ornament taken at the same time. He also drew, in the sixties, for the same paper a portrait of Albert Smith's St. Bernard dog, which used to appear at his well-known lectures on Mont Blanc at the Egyptian Hall, Piccadilly, and about that time illustrated the books called Funny Dogs with Funny Tales, and Adventures of a Dog, and a Good Dog, too.
He remembers the shows of Fancy Dogs held at Aistrop's, in St. Giles, London, where the dogs were placed in cages on long tables, with a very rough-looking lot of fanciers sitting round and discussing their merits.
I doubt if there is any British artist with such a wide-world reputation as Mr. Harrison Weir, or one who has had such extensive experience as a naturalist, and as I have long had the honour of his acquaintance and always received the greatest courtesy and kindness from him, I am delighted to be able to give an excellent portrait of this highly popular fancier, and to include his name, with these few words, in my little gallery of Doggy People, as I am sure it will be appreciated by all my English-speaking readers wherever they may be.
I omitted to say in reference to Mr. Harrison Weir that he is one of the two survivors of the original staff of the Field, when that paper was edited by the late Mark Lemon, afterwards editor of Punch, and the oldest connected with the Crystal Palace Company, as he was engaged to make pictures of the "laying out of the grounds" before anything in the way of building was done, and has in many ways been connected with them since.
Many of my readers who are poultry fanciers will be pleased to hear Mr. Harrison Weir has completed his work on all varieties of poultry, with his own drawings as illustrations, and that there is a prospect of the public having the opportunity of obtaining copies of what will probably be the most complete and exhaustive book on the subject which has appeared for many years, coming from such an experienced and highly esteemed authority, whose artistic labours must have made him acquainted with almost every feather of the poultry tribe, and can give chapter and verse of the history of most of them from his own experiences as breeder, exhibitor, judge, writer, and artist, which are sure to be unusually interesting and reliable. [252-55]
Related Material
Bibliography
Lane, Charles Henry. Dog Shows ... and Doggy People. London: Hutchinson, 1902. Internet Archive, from a copy in the University of California Libraries. Web. 21 September 2020.
---
Created 21 September 2020