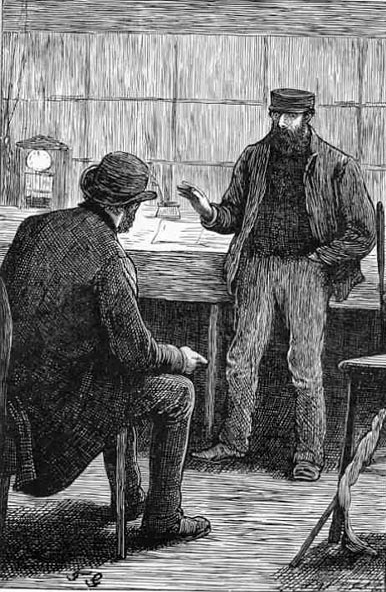 The Signal-Man
1868
Wood engraving
Framed, 14 x 9.2 cm
Facing page 190, in The Illustrated Library Edition of Dickens's Works, Christmas Stories, vol. 2.
See rest of commentary and passage realized below.
Scanned image and text by Philip V. Allingham
[You may use this image without prior permission for any scholarly or educational purpose as long as you (1) credit the person who scanned the image, and (2) link your document to this URL in a web document or cite the Victorian Web in a print one.]
Passage Illustrated
He took me into his box, where there was a fire, a desk for an official book in which he had to make certain entries, a telegraphic instrument with its dial face and needles, and the little bell of which he had spoken. On my trusting that he would excuse the remark that he had been well-educated, and (I hoped I might say without offence), perhaps educated above that station, he observed that instances of slight incongruity in such-wise would rarely be found wanting among large bodies of men; that he had heard it was so in workhouses, in the police force, even in that last desperate resource, the army; and that he knew it was so, more or less, in any great railway staff. He had been, when young (if I could believe it, sitting in that, hut; he scarcely could), a student of natural philosophy, and had attended lectures; but he had run wild, misused his opportunities, gone down, and never risen again. He had no complaint to offer about that. He had made his bed and he lay upon it. It was far too late to make another.
All that I have here condensed, he said in a quiet manner, with his grave dark regards divided between me and the fire. He threw in the word "Sir" from time to time, and especially when he referred to his youth: as though to request me to understand that he claimed to be nothing but what I found him. He was several times interrupted by the little bell, and had to read off messages, and send replies. Once, he had to stand without the door, and display a flag as a train passed, and make some verbal communication to the driver. In the discharge of his duties I observed him to be remarkably exact and vigilant, breaking off his discourse at a syllable, and remaining silent until what he had to do was done. ["No. 1 Branch-line," pages 192-193]
Commentary
Against the prosaic backdrop of the railway telegraphist's office the educated observer, identified by his middle class dress, sits nearest the reader while the wild-eyed railway employee gesticulates to indicate his puzzlement about the meaning of what he has seen and heard: the waving arm and the cautionary call "Look out, sir!" Townley Green could have chosen a more dramatic moment, but he was more interested in the contrast between the cool, detached narrator and the deeply disturbed eponymous character than in the events of the story, whose explanation may or may not be supernatural. Green even leaves the reader in doubt as to the reaction of narrator, for the illustrator has positioned "Barbox Brothers" in such a way that the reader cannot see his expression.
Bibliography
Bentley, Nicolas, Michael Slater, and Nina Burgis. The Dickens Index. Oxford and New York: Oxford U. P., 1988.
Davis, Paul. Charles Dickens A to Z: The Essential Reference to His Life and Work. New York: Facts On File, 1998.
Dickens, Charles. Christmas Stories. Il. Harry Furniss. Charles Dickens Library Edition. 18 vols. London: Educational Book Company, 1910. 2 vols.
Dickens, Charles. Christmas Stories from "Household Words" and "All The Year Round". Il. Fred Walker, F. A. Fraser, Harry French, E. G. Dalziel, J. Mahony [sic], Townley Green, and Charles Green. Centenary Edition. 36 vols. London: Chapman & Hall; New York: Charles Scribner's Sons, 1911. Volume Two.
Dickens, Charles. Christmas Stories. Il. Edward Dalziel, Harry French, F. A. Fraser, James Mahoney, Townley Green, and Charles Green. The Oxford Illustrated Dickens. Oxford, New York, and Toronto: Oxford U.P., 1956, rpt. 1989.
Dickens, Charles. Christmas Stories. Il. E. A. Abbey. The Household Edition. New York: Harper and Brothers, 1876.
Dickens, Charles. Christmas Stories from "Household Words" and "All the Year Round". Il. E. G. Dalziel. The Household Edition. London: Chapman and Hall, 1877. Rpt., 1892.
Schlicke, Paul, ed. "Christmas Stories." The Oxford Companion to Dickens. Oxford and New York: Oxford U. P., 1999. Pp. 100-101.
Thomas, Deborah A. Dickens and The Short Story. Philadelphia: U. Pennsylvania Press, 1982.
---

Victorian
Web

Visual
Arts

Illus-
tration

Charles
Green

Next
Last modified 3 October 2013