Photographs by Robert Freidus. Text, formatting and perspective correction by Jacqueline Banerjee. The photographs appear here by kind permission of Highgate Cemetery. [Click on the images for larger pictures.]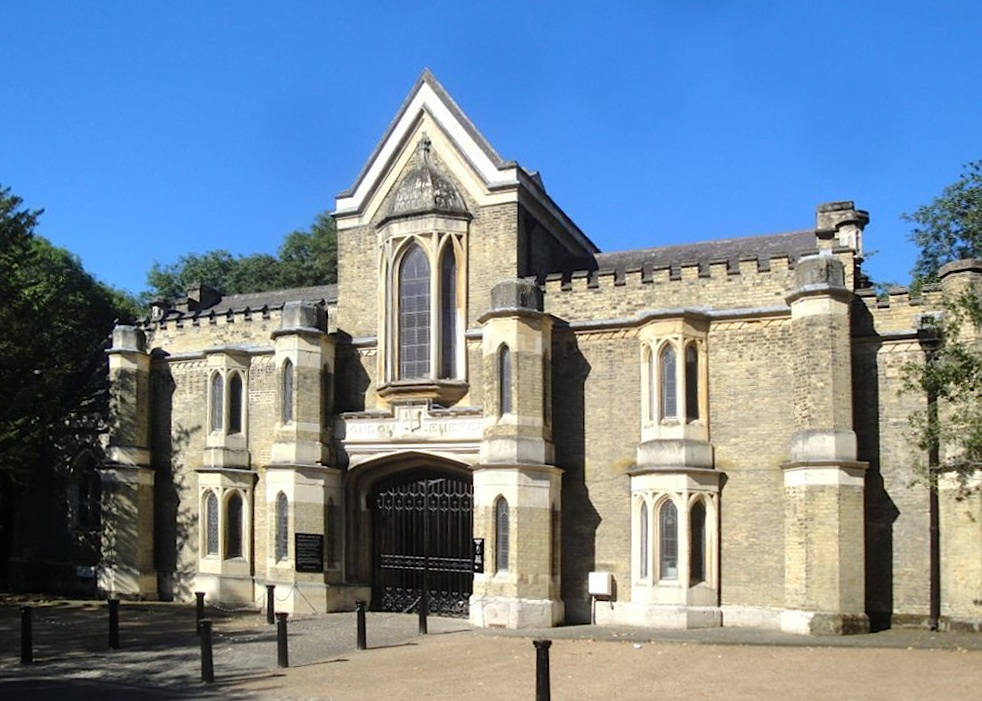 Gatehouse and Chapels of Highgate Cemetery, or the Cemetery of St James, Swain's Lane, Highgate, London N6. Stephen Geary (1797-1854). 1839 (Geary was later supported by another London architect, James Bunstone Bunning,1802-1863, who was appointed as the Company's Surveyor in 1839). James Stevens Curl describes the chapel/gatehouse complex as "unscholarly" Gothic in style but nevertheless "pretty, in spite of having been relieved of much of its ornament" (87).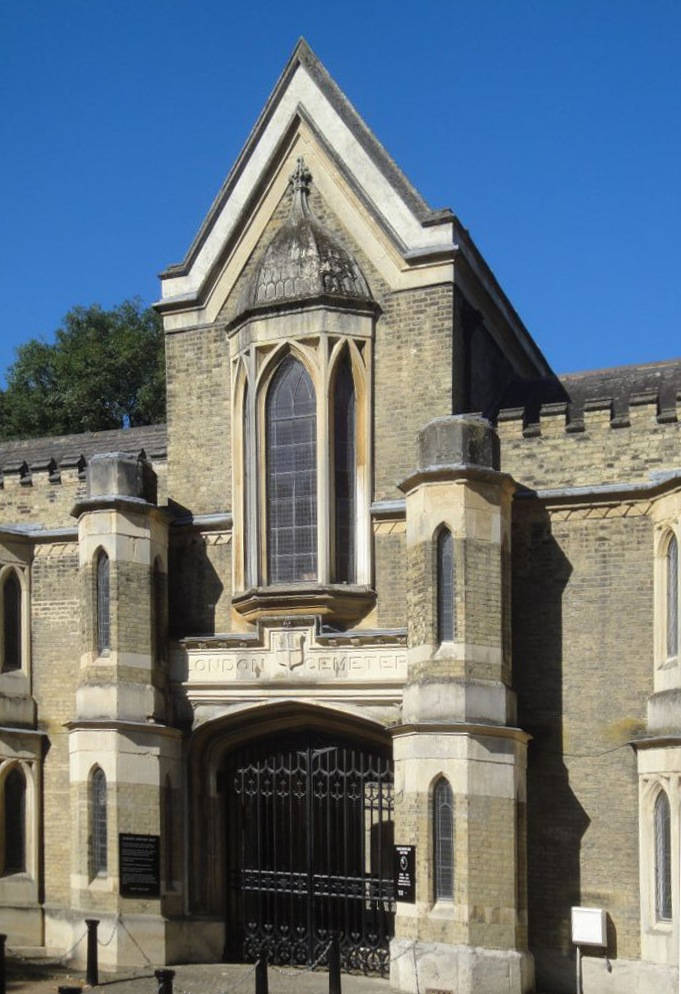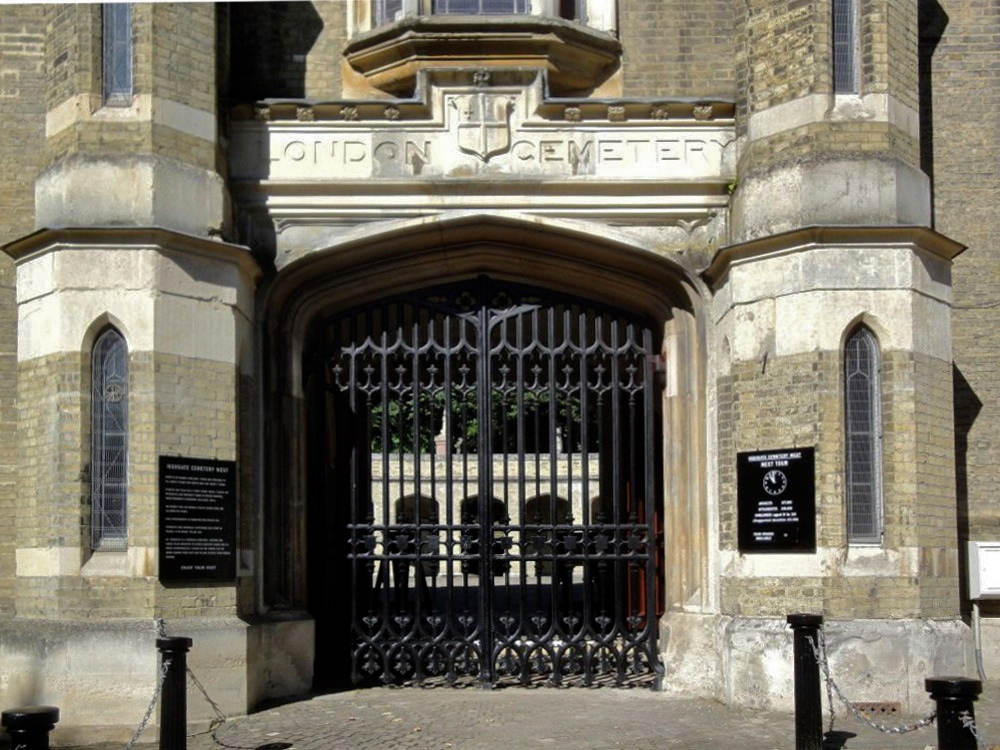 Left to right: Central arch and oriel. (b) Close-up, showing the words: "London Cemetery." (c) Building seen from the side, with one of the large posts on Swain's Lane.
The gateway to the cemetery was very important, "a key feature heralding the entrance to Elysium, which also happened to be a prestigious place of commemoration"; it was like a "triumphal arch" (Rutherford 21), though this gateway is much more modest than, for example, the enormous neoclassical one at Kensal Green, which has lodges rather than chapels attached. But the Gothic style here, once dismissed as "Undertakers' Gothic" (qtd. in Curl 88) is more suitable for this "most atmospheric of London's great cemeteries" (Cherry and Pevsner 353).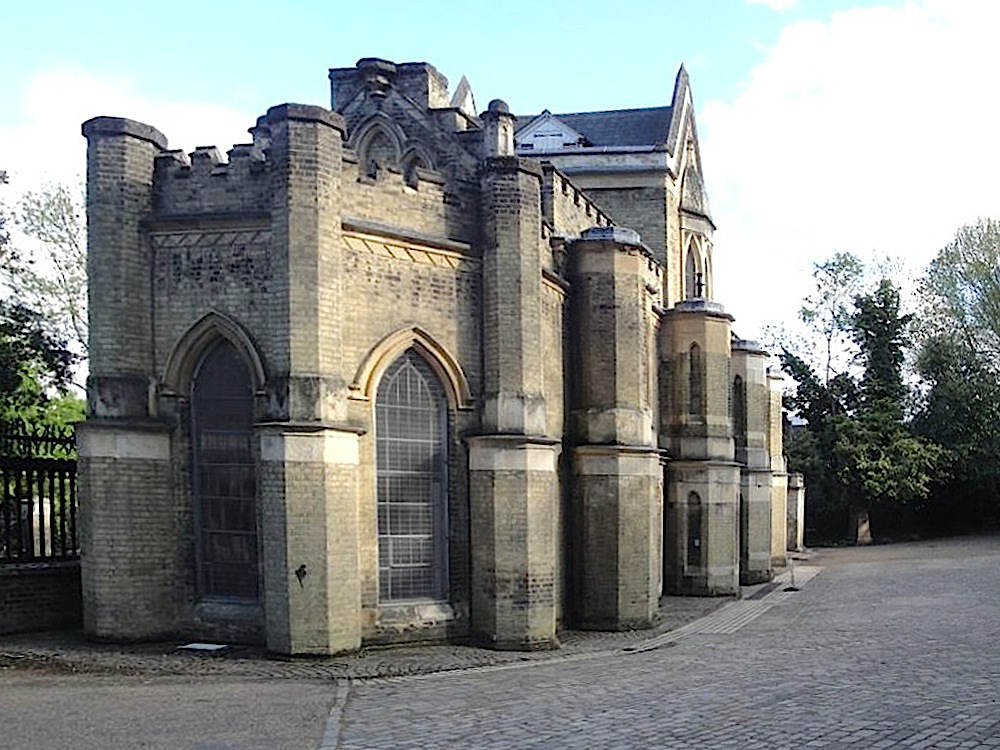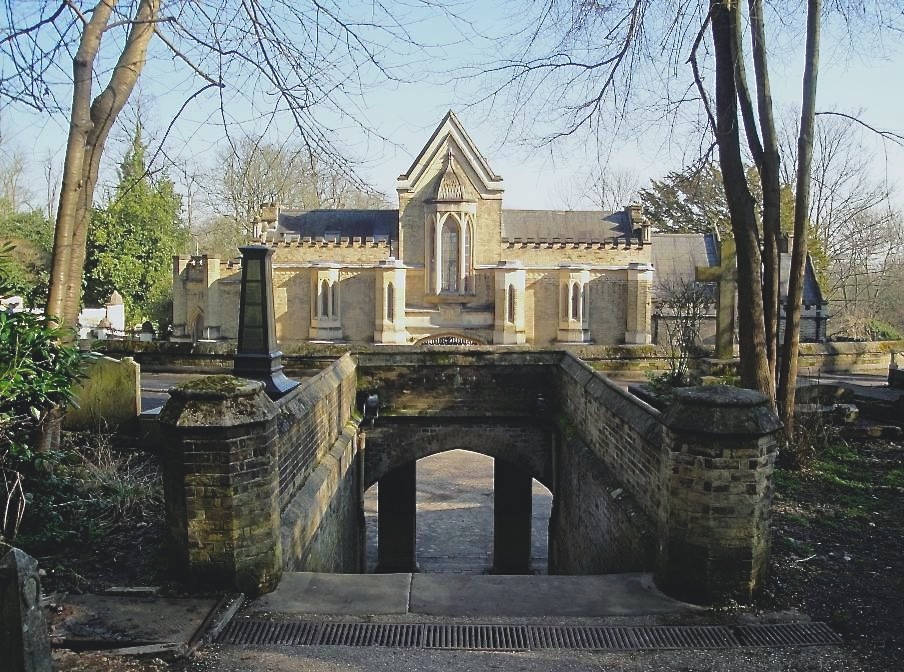 Views of the rear from different angles, as seen from inside the Western Cemetery.
Inevitably, there is a much greater sense of space on this side of the building than there is on the Swain's Lane side. But the chapels served both parts of the cemetery once the Eastern side was opened: a tunnel was constructed under Swain's Lane, and coffins were lowered into it from the Anglican Chapel on the West side so that they could be moved discretely across the road to the newer section, without disturbing the carriages or people outside. Since 2011, it has been possible to hold funerals here again, so Highgate continues to be a fully working cemetery.
Related Material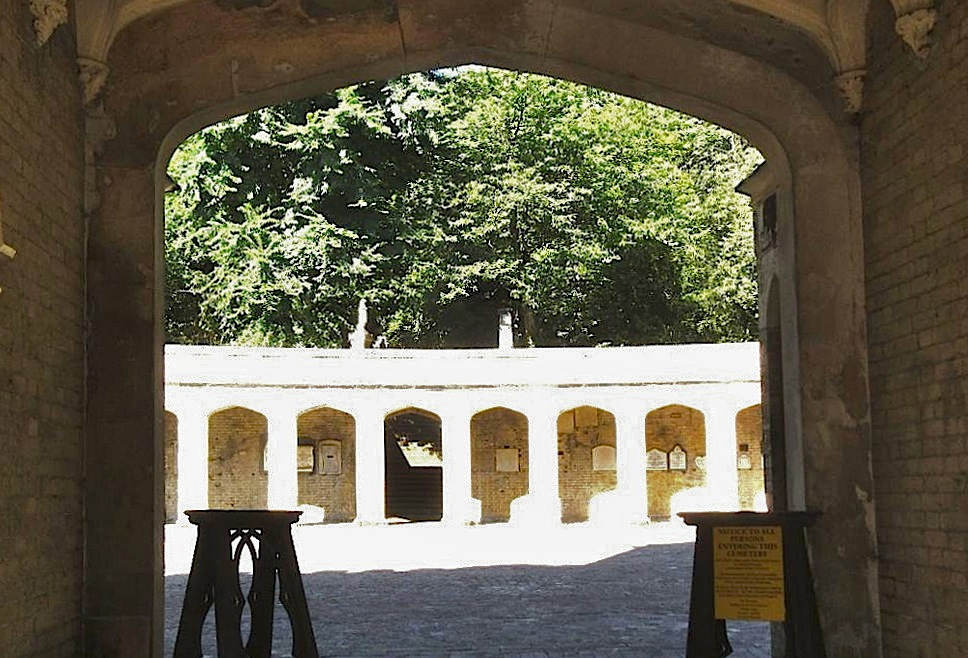 View through the entrance gateway. Steps through the dark arch ahead lead up to the circular Egyptian Catacombs beyond.
Sources
Cherry, Bridget, and Nikolaus Pevsner. London 4: North. Buildings of England series. New Haven and London: Yale University Press, 2002. Print.
Curl, James Stevens. The Victorian Celebration of Death. Paperback ed. Stroud: Sutton, 2004. Print.
"Introduction: Highgate Cemetery." HighgateCemetery: A Victorian Valhalla. Web. 15 August 2013.
Rutherford, Sarah. The Victorian Cemetery. Botley, Oxford: Shire, 2008. Print.
---
Last modified 15 August 2013