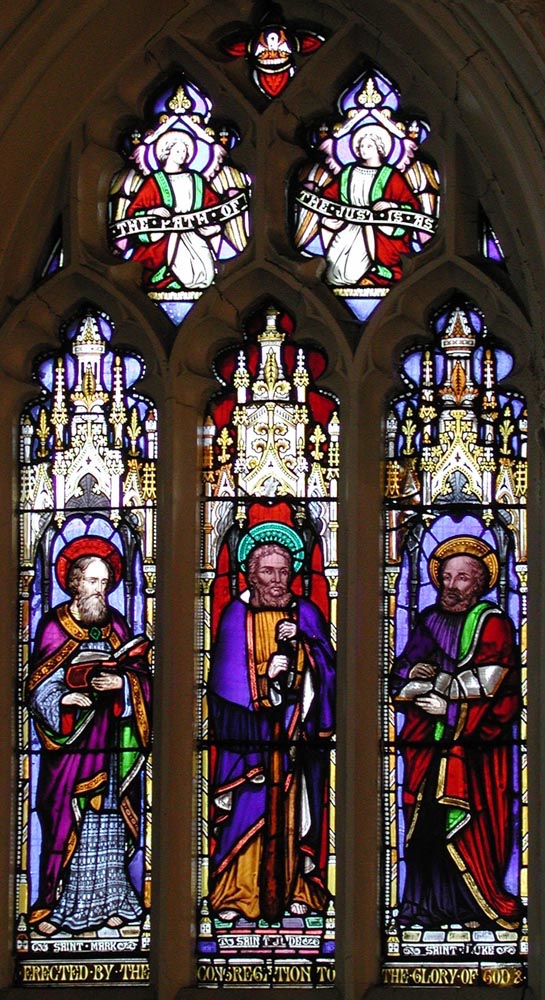 St Mark, St Jude and St Luke
Charles Alexander Gibbs (1825-1877)
Mildmay Grove, Islington, N. London
St Jude, who is flanked by St Mark with the Gospel and St Luke with a chalice, was one of the original twelve disciples from Galilee. Brother to St James the Less, he is shown with a fearsome club, the instrument of his martyrdom. The red background to his head picks up the colour in the topmost light, reminding us of the flames of Pentecost, at which he was present.
St Jude is the patron saint of hope, a resort of those in difficult predicaments. There is a Carmelite shrine to him in Faversham, Kent, but he is an important saint in the Anglican church as well, and a number of churches are dedicated to him.
Angels in the tracery lights hold the text, "The path of the just is as [a shining light]" (Proverbs 4, 18). The window was,as inscribed on the lower edge, "Erected by the congregation to the glory of God."
Photograph by John Salmon, and text by Jacqueline Banerjee
[You may use this image without prior permission for any scholarly or educational purpose as long as you (1) credit the photographer and (2) link your document to this URL. Mouse over the text above for links, and click on the image for a larger picture.]