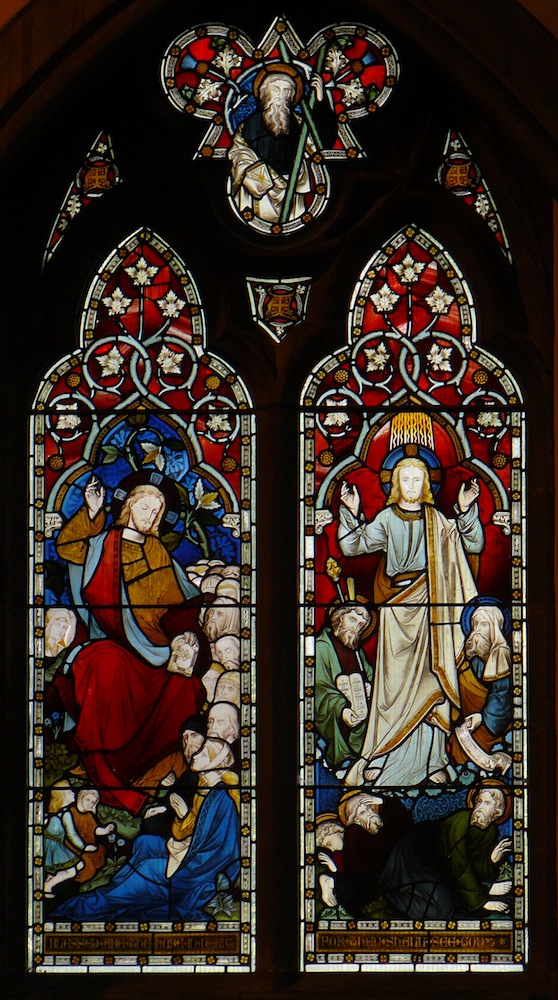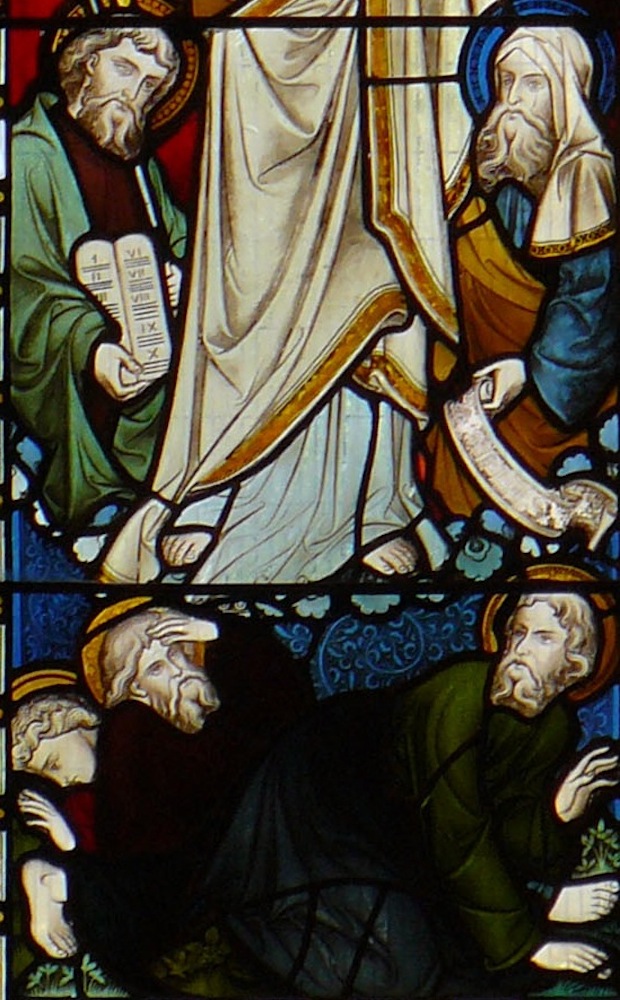 Left: Whole window. Right: Detail from "For They shall See God." [Click on the images to enlarge them.]
Blessed are the Pure in Heart; For They shall See God, by John Hardman & Co., with a closer view of the scene in which disciples are dazzled and awed by God's countenance. At the very top of the window, with his transverse cross, is St Andrew, to whom the Cathedral is dedicated, and who is, of course, the patron saint of Scotland.
These north aisle windows, like the rest of the nave windows, were installed in 1869-70 in Alexander Ross's Inverness Cathedral, dedicated to St Andrew, Inverness-shire, Scotland. Here is a key episode which could not be left out of Hardman's didactic scheme for this aisle, about the miracles and teachings of Christ. The Sermon on the Mount is treated a little differently here, in that although the episode is shown as it may have looked in real life, with young and old gathered to hear the inspirational message, there is an accompanying scene in the adjacent light showing those who, seeing the face of God as promised to the "pure in heart," are overwhelmed by its transcendent light.
Notice that above them are prophets from the Old Testament, with Moses holding the Ten Commandments: this is exactly in accordance with the biblical episode, because Jesus says at the end of the Beatitudes, "Think not that I am come to destroy the law, or the prophets: I am not come to destroy, but to fulfil.... Whosoever therefore shall break one of these least commandments, and shall teach men so, he shall be called the least in the kingdom of heaven: but whosoever shall do and teach them, the same shall be called great in the kingdom of heaven" (Matthew 5, 17-19). So here every aspect of the sermon is graphically represented. According to Mathé Shepheard, Hardman particularly liked to show "the fulfilment of Old Testament prophecies in the New" during the period of the 1860s-90s (49).
Photographs by Colin Price, reproduced here by kind permission of the cathedral; text and formatting by Jacqueline Banerjee. You may use these images without prior permission for any scholarly or educational purpose as long as you (1) credit the photographer and (2) link your document to this URL in a web document or cite the Victorian Web in a print one.
Related Material
Bibliography
Gifford, John. Highland and Islands. The Buildings of Scotland. London: Penguin, 1992.
"Inverness, Ardross Street, Cathedral Church of St Andrew." British Listed Buildings. Web. 11 January 2018.
Shepheard, Mathé. The Stained Glass of John Hardman and Company under the Leadership of John Hardman Powell 1867-1895, Vol. 1. (Based on a thesis presented at Birmingham City University in 2007). Web. 5 February 2013.
"A Tour of the Cathedral." United Diocese of Moray, Ross and Caithness. Web. 11 January 2018.
---
11 January 2018