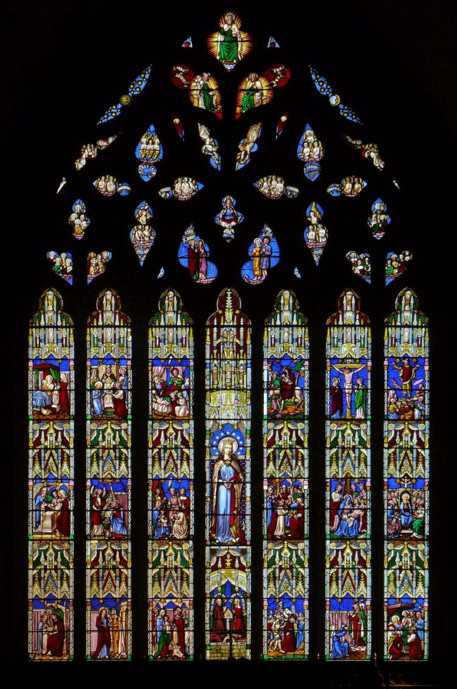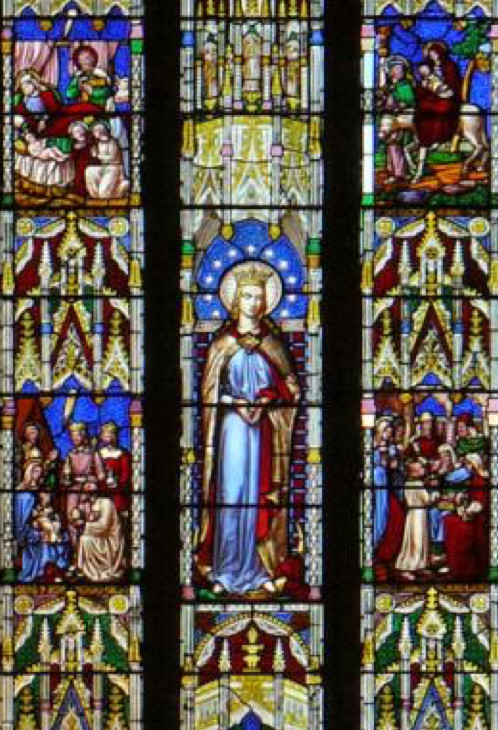 Left: The whole window. Right: Central part. [Click on the images to enlarge them.]
East window of the Cathedral Church of St Marie, Norfolk Row, Sheffield. The Grade II* listed cathedral church was built by Weightman and Hadfield, and the listing text tells us that this window was designed by the architect George Goldie (1828-1887), who at that time was apprenticed to Hadfield (1812-1885). It was executed by William Wailes (1808-1881), and installed in 1850.
The window depicts altogether eighteen scenes which focus on the life of the Virgin Mary, and shows the donors of the window, Hadfield and his wife Sarah, at her feet in the centre of the lowest tier. Seen in the central part, around the depiction of Mary herself, are (from upper left clockwise) the nativity, the flight to Bethlehem; Mary seeking Jesus in the temple, and the Coming of the Magi. The predominant blue of the background helps to unify the different episodes and bring out its theme of glorifying the Mother of God.
The west window of the nave was designed by A. W. N. Pugin, and Ruth Harman and John Minnis describe it as superior in design to this one (see p. 59). This one is however larger, and a tour de force for a young apprentice architect.
Photographs by Colin Price, reproduced here by kind permission of the Cathedral Dean. Commentary and formatting by Jacqueline Banerjee.
Related Material
Bibliography
"Cathedral Church of St Marie, Sheffield." Historic England. Web. 14 January 2020.
Harman, Ruth, and John Minnis, with contributions by Roger Harper. Sheffield. Pevsner Architectural Guides. New Haven and London: Yale University Press, 2004.
O'Donnell, Roderick. The Pugins and the Catholic Midlands. Leominster: Gracewing, and the Archdiocese of Birmingham, 2002.
---
Created 14 January 2020