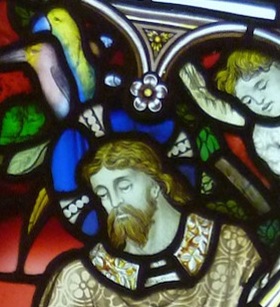 Christopher Whitworth Whall was born in 1849 as the third son of a country rector. His early life in rural Thurning-cum-Gidding in Northamptonshire gave him a love of nature that would be a constant source of inspiration to him. Overcoming his parents' opposition, he followed his artistic inclinations and from 1867 trained at what are now the Royal Academy Schools. He then went to Italy to study art, where he fell under the spell of Botticelli, and where too "his studies showed that Ruskin had come to influence his thought and aims" ("Mr. C. W. Whall").
Later in the 1870s, Whall developed an interest in the design of stained glass, becoming a Catholic in 1879. According to the Studio magazine, it was in 1884 that finally "united his lot to the handful of able men who devoted their lives to a revival of genuine stained glass" (366). Certainly it was in the 1880s that he met many of the artists and designers associated with the Arts and Crafts movement, including John Dando Sedding, whom he came to know when they were both in Edinburgh in 1889, for a meeting of the National Association for the Advancement of Art and its Application to Industry. As for commissions, Sedding's support was a turning-point in his career. The Times obituary quotes him as saying that after his first windows for Sedding, "work came pouring in." A number of these commissions were in Scotland (see "Christopher Whall").
Another important connection was with W. R. Lethaby, for whom he provided windows at the Chapel of Saints Colm and Margaret at Malsetter House, and All Saints Church, Brockhampton, Herefordshire. It was through Lethaby too that he came to write his influential book, Stained Glass Work: A Text Book for Students and Workers in Glass (1905).
In his Oxford Dictionary of National Biography entry on him, Peter Cormack writes succinctly of Whall's achievement:
Identifying with the continuous tradition of English stained glass, not just its medieval triumphs but also the humbler work of eighteenth-century plumber-glaziers, Whall created an innovative, expressive style based on materials and honest craftsmanship. It was a logical development from Morris & Co.'s stained glass, with the added dimension brought by Whall's own constant involvement in workshop practice. His windows are emphatically glassy rather than purely pictorial in character, combining sumptuous colours, thickly textured "slab" glasses, and bold leading patterns. The beautifully drawn figures, often framed by silvery canopies of foliage and set against backgrounds of patterned quarries, blend the Italianate grace of late Pre-Raphaelitism with a peculiarly English — and Gothic — sensibility. The general effect subtly echoes, without imitating, historic forms.
Whall's influence was ubiquitous. As late as 1894 he was designing for James Powell and Sons (see "Architects and Artists"). In 1897, he also helped to set up the stained glass firm of Lowndes and Drudry, and designed windows for them. He was a leading member of the Arts and Crafts Exhibition Society, and, perhaps most important of all, he passed on his skills, by accepting a teaching position at the Royal College of Art. He was also the first teacher of stained glass at the Central School or Arts and Crafts in London, a position he held until 1905. In 1907, while still teaching at the Royal College, Whall opened his own workshop in Hammersmith with his daughter Veronica, where he instilled his ideals about the indivisibility of art and technical proficiency into his apprentices. Like Sedding before him, he became Master of the Art Workers Guild in 1912.
Whall had married the portrait painter Florence Chaplin in 1884, settling in Stonebridge, near Dorking in Surrey. After he died in 1924, Veronica, who was one of the couple's five children, kept his studio going until she retired in the 1950s. — Jacqueline Banerjee.
Stained Glass
Works in Other Media
Bibliography
"Architects and Artists W-X-Y-Z." Sussex Parish Churches. Web. 6 September 2016.
"Christopher Whall." Artist's Footsteps. Web. 6 September 2016.
Cormack, Peter. The Stained Glass Work of Chrisopher Whall 1849-1924: "Aglow with Brave Resplendent Colour." Boston: Charles J. Connick Stained Glass Foundation, 1999.
_____. "Whall, Christopher Whitworth (1849–1924), stained-glass artist and craftsman." Oxford Dictionary of National Biography. Online ed. Web. 6 September 2016.
"Mr C. W. Whall." The Times. 30 December 1924: 15. Times Digital Archive. Web. 6 September 2016.
Sparrow,Walter Shaw. "Christopher Whall and His Influence." Studio. Vol. 90 (1925): 365-68. University of Heidleberg Library. Web. 6 September 2016.
---
Created 6 September 2016.