This short biography, taken from Victor Plarr's Dictionary (see bibliography for details), has been formatted for the Victorian Web with the addition of paragraphing for ease of reading. — JB

AITHFULL, Miss Emily, daughter of the late Rev. Ferdinand Faithfull, was born at Headley Rectory, Surrey, in 1835, and educated in a school at Kensington. She was presented at Court in her twenty-first year. On becoming interested in the condition of women, she devoted herself to the extension of their remunerative spheres of labour. In 1860 she collected a band of female compositors, and, in spite of great difficulties, founded a typographical establishment in Great Coram Street, W.C., in which women (as compositors) were employed, and for which she obtained the approval of Her Majesty. Among many other specimens of first-rate workmanship produced at the Victoria Press is The Victoria Regia, dedicated by special permission to the Queen, who signified her approbation by giving a warrant appointing Miss Faithfull Printer and Publisher in Ordinary to Her Majasty.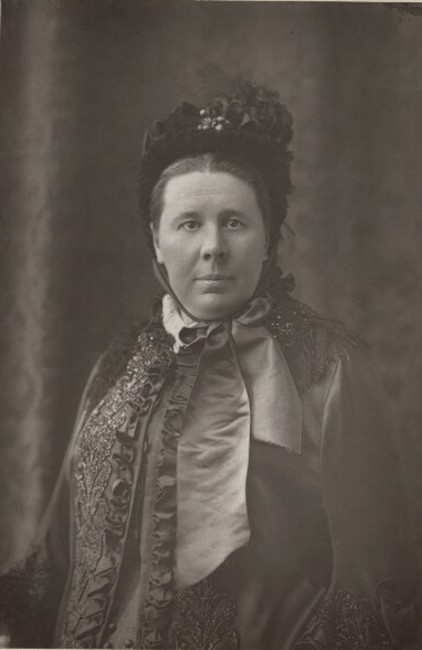 Emily Faithfull by W. & D. Downey, carbon print published by Cassell & Company, Ltd, 1891. NPG x8702. © National Portrait Gallery, London.
In May, 1863, Miss Faithfull started a monthly publication called The Victoria Magazine, in which for eighteen years the claims of women to remunerative employment were earnestly set forth. In the spring of 1868 Miss Faithfull published a novel, entitled Change upon Change, which ran into a second edition within a month. Shortly after this, Miss Faithfull made her debut as a lecturer, and achieved a marked success in this capacity, and has since frequently lectured in our leading literary and philosophical institutions.
In 1872-73 Miss Faithfull visited the United States. After a third tour in America, in 1882-83, she published a book entitled Three Visits to America, containing vivid descriptions of various feminine industries, and life as she found it among the Mormons in Salt Lake City, Colorado, California, &c.
Miss Faithfull is a member of the staff of the Lady's Pictorial, to which she contributes two articles every week; and articles on the subject which she has made specially her own are frequently to be found in our leading papers and magazines. Miss Faithfull had the honour of giving an address on the Queen's influence on women at the Town Hall, Manchester, in the Jubilee year, the two other speakers being the Bishop of Manchester and the Bishop of Salford, now Cardinal Vaughan, Archbishop of Westminister. She also personally presented a copy of these addresses to the Princess of Wales during Her Royal Highness's visit to Manchester, and subsequently to the Duchess of York on her marriage.
In commemoration of thirty years dedicated to the interests of her sex. Miss Faithfull received, in 1888, an engraving of Her Majesty, which was sent to her by the Queen, bearing an inscription in Her Majesty's own handwriting, and followed by a Civil Service Pension. In Sept., 1890, she visited, by request, the Queen of Roumania, who was then in England, and detailed to Her Majesty the various movements of woman's work in England. [284]
Related Material
Bibliography
Plarr, Victor, ed. Men and Women of the Time: A Dictionary of Contemporaries. 14th ed. London: Routledge, 1895. Internet Archive. Contributed by the University of California Libraries. Web. 1 June 2020.
---
Created 3 June 2020.