[This document comes from Helena Wojtczak's English Social History: Women of Nineteenth-Century Hastings and St.Leonards. An Illustrated Historical Miscellany, which the author has graciously shared with readers of the Victorian Web. Click on the title to obtain the original site, which has additional information.]
Haply some hoary-headed Swain may say,
'Oft have we seen him at the peep of dawn
Brushing with hasty steps the dews away
To meet the sun upon the upland lawn.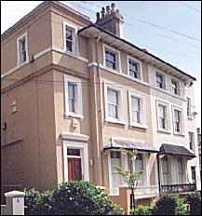 The Uplands and The Lawn in St Leonards were built in the 1850s for the wealthy. They occupy an elevated site overlooking the subscription gardens and the sea. The Uplands is a set of three spacious double-villas and The Lawn (left) is a set of five.
From the start they were inhabited almost exclusively by women. The 1871 and 1881 Censuses show that females headed 14 of the 16 houses. The typical pattern was an elderly widow and her sister(s), daughter(s) and/or niece(s) and a few resident servants, almost all females. The servants always outnumbered their employers.
Among the prestigious residents were Lady Howell, Mary Waldegrave, (daughter of the Countess) and Lady Elphinstone. In the 1880s the latter lived at No. 4 The Lawn with her niece and a live-in staff of four (a butler, a cook and two housemaids).
The most interesting family was the Mackays. Lucy Mackay, a widow, of Bagthorpe Hall, Norfolk and three of her spinster daughters in their 30s moved to St Leonards around 1832 and after a short spell in apartments settled at No. 39 Marina.Their brother, Captain (later Lieutenant-Colonel) Mackay was to become Chief Constable of Sussex; Emma, Eliza and Charlotte divided their time between upper-class amusements and philanthropy.
The Mackay ladies were good friends of James Burton and resided in St Leonards from its earliest days. They could almost be described as co-founders of the town, having helped to set up many institutions and societies. All the siblings engaged in archery, a very popular sport at the time and one of the few oppurtunities women had of mixing with men informally. Eliza's and Charlotte's lives seem to have been dominated by archery competitions. They became acquainted with Princess Victoria when she visited the town in 1834 and so perhaps it was they who persuaded her to be patron of The Society of St Leonards Archers, which they had co-founded in 1833. They planned, ornamented, improved and maintained the archery grounds, which Burton donated for the purpose, until they were among the best in Britain. All three ladies were fiercely competitive; Eliza won many of the Royal Victoria prizes, and when she first achieved the top prize, in 1837, Queen Victoria, who had just ascended the throne, renamed the society "The Queen's St Leonards Archers." Emma enjoyed attending rifle fetes, although no lady competed.

Prize giving, Archery grounds 1865. Is Eliza Mackay in the photo? (Photo: H.J. Godbold)
In the 1840s the Mackays helped fund St Leonards schools and the Infirmary, and they helped set up and run charitable societies whose motto was "Help the Poor to Help Themselves". These included clothing and coal clubs, which Eliza ran for almost 50 years. She was also treasurer of the Lying-In Society for Poor Lying-In Married Women. When a public appeal was opened for a new church to be built in St Leonards their names were almost at the top of the list. They each gave a cash donation plus a promise (trust fund) to pay a yearly sum. The church was to be called St Mary Magdalen; it would have 850 seats, of which 450 were to be forever free of charge and for the exclusive use of the poor. (This church was sold in about 1980 and now houses a Greek Orthodox congregation.)
Mrs. Mackay died in 1849 before the church was built. She was 86, blind, and described as "a pattern of piety." Her daughters tenanted No. 14 West Hill and in 1854 the three, now in their sixties, moved into No. 1 Upland Views, when the set of villas was still being built. When No. 6 was ready in 1856 they immediately bought it, and relished finishing off and improving the house and gardens. They were looked after by three residential domestic servants in their 20s. This household was modest compared with others. For example, No. 2 was inhabited by a magistrate, his wife, three children and seven servants, of whom six were female.
Eliza Mackay's social eminence was such that on 24th July 1849 she was invited to lay the first three bricks of a new railway tunnel being built on Priory Meadows, Hastings. This tunnel was significant as it allowed the railway at last to be broughtinto Hastings. A line was opened in 1846 from Brighton but it terminated at St Leonards, owing to the construction challenges caused by the hilly terrain.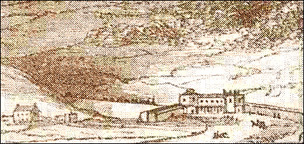 Hastings Station in 1851, built on Priory Meadows. The tunnel Miss Mackay helped to construct (albeit in a small way!) is on the left.
(Detail from drawing in the Illustrated London News)
The Mackay sisters attended lavish upper class social events. At a party given by Mrs. Fletcher Norton at Wellington Square in 1859 "the large drawing room and the ball room adjoining were filled with beauty and fashionables". A full band provided music for the dancing and Emma Mackay and her brother mingled with a hundred other affluent guests including the MP and his daughter Marianne North, then 28, and a smattering of minor aristocrats and knights.
Despite the deaths of both her sisters by 1869, Eliza stayed on in the enormous villa until her death in 1885, aged 90. She retained two female house servants to the end, one of whom lived and worked in her service for 31 years. Next door at No. 5, an equally large house, two elderly spinsters, Isabella and Elizabeth Dewar, lived with four female servants.
The feminine tradition of No.6 continued when the Rev. Jamieson, rector of St Leonards Church, bought it in the late 1880s. Having a wife, three daughters, and a resident cook and housemaid made him the sole male in a household of seven.
---
Last modified 2000