[This document comes from Helena Wojtczak's English Social History: Women of Nineteenth-Century Hastings and St.Leonards. An Illustrated Historical Miscellany, which the author has graciously shared with readers of the Victorian Web. Click on the title to obtain the original site, which has additional information.]
Colour photographs by HW May 2000: Top — Lavatoria. Second — The Lawn. Third — Shepherd Street.
James Burton's 1830s layout of the new town of St Leonards shows houses for the rich set apart from those for the poor, for whom special roads such as Mercatoria — for merchants — and Lavatoria (pictured below) — for washerwomen — were built. In practice, multifarious trades-people lived here.
The St Leonards rich lived in spacious opulence: frequently just two or three persons occupied a villa boasting three or four large reception-rooms, several bedrooms, servants' accommodation, and gardens. A short walk away, working people were overcrowded into terraced cottages with meagre back yards.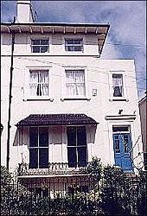 No upper-class lady did paid work or housework. A lower working class charwoman would, after doing a hundred household chores for her family, leave her home each day and walk to a spacious, bright and luxurious villa. There she did all the dirty chores for a lady who lived in comfort. This, they had both been raised to believe, was 'the way things were,' and was God's will.
The rich man in his castle;
the poor man at his gate
God made them, high and lowly;
and ordered their estate.
(From the popular Victorian hymn 'All Things Bright and Beautiful' by Cecil Alexander.
It is omitted from modern versions!)
At No. 1 Mercatoria in 1861, eight people lived in a small terraced house: a couple and five children aged 1 to 11, plus the man's widowed mother. At No. 1 Lavatoria Ann Russell, recently widowed, left her four daughters (13, 9, 5, and 4) and three sons (17, 7, and one month) in the care of her mother-in-law while she tried to support all nine by working as a charwoman.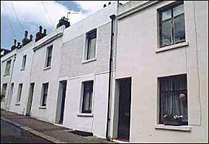 There were a number of smaller houses occupied by even larger families who often sublet one or two rooms as well. In Shepherd street (pictured right) the cottages, comprising six small rooms and a scullery, were almost all overcrowded. At No. 5 two rooms were occupied by Alice Kirby, 65, and her son, a labourer. Another two rooms were taken by Fred Baker, a railway luggage porter, his wife, and five children under 8. One room was occupied by Lucy Cornelius, 81, and her 17-year old god-daughter, a day servant. The sixth room, presumably, was the kitchen shared by all ten. Next door at No. 6 a baker lived with his wife and eight children aged 15 to 1. The most overcrowded house was No. 9: this housed three families in six rooms — a total of 14 persons. One of the families comprised a general labourer, his wife and six sons aged 18 to 5 — eight persons living in just two rooms.
Worse conditions obtained in Market Passage.
Hastings Old Town
There were fewer houses for the rich here. At the top end of town was a handful of mansions inhabited by the MP, magistrates and other wealthy persons, with more upper-class houses were at The Croft. In the High Street the very poor and the fairly comfortable lived cheek by jowl.

The accommodation for the poor was much worse than at St Leonards, since many of the houses were over two hundred years old. There was widespread dampness, and most houses were under-ventilated and overcrowded, with rooms sub-let to lodgers. Interior lighting was by oil lamps. There was no drainage, sewerage, running water or flush toilets. The Bourne stream was like an open sewer and the stench was repulsive. Privies (earth closets) were shared between many families and they overflowed into yards and even houses. Connecting the two parallel main streets was a plethora of narrow, dismal alleyways (known as twittens) crammed with tiny, badly constructed homes. (Much of this area was destroyed between 1928-1963 when the council demolished hundreds of buildings. A busy main road, The Bourne, was built right through the middle.)



---
Last modified November 28 2000;
Thanks to David Baxendell for pointing out nonfunctioning links.