The illustrations here come (with permission) from the author's original article in The Journal of the Royal Society of Painter-Etchers & Engravers, No. 7, p. 36, and were evidently plates from his own collection. You may use the images without prior permission for any scholarly or educational purpose as long as you (1) credit the author and (2) link your document to this URL in a web document or cite the Victorian Web in a print one. [Click on the images for larger pictures.]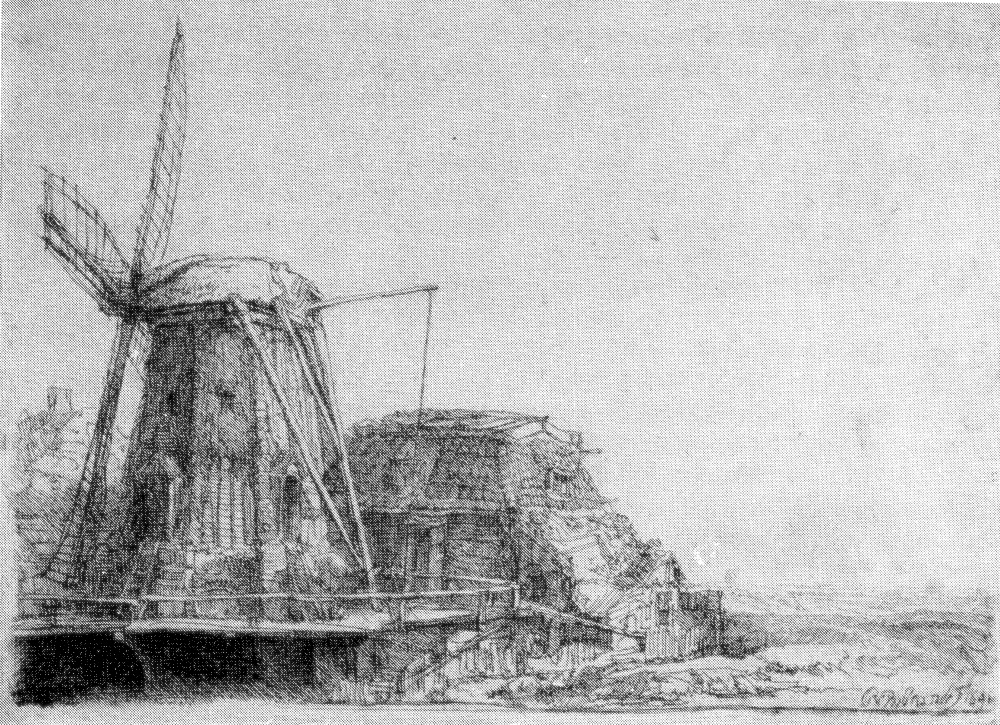 The Windmill.

ucy Brightwell? At first glance one may think that we have the attribution wrong here — very wrong! Surely these plates are by — who other than....? But no. These quite unusual achievements are by a celebrated etcher of the Norwich School — Cecilia Lucy Brightwell, 1811-1876. Her work was to be seen fairly recently in an excellent exhibition at Norwich Castle Museum that we were fortunate enough to come upon while visiting that town. The Exhibition theme was that of the Dutch Influence upon the Norwich School, and prints by Crome, Cotman, Daniell and others were displayed, together with those by Ruisdael and, of course Rembrandt.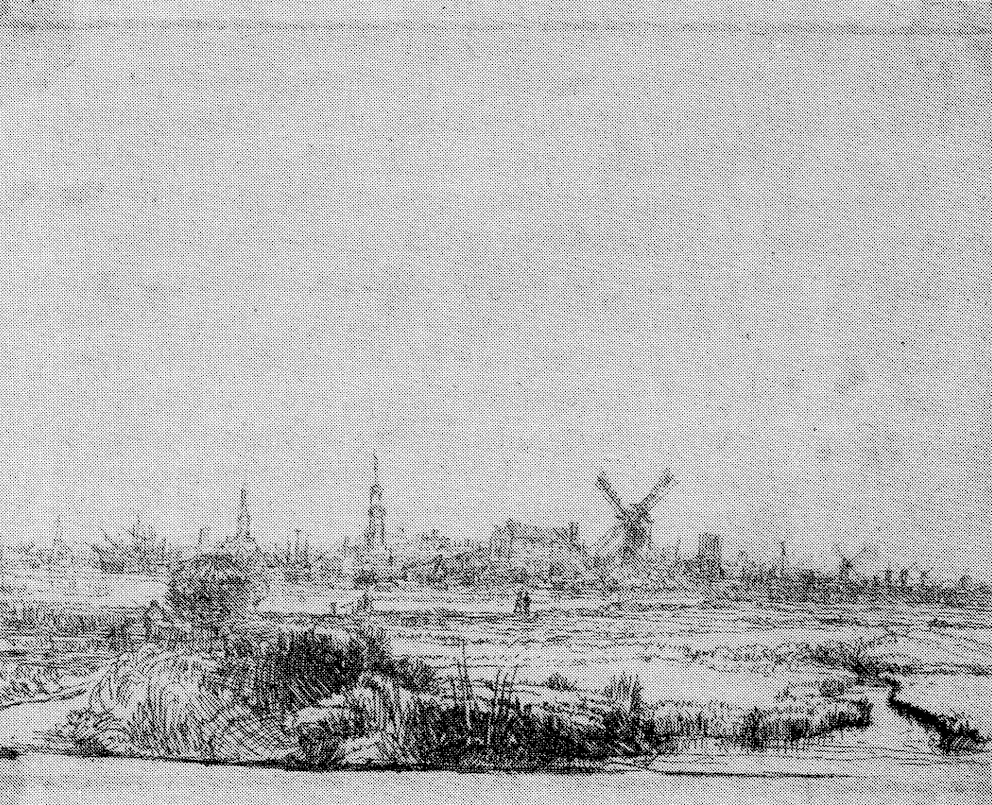 View of Amsterdam.
Lucy Brightwell seems to have been inspired not only to make her own etchings, but to teach herself the intricacies of the art by actually copying, to an incredibly high degree of discipleship, distinctive masterworks.
Note:
In the next issue of the Journal (no. 8) Michael Blaker reports a meeting with Graham Williams of the Florin Press, Biddenden, with whom he discussed this short article on Brightwell:
Graham Williams said, looking at Journal No. 7, that he had been interested in the article on Lucy Brightwell's copies of Rembrandt etchings — "She's good. But how do you know that the prints are really by her and not by Rembrandt?" It is true that she had not signed them, nor otherwise suggested her accomplishment — or even identity — other than in the impeccable transcriptions; but we pointed out that they had been acquired by us in good faith as Lucy Brightwell's, and we should feel somewhat put upon to discover them in fact by the Master after all. "The only infallible way," we were told, "to distinguish the Rembrandt authenticity in the Windmill plate, is the fact that the background is slightly crazed. She couldn't copy that." However, although she has repeated the originals — incredibly enough — line for line, to an etcher's eye there are in fact the minutest variations in proportion of the images of spires, grasses and so on — not surprisingly enough, after all. [23]
Bibliography
Blaker, Michael. "Lucy Brightwell — Copyist Extraordinary." The Journal of the Royal Society of Painter-Etchers & Engravers, No. 7: 36.
_____. "An Etcher's Diary." The Journal of the Royal Society of Painter-Etchers & Engravers, No. 8: 21-30.
---
Created 13 June 2020