Formatted with illustrations, captions and links by Jacqueline Banerjee. All illustrations except the first one, showing the cover of the book under review, are either from our own website, or selected from the sources given in the bibliography. You may use them without prior permission for any scholarly or educational purpose as long as you (1) credit the photographer or source and (2) link your document to this URL in a web document or cite the Victorian Web in a print one. [Click on the images to enlarge them, and for more information when available.]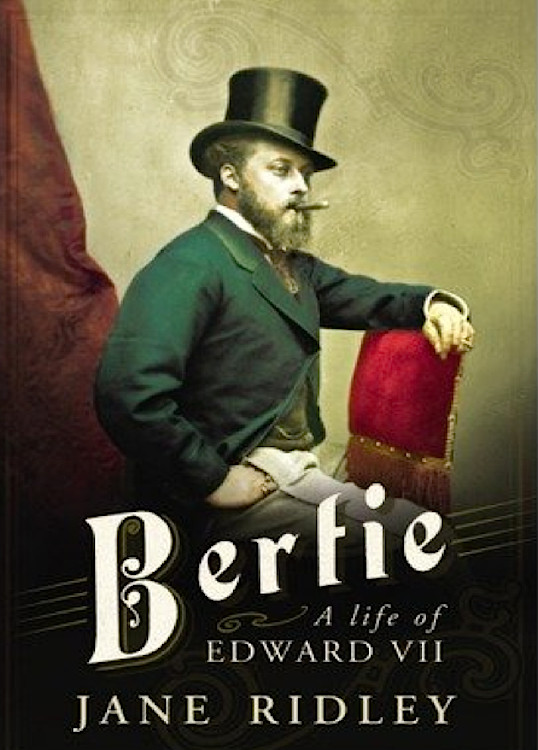 King Edward "smoked cigars, was addicted to entente cordials, married a Sea King's daughter and invented appendicitis," and pursued a policy of peace which "was very successful and which culminated in the Great War to End War." Jane Ridley quotes this humorous account from 1066 And All That (382). Her own biography of Edward VII is considerably fuller but scarcely less entertaining, showing how accessibility to the general reader can be achieved in a work of scholarship without sacrificing authority. There are one or two infelicities. "Disraeli was more economical than most with the actualité" (171) jars, and "The People's King" as the title of the last chapter takes populism a step too far. But for the most part the style is straightforward and well judged. It was an unprecedented but shrewd decision for Ridley to refer to her subject as Bertie through most of the book, though the King and King Edward appear regularly once he succeeds his mother.
In her introduction, Ridley explains that the book was completed in 2012, six years after the publishers expected it, because the available material was far greater than had been forecast and more emerged as the work went on, both in Windsor and in Denmark. The result is a more ambitious book than had been originally intended. It tells Bertie's complete life in a compelling chronological narrative and, most importantly, attempts a revision of our understanding of the final nine years of his life when he was for the first time a serious figure in our national life.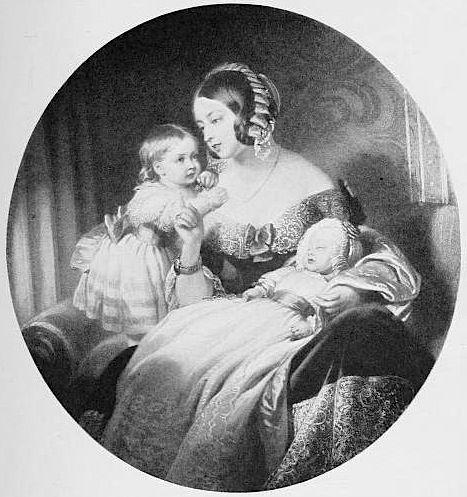 Left to right: (a) Queen Victoria, the Empress Frederick, and King Edward VII from a painting by S. Cousins, A.R.A.. Source: Lowndes, facing p.11. (b) The Duke of Cornwall (Heir to the Throne) and Prince Albert. Photograph by W. U. Kirk, Cowes, Isle of Wight. Source: Whates, frontispiece. (c) King Edward VII when Prince of Wales from a Lithograph at Windsor Castle dated July 10th 1858. Source: Watson, frontispiece.
Neither Albert nor Victoria emerges from the earlier chapters with an enhanced reputation. Their failure to understand their eldest son, their preference for their much brighter eldest daughter, and their fixed and entirely misconceived ideas about his education and upbringing were weaknesses that they shared. Victoria eventually showed some affection and tolerance and even trust in Bertie as they both grew older, but the trust did not extend to allowing him access to government papers. He was denied a fitting role despite Victoria's reluctance to appear in public. In his case the inescapable frustrations of life as a Prince of Wales were exaggerated by his mother's determination to refuse him any share in her responsibilities.
Given the importance of the poor treatment that Bertie experienced as a son and heir, Ridley might have given rather more attention to Bertie's treatment of the future George V, particularly once his older brother died in 1892. She produces the familiar quotation about Bertie being afraid of his mother, George being afraid of Bertie and George's determination to make his sons afraid of him (see p. 305), but it is far from clear how George could have come to feel afraid of his father. He might well have felt neglected, but we learn little to justify his being afraid. There is next to nothing to show that, once he was King, Bertie did more than his mother had done for him to prepare his heir for the succession.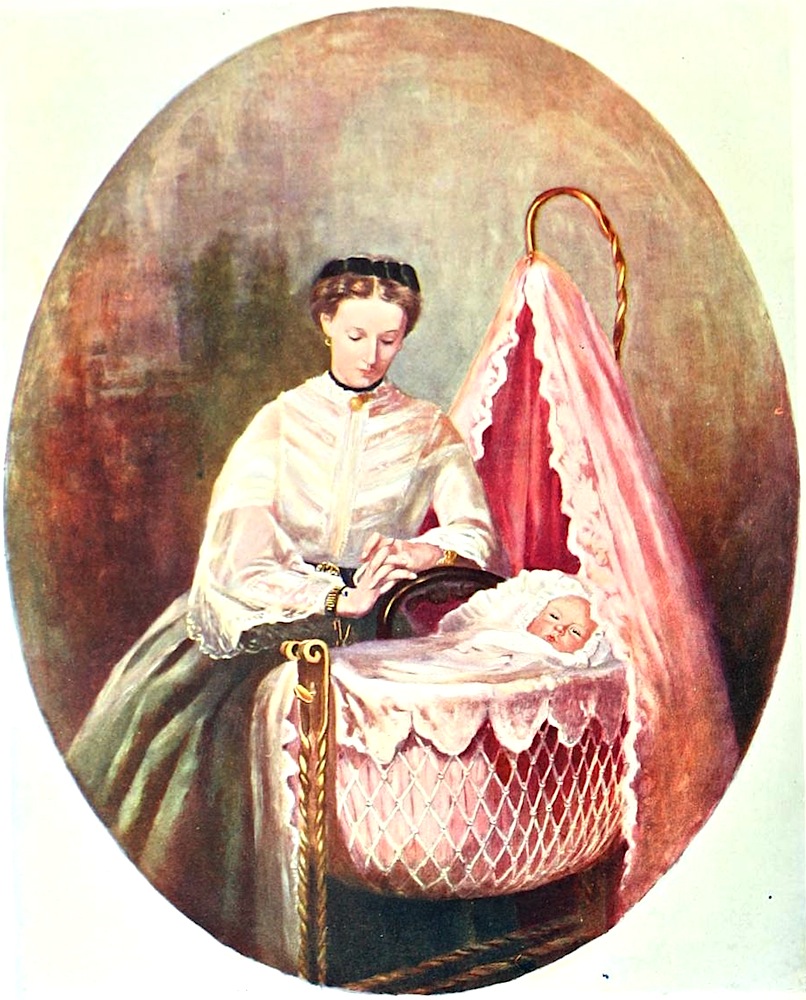 Left: Her Majesty Queen Alexandra and His Royal Highness Prince Albert Victor (Duke of Clarence). 1864. Source: Wilkins, facing p. 297. Right: Prince George. Source: Whates 21.
The reader experiences a different sort of frustration in the middle section of the book covering Bertie's adult life until he was 59 and became King. He had married Princess Alexandra in 1863. She was beautiful and loving but childlike for much of her life and unable to provide Bertie with the female company he cherished. The other women in Bertie's life who took up much of his time and energies until 1901 and led to the occasional public scandal fell into three categories: those whose conversation and company he enjoyed, mistresses with whom he didn't have a physical relationship and mistresses with whom he had sex. All too often the evidence doesn't allow us to be sure into which category a particular woman fell. The broad picture is clear but the details are obscure. Ridley generally avoids the trap of too much speculation. She makes the best of a bad job. To have written much less about this aspect of Bertie's life on the grounds that there is too little evidence to say much with certainty would have produced an unbalanced and misleading impression of the man and the life he led.
As to Bertie's treatment of Alix, Ridley seems unable to make up her mind whether it was disgraceful or understandable. The reaction of many readers may be marked by the same ambiguity. Mostly Alix, who seemed to rise above the humiliation, often seemed content with a lifestyle in which their social lives only overlapped from time to time; but there were occasions when she seemed as deeply hurt as one might have expected. Is it reasonable to apply different standards to life within an arranged marriage? Those readers who resolve the ambiguity in one direction or another may tell us as much about themselves as about Bertie and Alix.
The key to the final, important section of the biography is in the afterword on Bertie's previous biographers. It is to do with sources and when they became available, and with the passage of time making it easier to tell the story, as much as to do with the biographers. Amongst the biographers themselves Ridley concentrates on Sidney Lee who began by writing an essay for the DNB in 1912. The essay was critical of King Edward and played down the contribution he made as King largely on the basis of interviews with the leading politicians with whom he worked. His punishment was to be persuaded or bullied into writing a two-volume biography which was much more generous to Bertie. Writing it killed Lee, and the second volume was finished by his secretary to whom Ridley is rather more generous than to Lee. Her conclusion is that the full scale biography failed to undo the mischief of the DNB essay perhaps because it was so dull. The 1960s biography by Philip Magnus is treated much more briefly and the current DNB entry by Colin Matthew is surprisingly not even mentioned.
Two photographs of tinted engravings in the collection of the Imperial Hotel, New Delhi, depicting highlights of Bertie's tour of India. Left: Grand Chapter of the Star of India at Calcutta, 1 January 1876. The Prince of Wales investing the Maharajah of Joodphore [Jodhpur] with the Order. Right: Nagas Dancing before the Prince of Wales's Elephant in the Torchlight Procession at Jeypore.
In portraying Bertie as King, Ridley gives the impression of wanting to put right the false picture in Lee's 1912 article more effectively than Lee managed to do himself despite or because of the pressure from courtiers. In his first 59 years the trip to India in 1875-76 stands out as far and away the most useful contribution Bertie made to public affairs. It happened despite his mother rather than with her encouragement. The usefulness of the visit turned on Bertie's standing as a Prince, his comfort in that role, his personal charm and gift for the right word. As a result he related to the Indian Princes more successfully than his fellow countrymen posted to serve in India could possible manage. The trip foreshadowed the contribution Bertie was able to make as King 25 and more years later.
The Procession at Westminster Abbey: The King Enters. Source: Whates, facing p. 84.
In 1901 there is no doubt that the new King showed a surprising readiness to read his papers and work hard. He had the same network of relatives across Europe as his mother but much greater familiarity with their lives and their homes. His French and German were of a standard that allowed him to deliver off the cuff speeches to a high standard. He was interested in foreign affairs and sought to influence them. The visit to France in May 1903 was a Bertie initiative and far and away his most significant impact on public affairs while King. In resisting those who have diminished King Edward's role, principally the politicians with whom he worked, Ridley underplays his limitations and weaknesses. While setting it in a relatively generous context the book provides the material for those who are inclined to take a more critical view of Edward: his failed attempt to rewrite his first speech at the opening of Parliament in 1901, his relative lack of interest in domestic policy, his long periods of absence from the country in pursuit of pleasure or better health, his antipathy to Lloyd George and Churchill towards the end of his reign, and his successful attempt to promote those he favoured in the Diplomatic Service and to work with them rather than with the Foreign Secretary. Ridley brings out the weakness of the Tsar and the control of the Kaiser by his Ministers so even the King's powerful family network was not as useful to him or to his country as it might have been. It is also hard to judge Edward's impact on foreign affairs because by and large he was at one with his governments on the policy the country should pursue.
Ridley's great advantage in writing Bertie is that his was not a life of unremitting success and virtue. A modicum of failure and weakness makes for much more compelling reading. There is the obsessive interest in dress, particularly uniform, the gargantuan appetite, the Victorian and Edwardian way of illness and death, the puzzlingly moderate consumption of alcohol and the immoderate slaughter of birds. And, of course, there were the women. Some of his strengths are unexpected, for example his friendships with Jews and his relative lack of financial embarrassment which were not unrelated though there is nothing to suggest that his lack of prejudice was merely self-serving. Few people who pick up this book will fail to read to the end with enthusiasm.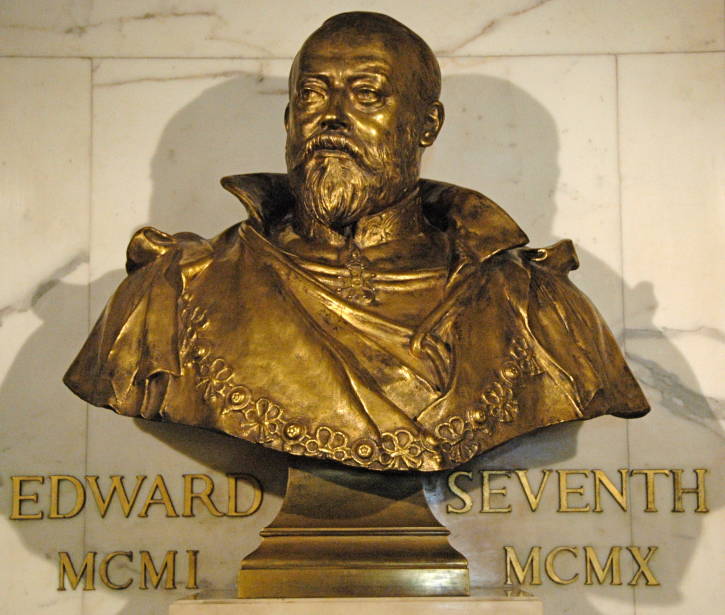 A resplendent King Edward VII, by Sir Thomas Brock, 1914, at the North Entrance of the British Museum.
Sources
Book under review: Ridley, Jane. Bertie: A Life of Edward VII. London: Chatto &ampp; Windus, 2012. 608 + xvipp. £30.00. ISBN 978-0-701-17614-3.
Belloc-Lowndes, Mrs. His Most Gracious Majesty, King Edward VII. London: Grant Richards, 1901. Internet Archive. 28 April 2014.
Watson, Alfred E. T. King Edward VII as a Sportsman. London: Longman, Green and Co., 1911. Internet Archive. 28 April 2014.
Whates, Harry Richard. The Life and Times of Edward VII. Vol. IV. London: Cassell, 1910. Internet Archive. 28 April 2014.
Wilkins, W. H. Our King and Queen, The Story of Their Life. London: Hutchinson & Co., 1902. Internet Archive. 28 April 2014.
---
Last modified 28 April 2014