In the very centre of Alexandria, on Tahrir (Independence) Square is the only building which survived the 10 hour British naval bombardment of Alexandria of 11th June 1882. That it was the Anglican church which survived was particularly surprising because the rebel Egyptian troops under Colonel Arabi deliberately attacked the European area of the city (known as the Frankish quarter) and destroyed all the foreign consulates on the square, which was then known as the Place des Consuls. It is quite probable that its survival owes much to the Arabic and Islamic aspects of its design because this was, and is, a unique Anglican structure. It is now termed a Pro-Cathedral and is part of the Diocese of Egypt. In 1882 it came under the Anglican Diocese of Jerusalem.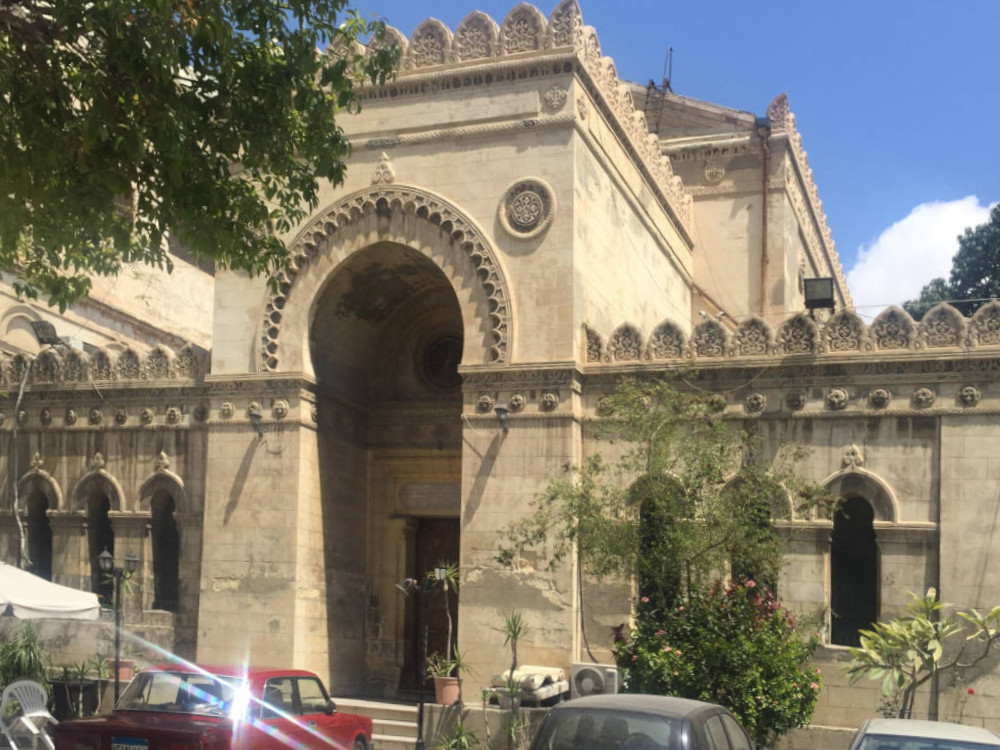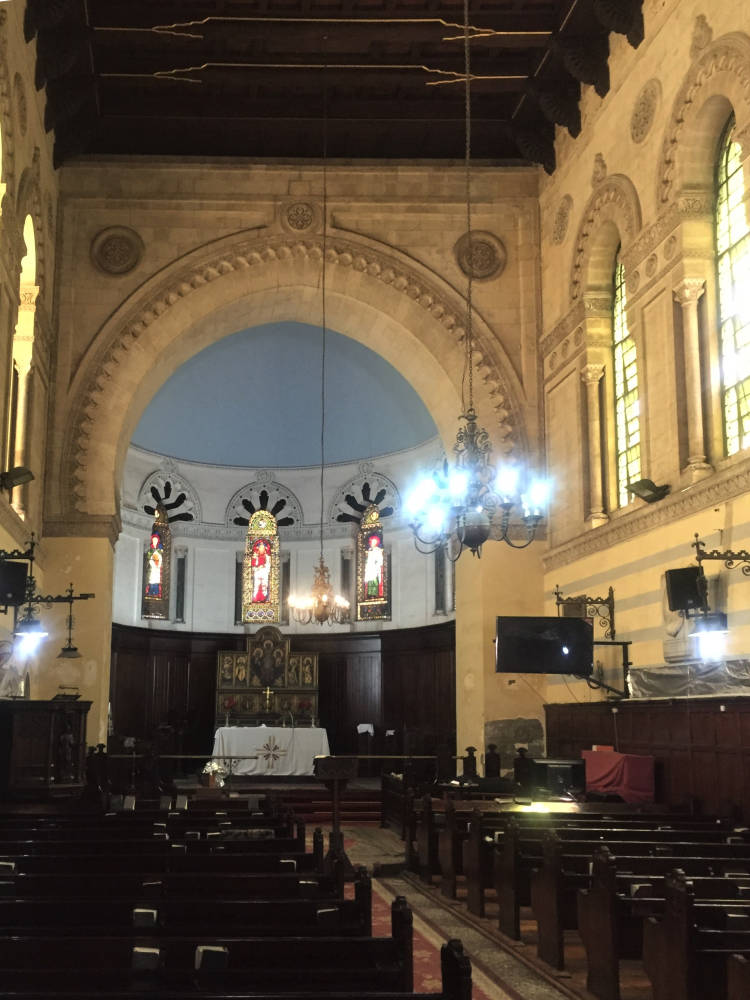 Left: St Mark's Anglican Church. Tahrir (Independence) Square. [detail of decoration on façade] Right: Interior with nave and altar. [Click on images to enlarge them.]
In 1844 the British were donated some land in the most prestigious square in the city by the Khedive, Mohammed Ali, in gratitude for his close diplomatic alliance with the British government. This was the time when Egypt had just started to become the transit point for travellers en route from Great Britain to India. "In spite of every attempt to awaken his jealousies and his fears, [Mohammed Ali] has allowed us to erect hotels in the desert and to use his territory for every purpose which could facilitate communication" wrote a contributor to the Westminster Review in 1841.
Work began in 1845 and the church took 9 years to complete. Wild (1814-1892) had already designed Christchurch in Streatham (South London) before travelling out to Egypt in 1842 to join Carl Lepsius's great Prussian expedition to Egypt and Nubia. This was Wild's introduction to Egyptology. So Wild experimented by introducing oriental features into the design of his church in Alexandria, in particular introducing some Islamic architectural details. This quest is expertly told by Mark Crinson in his book Empire Building, Orientalism and Victorian Architecture (1996).
Wild described his intention as being "To conciliate the opinion of the Arab inhabitants and to meet the comprehension of the native artificers ... while [the Church] agrees in plan and mass with the style of art used by the early church architects it carries out a general sentiment of Arabian detail." So here was Wild mixing the designs of early Christian history, including Byzantine architecture, with references to Islamic design. The Ecclesiologist saw this as a betrayal of English gothic architecture. Instead of trying to placate the local population it felt that Wild should be "elevating Christianity in the eyes of the population". However there had been some criticism of the Afghan church in Bombay, built to commemorate the First Afghan War and the disastrous destruction of the British Indian Army in its retreat from Kabul. The criticism was that the importation of an English gothic style of architecture was completely inappropriate in the hot climate of the sub-continent.
It's difficult to over-estimate the importance of this church. Hitherto Anglican churches in the Islamic world had been built within the walls of the British Consulates (for example at Izmir, Istanbul and Jerusalem). Only St Mark's in Alexandria existed on its own as a recognised public building in what Mark Crinson describes as "a statement of religious toleration".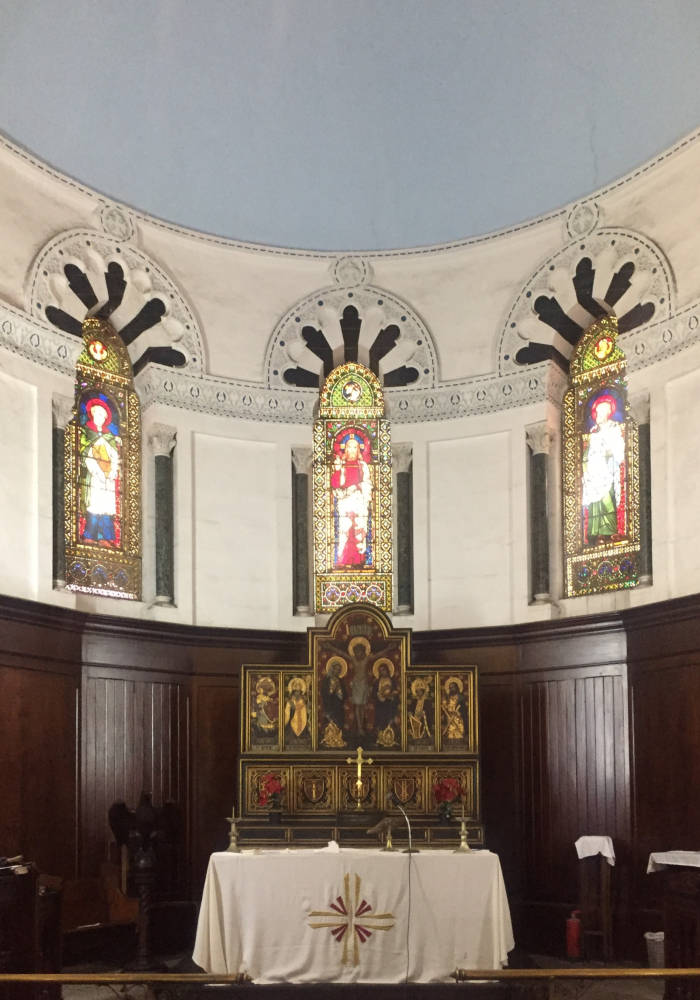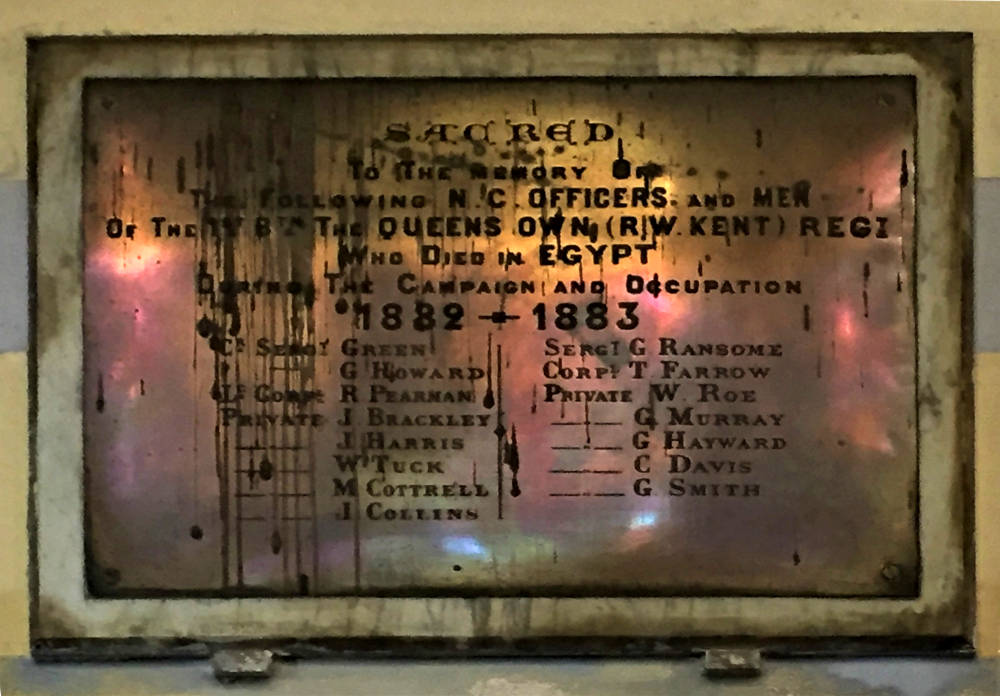 Left: Altar, St. Mark's Anglican Church. Right: Memorial table for officers and men of the Royal West Kent regiment.
The interior of the church is equally surprising. It is redolent of Byzantine or Coptic churches in Greece or Ethiopia. However the various plaques around the walls tell of those turbulent days of 1882 and the subsequent British invasion of Egypt and operations in Sudan which culminated in the failed attempt to save General Charles Gordon at Khartoum.
My photographs include tablets recording the deaths of soldiers of the Royal Artillery and Royal West Kent regiment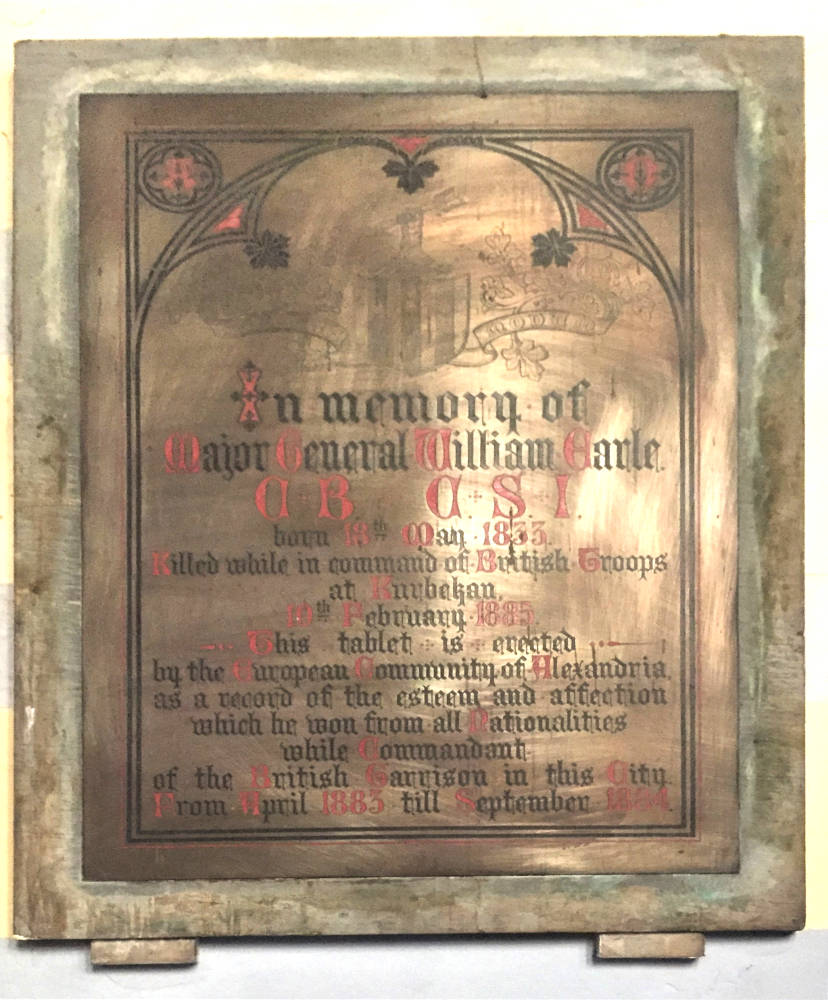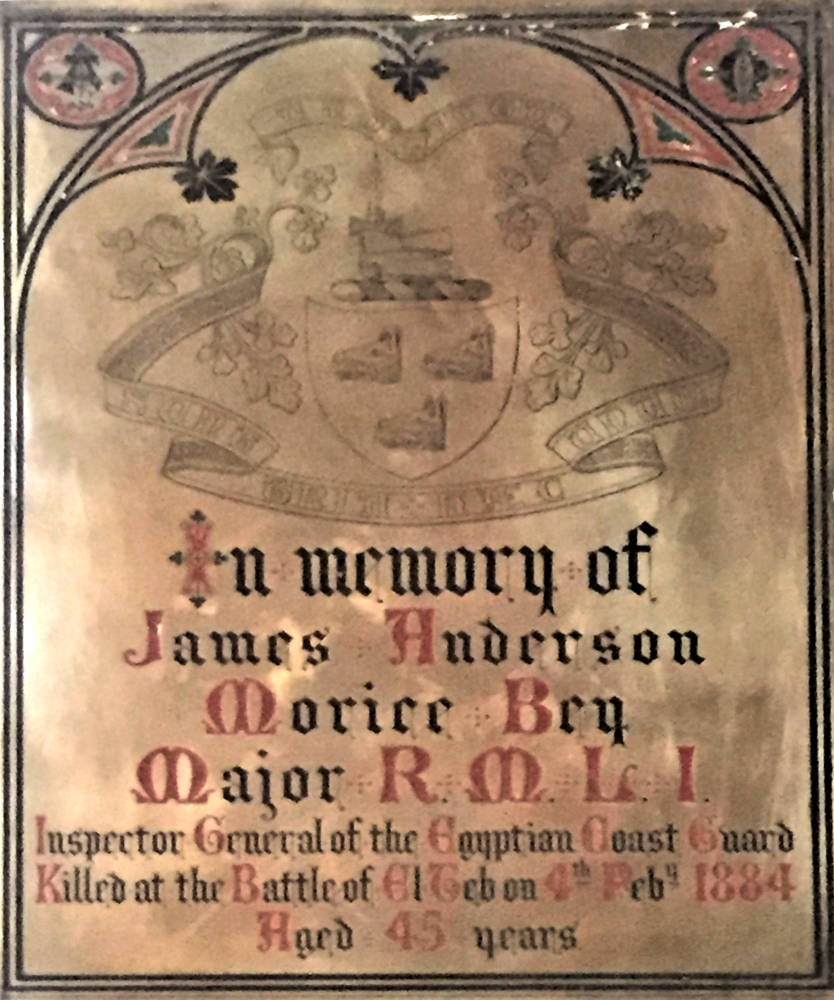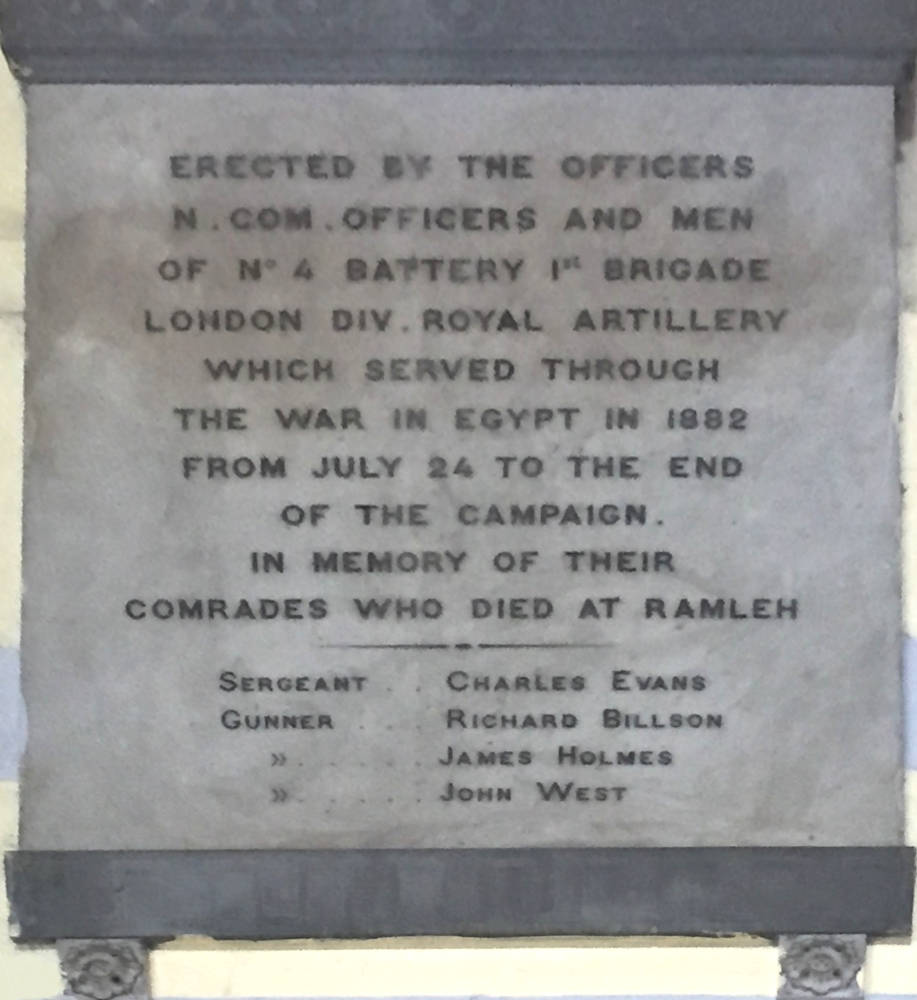 Memorial tablets in the church: Left: Major General William Earle (1833-1885). Middle: Major James Alexander Morice, R.M.L.I.. Right: Sergeant and Men of the Royal Artillery who died at Ramleh.
There is also a memorial to James Alexander Morice (known as "Morice Bey") who was killed in the disastrous first battle of El Teb near Suakin in Sudan when General Baker's Egyptian troops fled in disarray in their first brush with the Mahdi's army. Morice was an experienced soldier who had served with the Royal Marines Light Infantry for many years before joining the Khedive's service as Inspector General of the Coastguard at Alexandria. In the Egyptian campaign of 1882-3 he was the Khedive's Aide de Camp in General Garnet Wolseley's army. Following Wolseley's victory at the battle of Tel-el-Kebir he seems to have been tempted into joining the Sudan campaign.
The remains of a tablet also exists in Portsmouth, England and reads;
IN MEMORY OF MORICE BEY, MAJOR JAMES ANDERSON MORICE,
LATE ROYAL MARINES WHO FELL IN THE FIRST BATTLE OF
EL TEB FEBRUARY 4TH. 1884. THERE IS NOTHING TO REDEEM
THIS TRAGIC RETROSPECT EXCEPT THE CONDUCT OF THOSE
WHO UPBORE FOR US ON THAT GHASTLY DAY THE CREDIT OF
BRITISH VALOUR. HE WAS THE SOUL OF HONOUR AND THE
EMBODIMENT OF COURAGE.
THIS TABLET IS ERECTED BY BROTHER OFFICERS
AND FRIENDS IN ENGLAND IN DEEP SORROW AND IN
RECOGNITION OF ACTS OF DEVOTION AND COURAGE WHICH
WILL CAUSE THE NAME OF MORICE BEY TO BE AMONGST THE
HEROES OF OUR COUNTRY.
A GOOD LIFE HAS BUT FEW DAYS
BUT A GOOD NAME ENDURETH FOREVER.
A second memorial, also in brass, is to Major General William Earle. On leaving school in 1851 he joined the 49th Regiment of Foot. He first saw military action in Crimea in 1854 and fought at Alma and Sevastopol. Towards the end of 1884 Earle took command of a column to relieve General Gordon. Earle and his troops never made it to Khartoum, because news reached them that Gordon had been killed. However on 10th February at Kirbekan Earle and his troops defeated a Mahdist army. Earle was killed towards the end of the five hour battle; a relatively rare example of a General being killed in action. In 1887 a large bronze statue of Earle was unveiled outside St George's Hall, Liverpool sculpted by Charles Bell Birch.
In Alexandria E.M. Forster mentions a stone bust of Earle outside the church (128-29). This author did not see it and it is possible that it was destroyed in the anti-British riots of 1956 following the Suez campaign. It is also likely that the building's Islamic features saved it from destruction yet again.
More on Morice Bey
Morice Bey was one of the party made up mostly of Europeans who tried to defend the four Krupp guns, which had been inside the broken square and had kept firing to the end. This group included the force's medical officer, Dr Armand Leslie, its paymaster, James Morice Bey, Major Watkins and Lieutenant Carrol. This was reported by Daily News correspondent John McDonald who, as he rode away with Baker Pasha, saw them fighting off the dervishes with revolvers and swords. He wrote "Their quiet demeanour was a ray of light and of Divine hope, in a hell of fierce triumph and clinging hell". After Second battle of El-Teb, the Black Watch was detailed to bury the dead from that battle. The burial parties also recovered many of the bodies of those who had been with Baker. These included Dr Armand Leslie and James Morice. Bennet Burleigh of the Daily Telegraph, who was present and had known them both personally, reported that they were buried with simple ceremony. ENDS — Ian McLeod
Photographs by the author. Image correction, formatting, and linking by George P. Landow.You may use these images without prior permission for any scholarly or educational purpose as long as you (1) credit the photographer and (2) link your document to this URL in a web document or cite the Victorian Web in a print one.
Bibliography
Banerjee, Jacqueline. Statue of William Earle by Charles Bell birch. Victorian Web.
Crinson, Mark. Empire Building; Orientalism and Victorian Architecture. London; Routledge, 1996.
Forster, E.M. Alexandria; A History and Guide. Alexandria: 1922.
Horton, Steven. "Major General William Earle." Liverpool Hidden History. Web. 23 October 2017.
Memorials and Monuments in Portsmouth. Web. 8 August 2020.
Willasey-Wilsey, Tim. "The Afghan Church in Mumbai and the Guild of the Holy Standard."
---
Last modified 25 August 2020