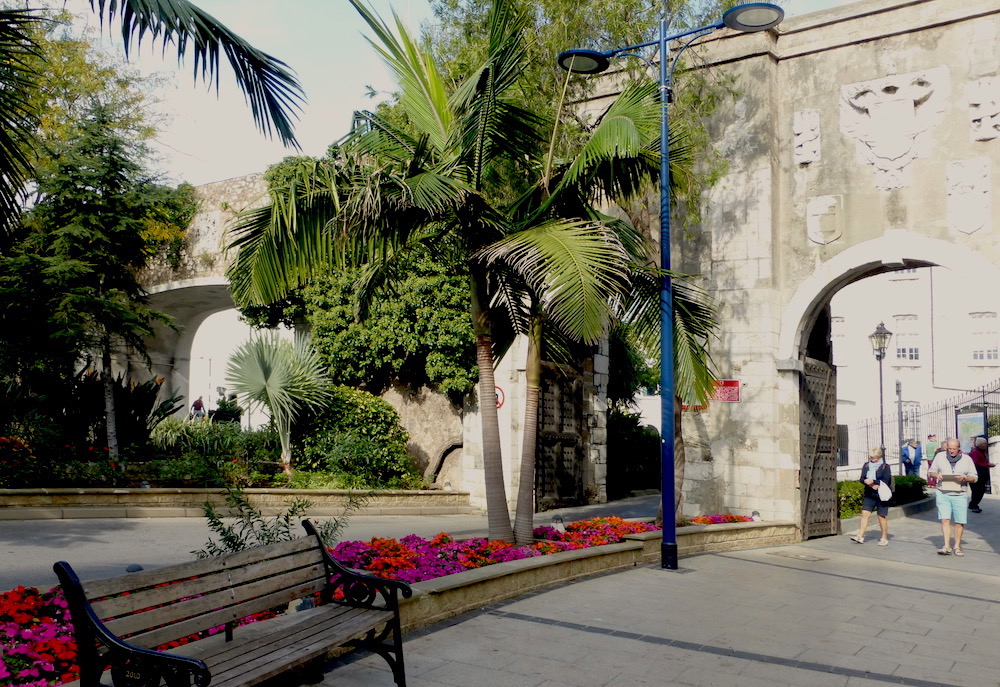 Southport Gates, between Line Wall Road and Trafalgar Road, Gibraltar (with Trafalgar Cemetery to the east). According to an information plaque on the east part of it, "a wall had existed here since the Moorish occupation." But what we see today encapsulates the history of Gibraltar since that time, from when Emperor Charles V of Spain ordered a great defensive wall to be built to keep out the Barbary pirates. The first gate (on the right) was part of this wall, and dates from 1552. It has Charles V's arms above it, as well as the arms of Gibraltar, and is also known as the Africa Gate. The next gate (in the middle) was built by the British and opened on Queen Victoria's birthday in 1888. It has the familiar lion and unicorn arms above it, although these are obscured here by the foliage.
The broad arch on the left of these two gates, towards the west, was created in 1967. It replaced two much narrower gates (see below). This was to allow road traffic to pass to and from the centre of town more easily. It was named the Referendum Gate after the practically unanimous decision made by Gibraltarians that year to retain British sovereignty. Like the Victorian gate, it has the British coat of arms above the arch, not seen here, because the gate is being seen from the other (town) side. Notice also the British phone box on the right.
These images from an old photograph (1925-26) show the gates as they were before the Referendum Gate was built, with the detail on the right showing the heraldry and date above the British gate of 1883. Source: "Southport Gate."
Text and recent colour photographs by Jacqueline Banerjee. You may use these images without prior permission for any scholarly or educational purpose as long as you (1) credit the photographer and (2) link your document to this URL or cite the Victorian Web in a print one. The historic images are from a single photograph, available on the Creative Commons Attribution 2.0 Generic (CC BY 2.0) license, which requires attribution (see bibliography) but allows modification. It has been corrected for perspective, and cropped to give a close-up of the heraldry and date on the stonework. Click on all the images to enlarge them.
Bibliography
Chipulina, Neville. "1552 - La Puerta Nueba - Always Full of Frogs." The People of Gibraltar. Web. 30 January 2019.
"Southport Gate in Charles V Wall, Gibraltar." Harry Pollard Canadian Pacific World Cruise photographs, in the Thomas Fisher Rare Book Library, University of Toronto. Flickr. Web. 30 January 2019.
"Southport Gates." Gibraltar.com. Web. 30 January 2019.
---
Created 30 January 2019