My thanks to Liz Goldthorpe for information on the Deverells.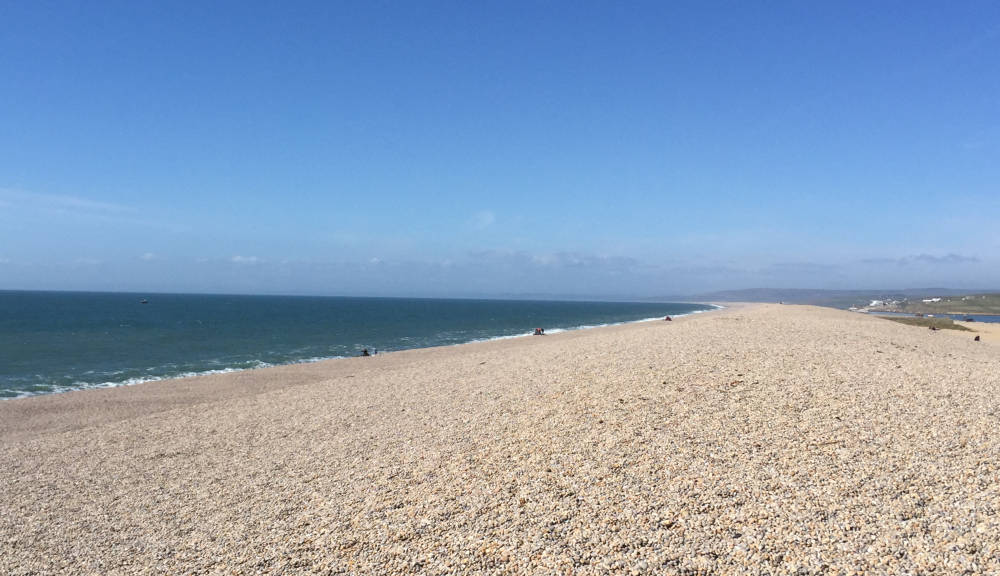 Chesil beach at Wyke where most of the bodies were found. [Click on images to enlarge them.]

e particular tragedy of the Alexander is that the passengers would have expected to disembark in London the following day often after ten years away from home and at the end of a three-month journey by sea from Bombay. The passengers and senior crew members who died when the "extra" Indiaman Alexander was wrecked on Chesil Beach on England's south coat in 1815 are remembered on a stone plaque outside the church that lists 27 names. The other 113 dead were junior members of the crew; mostly European and some Lascars. Lascars could be of any Asian nationality and served on British ships under "lascar agreements". The sailors were transferred from one ship to another and retained in service for up to three years at one time. The only 5 survivors of the disaster were lascars and doubtless were sent back to Asia as crew on a subsequent voyage from London.
The brutal truth is that neither the European crewman not the Lascars are anywhere mentioned by name in the many press reports on the tragedy. But even the details of "officer class" victims are extremely sparse. The following is an attempt to sketch in the backgrounds of those whose lives were cut short that stormy night in 1815.
The Captain Lewis Auldjo was from a prominent Aberdeen family. His father George Auldjo was Chief Magistrate of Aberdeen and his uncle John had owned Portlethen Castle. Lewis's brother, William, would also perish along with all hands aboard the Queen Charlotte in 1818 during a gale off Madras. Lewis's Uncle Alexander emigrated to Canada and was joined there by his Lewis's brother George, who set up his own shipping business and became a major figure in Montreal. He was among the survivors when the Lady Sherbrooke hit rocks in the Gulf of St Lawrence in July 1831.
Elizabeth Auldjo, his wife, had been born Elizabeth Cooke one of 15 children. Her mother's grave in South Park Street cemetery in Kolkata tells its own story of the perils of maritime travel. Elizabeth's eldest brother, Joseph Cooke, would later be lost in the Fatalmaine en route to Basra in the Persian Gulf in 1820. From the grave in Kolkata it also seems that Lewis and Elizabeth had their small child with them aboard the Alexander.
The first mate of the Alexander is named on the memorial as Mr Brown. In fact he was Charles Black from Brechin in Scotland where his father, a writer, had died in 1797. There is no more information on Mr Bowman (the second mate) and we do not have names for the third and fourth mates.
Major Jackson was Thomas Jackson of the 30th (Cambridge) Regiment of Foot. As an officer in the first battalion he had served in India since 1806 based in Trichinoloply, Cannanore and Vellore with very little action. To his inevitable chagrin the 2nd battalion was in the thick of the action in Spain fighting against Napoleon's forces in the Peninsular War. Indeed, had he not died at Wyke, Thomas might well have been called up from leave to serve at Waterloo.
The family was from Fairburn near Ledsham in Yorkshire. His father had bought the lordship of the manor off the Foljambe family and had 5 children by his first of three wives. Thomas was the third son. His eldest brother married a woman from New York, his second brother worked for the Bank of Ireland, and a younger brother was a merchant in New Jersey. Thomas's father had died in 1813 and Thomas doubtless looked forward to seeing the family after 9 years away from home.
Also from the 30th Foot was Lieutenant Wade. He is not shown in the regiment in 1813 and so may have transferred from another unit.
Captain Campbell was Archibald Campbell of the 47th (Lancashire) Regiment of Foot. Like Thomas Jackson he had been away from home since 1806. The 1st Battalion was sent to garrison the former Dutch settlement of the Cape of Good Hope that year before joining the 1807 River Plate Expedition under Sir Samuel Auchmuty fighting at Montevideo in February and Buenos Aires in July. The battalion was then deployed to India in 1808 and the following year its flank companies took part in an expedition to the Persian Gulf. In 1811 and 1814 it was involved in suppressing disturbances north of Bombay in the Rann of Kutch.
Also on board the Alexander from the 47th Foot was Lieutenant Deverell, his wife and children Edmund, Frances, and Lydia (born on 26th September 1809 at Bombay). This was Major Joshua Deverell, born 1776 possibly in Co. Laois, Ireland, and his wife Lydia (nee Baines born 1772). Joshua and Lydia had at least 4 other surviving children, including Maj. Gen Thomas Joseph Deverell (born 1803 Co Tipperary; died 1872 Herefordshire) and Lt. Col. William Devonish Deverell born abt. 1801 at sea off Indonesia, died 1868 at St Cuthbert's Terrace, Bedford.
Deverell had a relative in the 47th, John born in 1810 who resigned at the end of the regiment's tour of duty in India in 1829. He was the son of Samuel, a solicitor in Winchester and Lucy née Lechmere.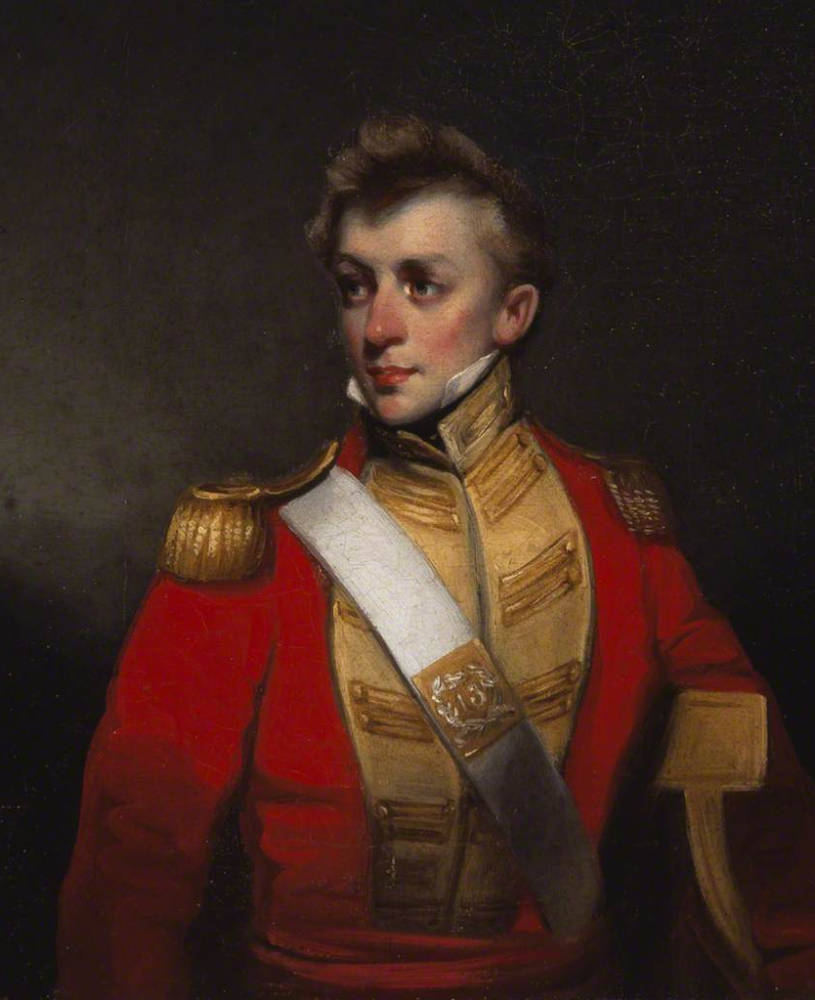 An officer of the 13th Bombay Native Infantry by George Chinnery.

Courtesy of the National Army Museum and ArtUK.
Major Ramsey was Archibald Montgomery Ramsay (sic) of the 1st Bombay Native Infantry. He was born in 1778 in Clackmannan, Scotland, to Robert and Eliza. He had joined as a Cadet in 1794. He was promoted to Lieutenant in 1796, to Captain in 1803 ,and Major in 1812. He was still single and may have hoped to find a wife during his leave in Scotland.
Lieutenant Godby was missed off the memorial stone. He was William Godby of the 4th Bombay Native Infantry. His name is mis-transcribed as Godley by Dodwell. He joined as a Cadet in 1805 and was promoted Ensign in 1807 and Lieutenant in 1813. He was returning to Britain after 10 years in India, having left in his late teens.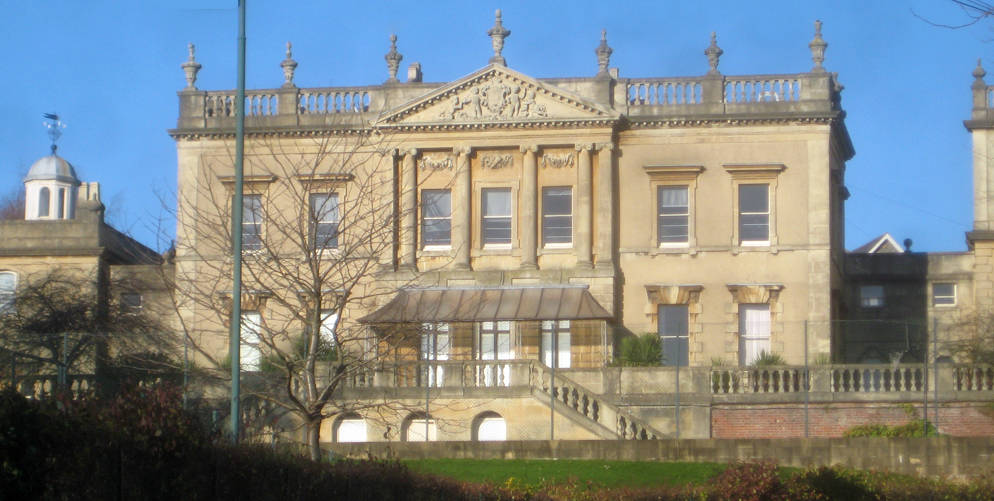 Redland Court, Home of the Baker family.
Lieutenant Baker was William Pyndar Baker from a prominent Bristol family which was heavily in debt. He had two older sisters and an elder brother who jointly inherited their Redland estate and entered holy orders but died in 1809. William, who also inherited half of the estate, joined the Bombay Army becoming a Lieutenant in the 19th Native Infantry in 1802. Upon his death in the Alexander his half of Redland passed to his infant daughter. The Baker family history (wrongly) shows him as a Royal Navy officer.
Lieutenant Bennett was William Bennett, of the Bombay Marine (which was the fore-runner of the Indian Navy). He may, in fact, only have been a Midshipman
Mrs. Dunbar and Miss Dunbar are mentioned on the tablet, but Assistant Surgeon William Dunbar was also aboard and perished with his wife and daughter. He had been promoted to that rank in May 1806. His wife was Ann Gulland. In 1807 William was posted from the General Hospital in Bombay as the doctor to the Residency at Anjengo, where there was a major fort south of Bombay.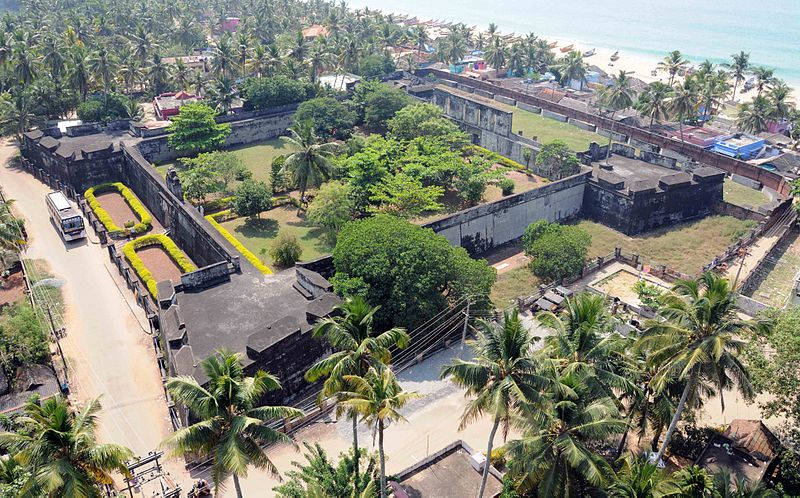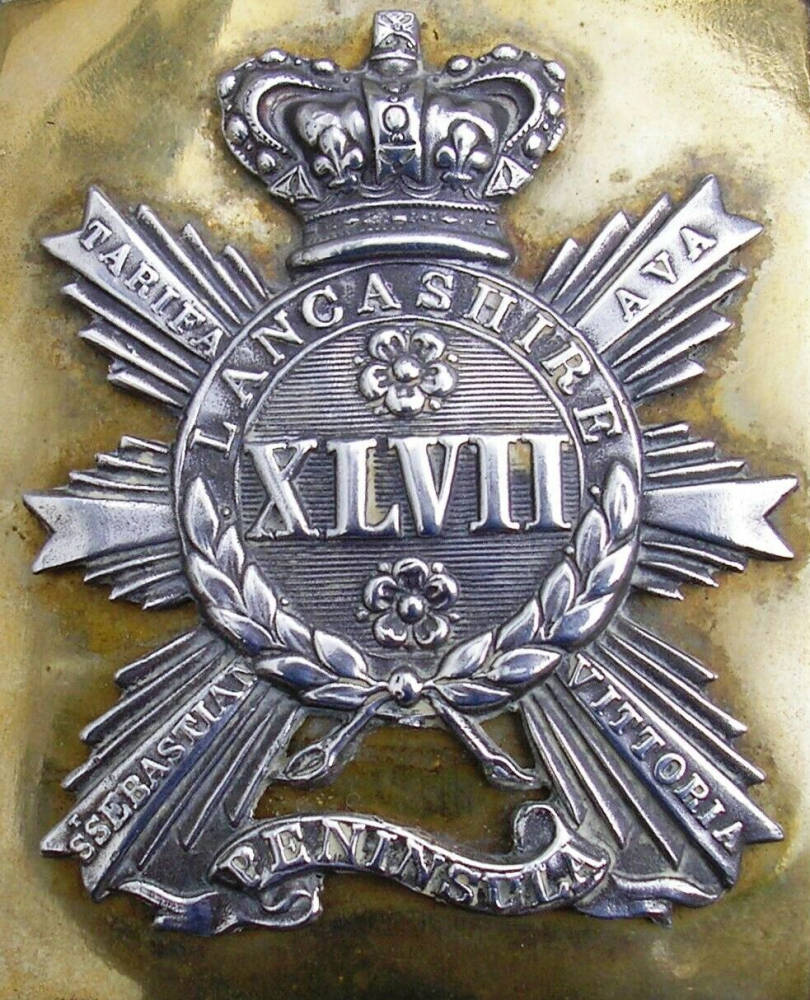 Left: Anjengo Fort (with thanks to Prasanthvembayam). Right: Badge of the 47th Foot.
The Elphinston children were Charlotte aged 6 and John 5. They were the children of John Elphinston, who was a member of the Bombay Council. A tablet in St. Cuthbert's Church, Edinburgh records that due to the "inexpressible sorrow of their affectionate parents" their remains were removed from Wyke to be buried with their ancestors by the friends who were expecting to look after them and "who once hoped to be delighted with their innocence and cheerfulness, and to assist in the pleasing task of cherishing and improving their opening virtues and talents". Fortunately the Elphinstons in Bombay had one other daughter who was not aboard and had two more children after the Alexander tragedy.
Miss Toriano (sometimes spelt with a double 'r') was a member of a family that had been associated with Madras for many years. There is a memorial in the church at Fort St. George to the family and it mentions that Thomas Torriano was one of the victims of the Black Hole of Calcutta. A Captain Alexander Toriano of the Bombay Artillery died at the epic battle of Seringapatam in 1799 at which Tipu Sultan was also killed. Miss Toriano of the Alexander was possibly a daughter of Captain Hillary Harcourt Torriano of the Madras Engineers. His wife, Margaret and two daughters (Lydia and Maria) had returned to England in 1812 aboard the Indiaman Streatham. Hillary himself returned to India aboard the Marquis Huntley in 1814 but died on 7th February 1815 at Ennore shortly after the Alexander had departed from Bombay.
Sources
Army List for July 1815, The. London; War Office, 1815.
"Auldjo (1790-1846), George." Dictionary of Canadian Biography. Volume VII.
"Baker of Bristol, Redland Court, West Hay, and Ramsden House." Landed Families of Britain and Ireland. Website.
Balfour Paul, Sir James (ed) Monumental Inscriptions in St Cuthbert's Churchyard, Edinburgh. Edinburgh: Scottish Records Society, 1915).
Burke, John. A Genealogical and Heraldic Dictionary of the Landed Gentry of Great Britain London; Henry Colburn, 1846 (pages 641 and 642 on the Jacksons).
Dodwell, Edward and Miles, James. Alphabetical List of the Medical Officers of the Indian Army. London: Longman, 1839.
Families in British India (FIBIS) Website.
India Office Family History Search. Website. British Library.
The Gentleman's Magazine 126 (1815): 471.
The Scots Magazine 77 (1815): 400, 480.
---
Last modified 21 September 2020