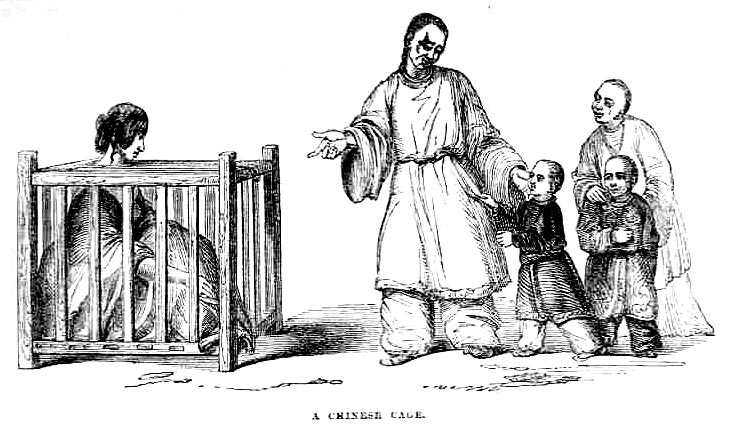 A Chinese Cage. The Illustrated London News (1842). Scanned image and text by Philip V. Allingham.
Our readers will not have forgotten the circumstances of the wreck of the Kite, East Indiaman, on the Chinese coast; and the fate of the crew, and the revolting cruelty practised by the natives on Mrs. Noble, the wife of the captain of the Kite, who was confined in a cage and carried about for six weeks. Among the numerous curiosities brought home by the Wellesley, and landed at our dockyard, is one which has excited no little interest on account of its being the identical cage in which Mrs. Noble was imprisoned. To give some idea of the state of torture to which the English are subjected by the august relatives of the Sun and the Moon [i. e., the "Celestials," or the Chinese], we give the description of this instrument. It is made of rough fir slabs; and measures only two feet eight inches in length, one foot six inches in breadth, and two feet four inches in depth, with a hole on the top for the unfortunate lady's head to come through; so that when th e head protruded the inmate could neither sit nor stand upright. It is to be sent to the British Museum. (p. 220)
Bibliography
"A Chinese Cage." The Illustrated London News (13 August 1842): 220.
---
Last modified 3 October 2006