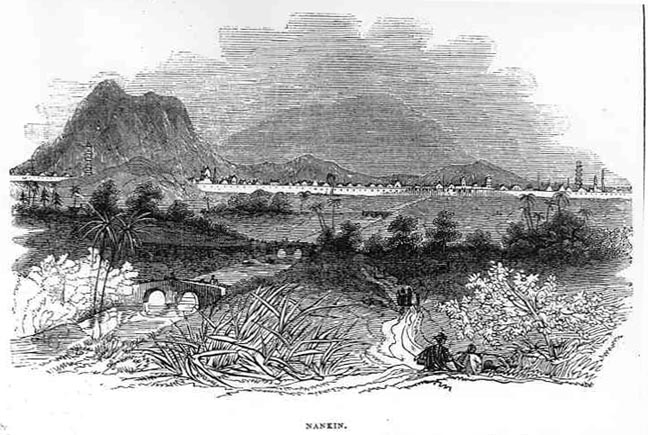 Nankin. The Illustrated London News (12 November 1842): 421.
It now appears that Pekin is not the destination of the [British] expedition, at least this year. The towns at the mouth of the great river Yang-tze-Kiang, the most magnificent river in China, have been captured by our troops, and the whole force was, by the latest accounts, moving upon the city of Nankin, intelligence of the capture of which was daily expected at Macao--indeed, there were abundance of Chinese rumours flying about Canton, Macao, and Hong-Kong, that it had been taken by our troops.
The ILN correspondent quotes recent despatches from Pekin, indicating that the Imperial government is about to capitulate:
"The English barbarians are now creating disturbances in the provinces of Keangsoo and Cheesang; and day by day their ships are increasing in number, and we are apprehensive that they will, ratlike, sneak into other places; we therefore desire to enlighten them by the principles of reason, and clearly to explain to them the formidable calamities (they are bringing on the country).
"At present it is difficult to find interpreters. (p. 421)
Diplomatic posturing transcends international boundaries. [PVA].
Bibliography
The Illustrated London News I, No. 27 (12 November 1842): 421.
---
Last modified 15 September 2006