Photographs by the author. [Click on images to enlarge them.] You may use these images without prior permission for any scholarly or educational purpose as long as you (1) credit the photographer and (2) link your document to this URL in a web document or cite the Victorian Web in a print one.

he great earthquake of 1692 obliged the British settlers of Jamaica to rebuild almost everything. The city of Port Royal had been destroyed as had most of Spanish Town. A new city was to be built at Kingston and, of course, new Anglican churches had to be constructed. Anglicanism was, after all, the official religion of Great Britain and was practised not only by the government officials but also sporadically by the planters (many of whom were Scots) and by those naval and army units based on the island.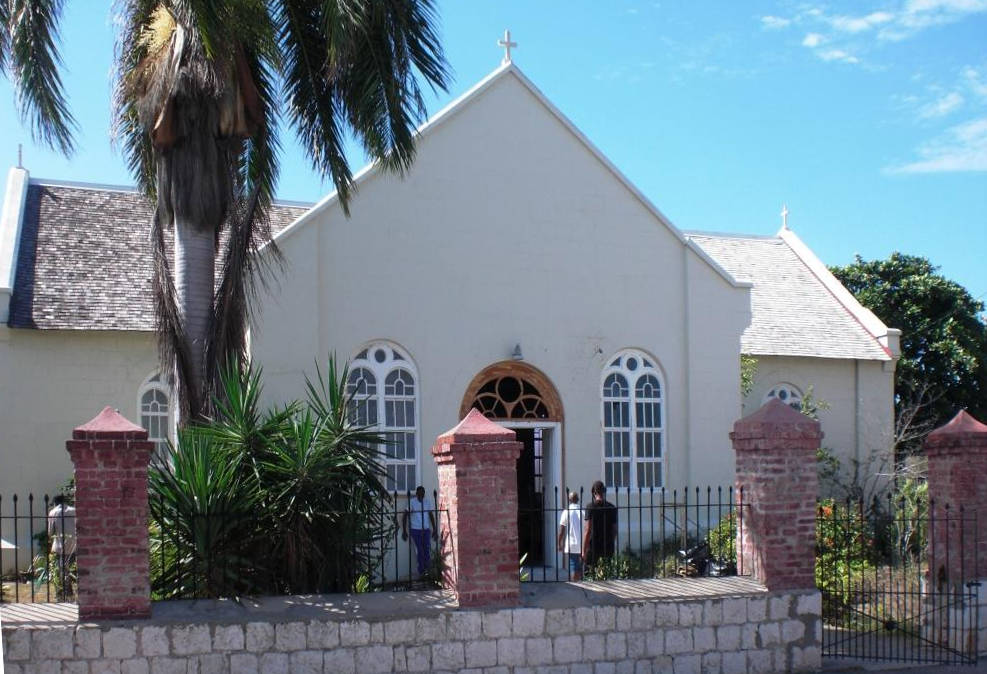 The exterior and interior of St Peter's Church, Port Royal.
The four most important churches of this period of reconstruction were St Peter's at Port Royal; St Catherine's Cathedral at Spanish Town; Kingston Parish Church and St Andrew's at Halfway Tree. It is incredible (given the numerous natural disasters since) that 3 of these 4 still exist, frequently repaired but nonetheless intact. Only Kingston Parish Church of the four collapsed in the 1907 earthquake. And all four were, perhaps surprisingly, built of brick.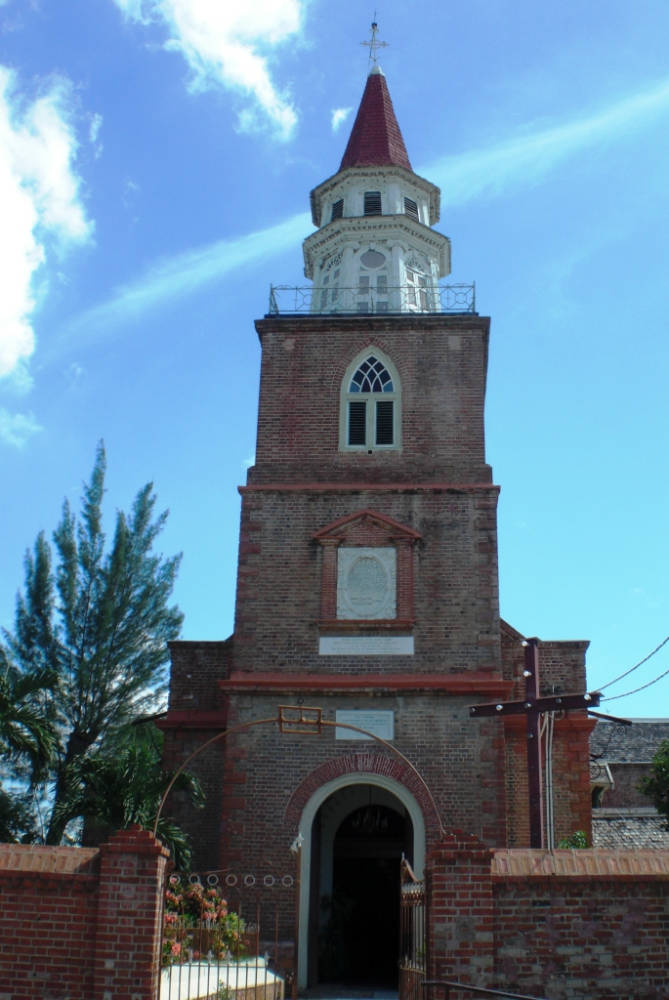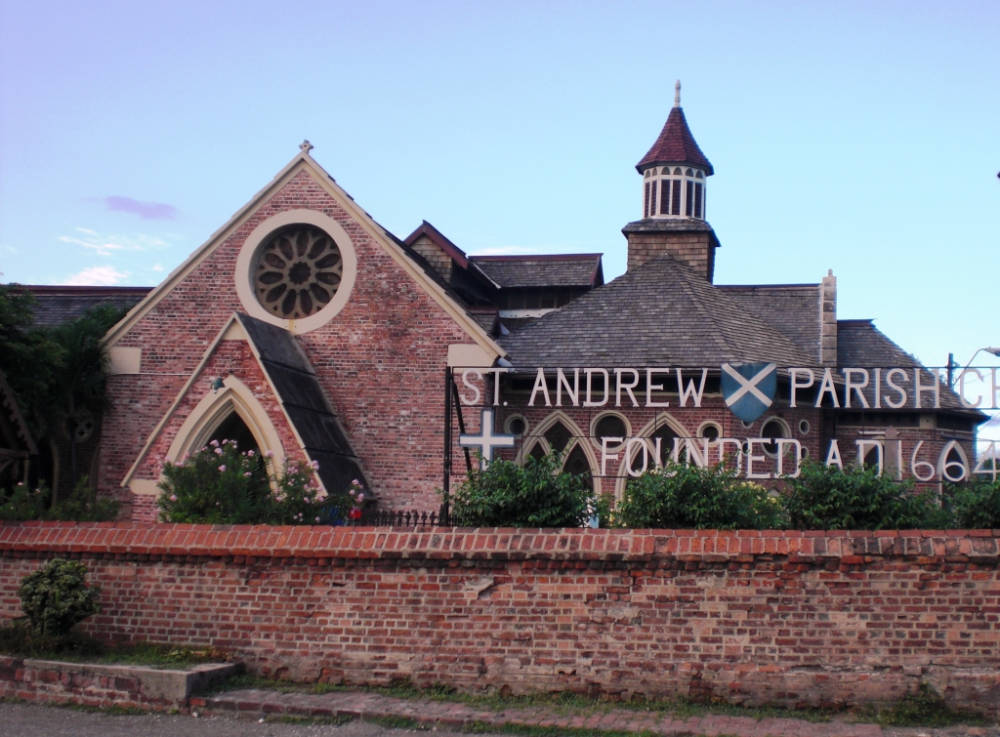 Left: St Catherine's Cathedral, Spanish Town . Right: Old Kingston Parish Church.
Writing in 1788 Marsden observed that "The town of Kingston is regularly built, street behind street (mostly of wood) to a considerable extent, being about a mile in length, and half a mile in breadth..... In the north part of the town is a neat church with a low spire; and nearly adjoining is a spacious parade, with barracks for soldiers. There is also a theatre, assembly-rooms, and other places of public amusement... Except a few excellent houses which have lately been built of brick, and two or three of stone, after the English fashion, by rich merchants, the houses are in general of wood, very often mahogany, which is plentiful in this island" (pp. 6-8).
The decision to build these 4 churches of brick is puzzling. Limestone is plentiful in Jamaica and nowadays brick is regarded as one of the worst materials for earthquake-resilience. However it appears to have been a deliberate decision. When Kingston Parish Church collapsed in 1907; "many massive beams of timber were found embedded in the masonry, placed in several directions. Some of them were ten or fifteen feet long, many inches in diameter and of bully-wood in perfectly sound condition. Some, including Messiter the architect, thought that these were put in to strengthen the walls in case of a repetition of the Port Royal earthquake of a few years before: and they certainly suggest the method of construction adopted by the Spaniards for that purpose" (Cundall, p.163).
In the architectural world there has also been surprise that these new churches did not follow the latest fashions in British church building; in particular those built by Sir Christopher Wren after the Great Fire of London of 1666. Instead all four churches were cruciform rather than "longitudinal and auditory" Wren's preference was for a "one room design" in which altar and pulpit were both visible. Churches were to be sufficiently small, including galleries, so that all could see and hear what was taking place. In Jamaica the new style was ignored but for a very good reason. It was felt that the cruciform shape (whether in the form of a Greek of Latin cross") provided more solidity whereby the numerous walls at right-angles have a "self-buttressing" effect. The settlers also noted that the Spaniards (who had held Jamaica until 1655) had also widely used the cruciform shape, possibly for similar reasons.
That all four churches adopted this method suggests that there was a degree of coordination; probably by the Island's Chief Engineer, Colonel Christian Lilly. Lilly was primarily a military engineer, sent out to the West Indies in 1694. He would be closely associated with Jamaica from that moment until the 1730s and would become accustomed to the effects of earthquakes and the hurricanes which struck the island in 1712 and 1722.
St Catherine's Cathedral in Spanish Town, rebuilt between 1712 and 1714, claims to be the oldest Anglican cathedral in the Western Hemisphere. Hakewill calls it "an ancient brick structure of no exterior beauty." Cundall adds (p.90) that on state occasions, such as the burial of the governor, the House of Assembly was wont to attend in a body; and the church was, from the taking of the island until the removal of the capital to Kingston, intimately associated with all the important events in the island's history. It hosts the graves of Sir Thomas Modyford (Governor 1664-1671) and the Earl of Effingham (Governor 1790-1791). The Cathedral is a curious mix of Romanesque and Gothic suggesting, perhaps, a casual approach to orthodoxy.
St Peter's in Port Royal (rebuilt in 1725-6) is the most obviously constructed to withstand earthquakes and hurricanes. It is small and squat with brick walls that are 4 feet thick (see photo). It has no tower; the bells being rung from a separate frame in the churchyard. St Peter's has the most spectacular organ loft dating from 1745 supported by ornately carved wooden pillars. In the churchyard is the grave of one of its churchwardens who had a miraculous escape from the 1692 earthquake.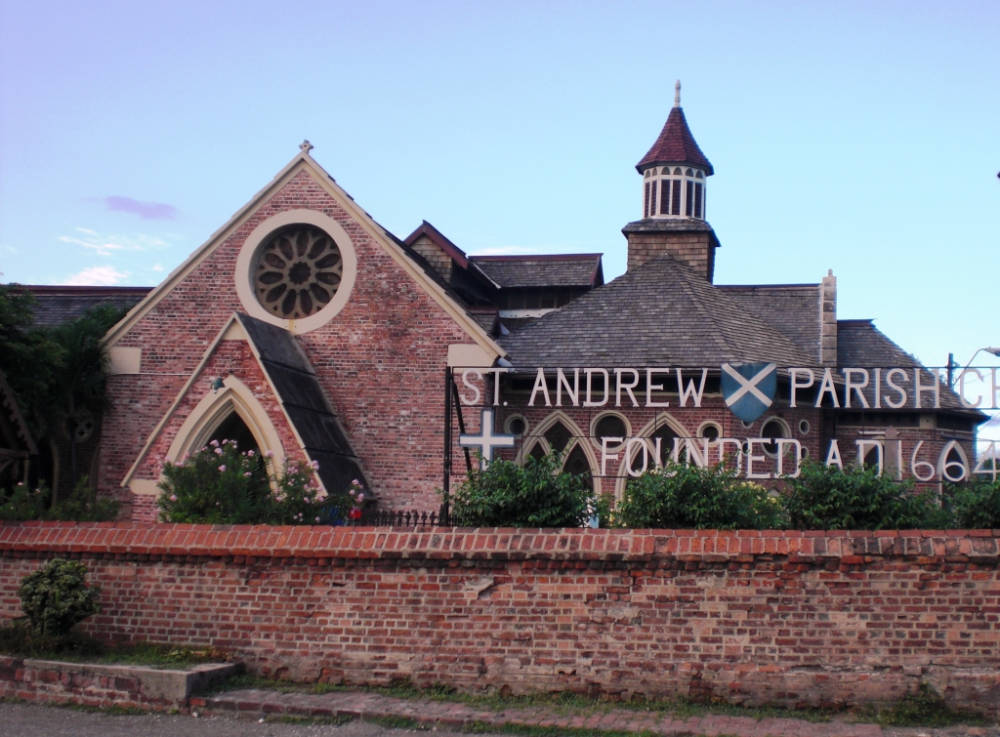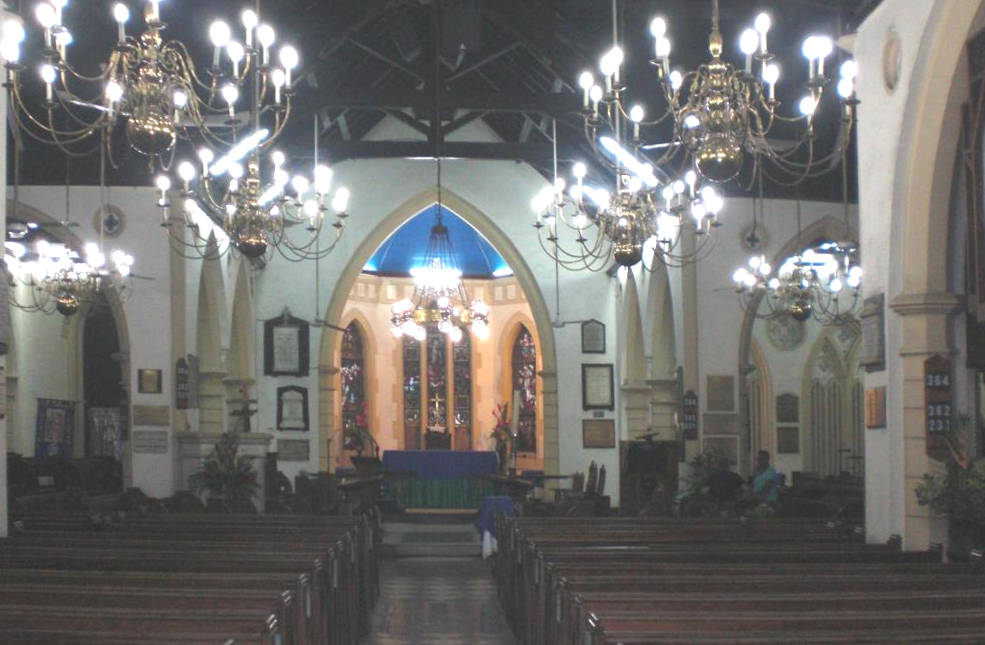 Two views of St Andrew's at Halfway Tree
Halfway Tree, now a suburb of Kingston, is named after a cotton tree which still existed in 1866. It was half-way between the coast and the Blue Mountains. St Andrew's at Halfway tree was completed in 1700 although there had been a church on the site as early as 1664. It is larger than St Peter's but otherwise similar in construction being low and squat. Like the others it is ornately furnished with brass chandeliers (including one dating from 1706) and with mahogany pews. It has remarkably well preserved memorials dating back to the 17th century.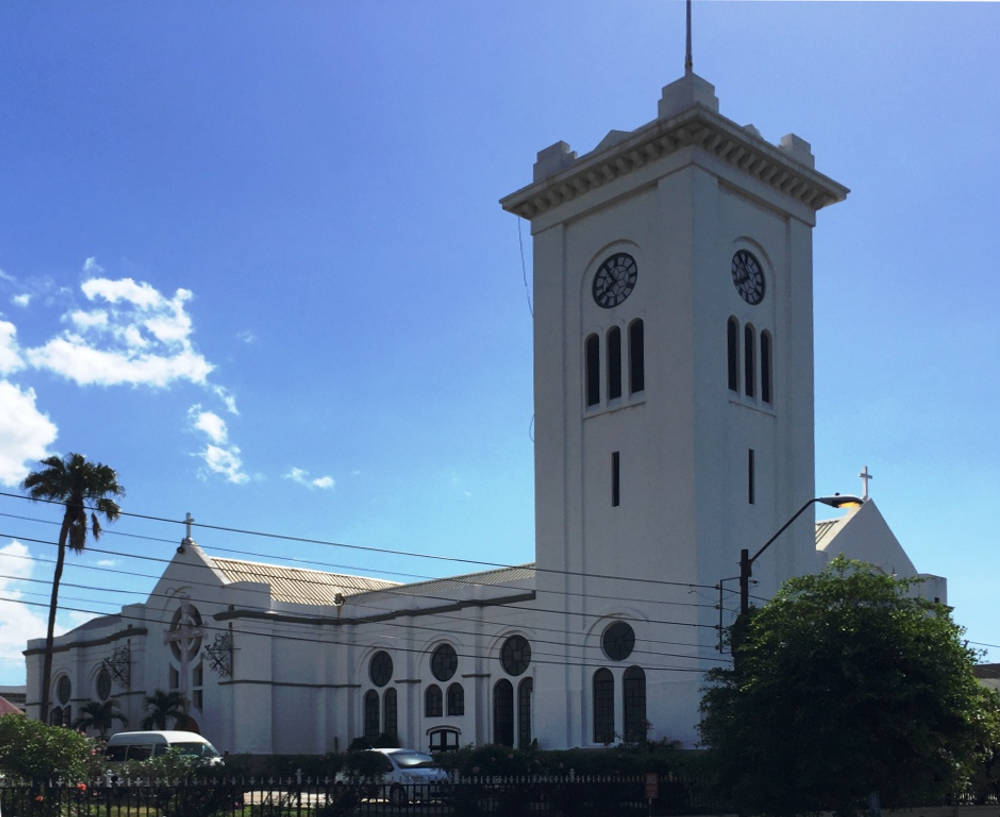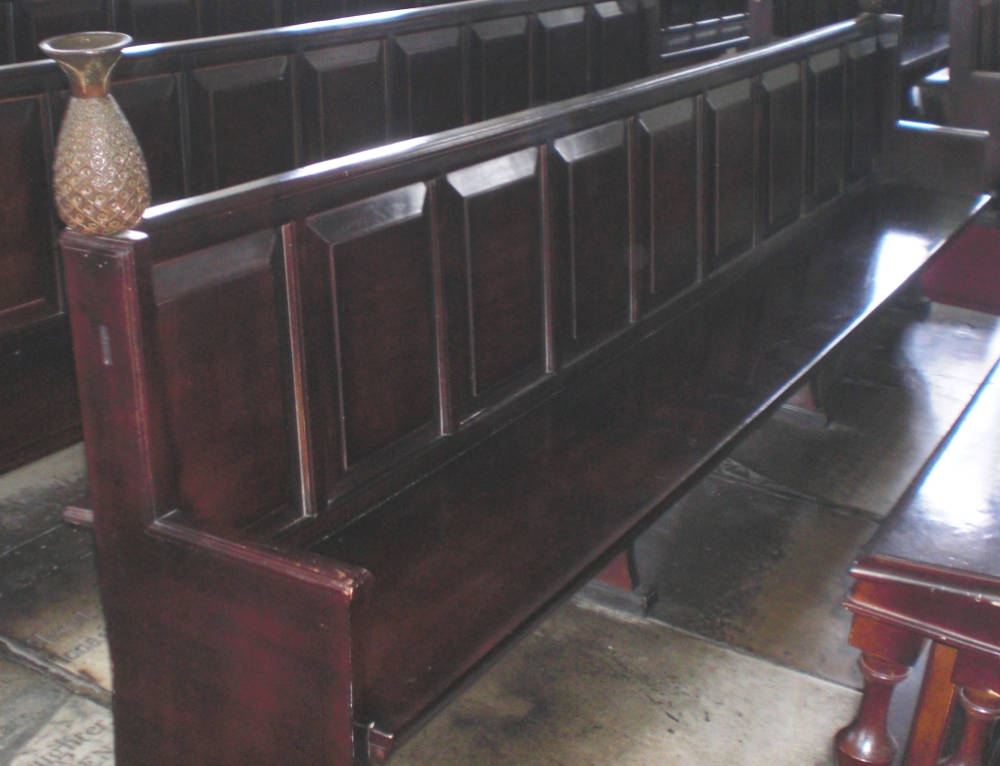 Left: Kingston Parish Church. Right: A pew in Kingston Parish Church with pineapple decoration.
For Kingston Parish Church we have to rely on prints by Duperly and postcards pre-1907. It bears clear similarities to Spanish Town Cathedral. Fortunately some of the original pews and many of the memorials were saved and included in the new church built in 1911. Also the old gravestones were set in the new floor. Some of these are particularly important; notably that of Admiral John Benbow. Even Benbow's biographer (p.295) seems to be unaware of the grave, believing it to be a few miles north at St Andrew's. "When the foundation of the east wall was underpinned, a large vault under the altar was opened ; and in it was found a coffin, covered with the remains of velvet and gilt ornaments, apparently of a most expensive character thought to have been Admiral Benbow's" (Cundall p.163).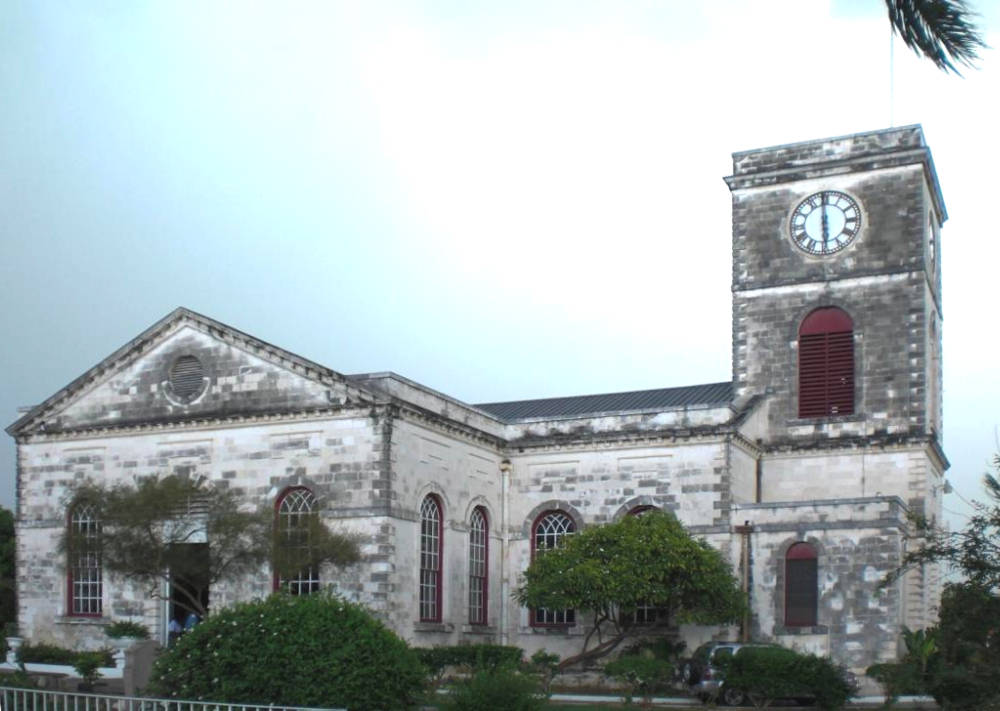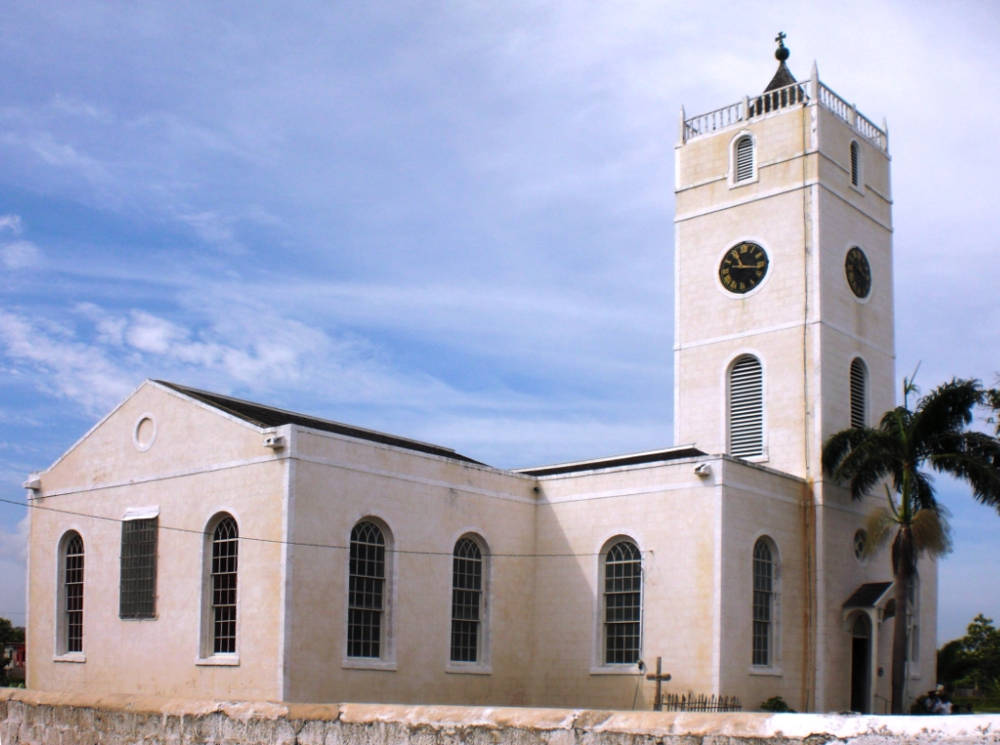 Left: St James Church, Montego Bay. Right: St Peter's Church, Falmouth.
After these four, the next most important church on the island is St James's at Montego Bay. Cundall tells us that "The foundation stone of the present parish Church of St. James, was laid on May 6, 1775, and the building was opened for public worship in 1782. It is Georgian in character, and typical of many churches erected in the West Indies by those who, probably doing the best they could with the money and knowledge at their disposal considered that a building was rendered ecclesiastical by putting rounded heads to ordinary domestic windows, and did not hesitate to combine the Classic and Gothic styles. In this case, however, the building, which is one of the best of its kind, is helped by a tower, its most pleasing feature. Hakewill called it "the handsomest church in the island" (p.322). St James's is constructed of stone (ashlar) instead of brick. Perhaps by now architects had realised that a well-constructed stone building (with minimal layers of mortar) was safer than brick. Furthermore hurricanes were seen as a more frequent risk than earthquakes. In the 1780s alone there were 3 major hurricanes in Jamaica.
St Peter's Church in Falmouth has clear similarities to St James's Montego Bay. The contract for the church and the sum of £9,000 were awarded to William Danny in 1791. Danny's requirements were a church with walls three feet thick and twenty feet high, with accommodations for three hundred people, and using the best white limestone available. In 1797 a sixty-foot tower was constructed and three bells along with an eight-day, three-dialed clock were installed.
A myth has grown up that the churches in Jamaica were built to cow the slave population into submission. This is not so. When the early churches were built after 1692 the settler population was similar in size to the slave numbers. That changed dramatically during the 18th century until the whites were outnumbered twenty-fold. Whilst it is true that the white population lived in fear of slave revolts, they did not make much use of religion to inspire respect and obedience. Indeed the settlers were notoriously casual about their faith. Indeed, as Peter Marsden pointed out in his An account of the island of Jamaica (1788):
There are churches in every parish of this island; yet, except in the towns, I fear they are little frequented but on that awful occasion of the burial of the dead. The planters seem to have no religion at all, attending to nothing but the means of attaining superfluous wealth, at the expense of both the health of body and soul; and it cannot be a matter of wonder that those, who are constantly inflicting punishment on their fellow-creatures, should be deaf to every call of the mild voice of Christianity. Should a planter begin his career with any of the finer feelings of the soul, continued habits of cruelty soon entirely destroy them.
The Reverend Bickell (a former naval chaplain at Port Royal) writing in 1825 echoed Marsden's view that the white population were ungodly and rarely visited church. He added
on this account, seeing so good an opening, the Dissenters have been very active, and have four or five places of worship, three of them built within the last three years; the Scotch, and other Presbyterians, have a very large kirk (built principally with Episcopalians' money) which is not half filled; but the Wesleyans have two large chapels, capable of containing more than two thousand persons, and which are well attended (even filled I have been told) morning and evening, chiefly by negroes and people of colour. The Baptists have also a large and handsome chapel.
So it was the slaves who adopted religion and their Baptist ministers played a significant role in bringing about their liberation. Jamaica today (2015) has the highest number of churches per head of population in the world. Nonetheless, although disestablished in 1866, the Anglican churches remain.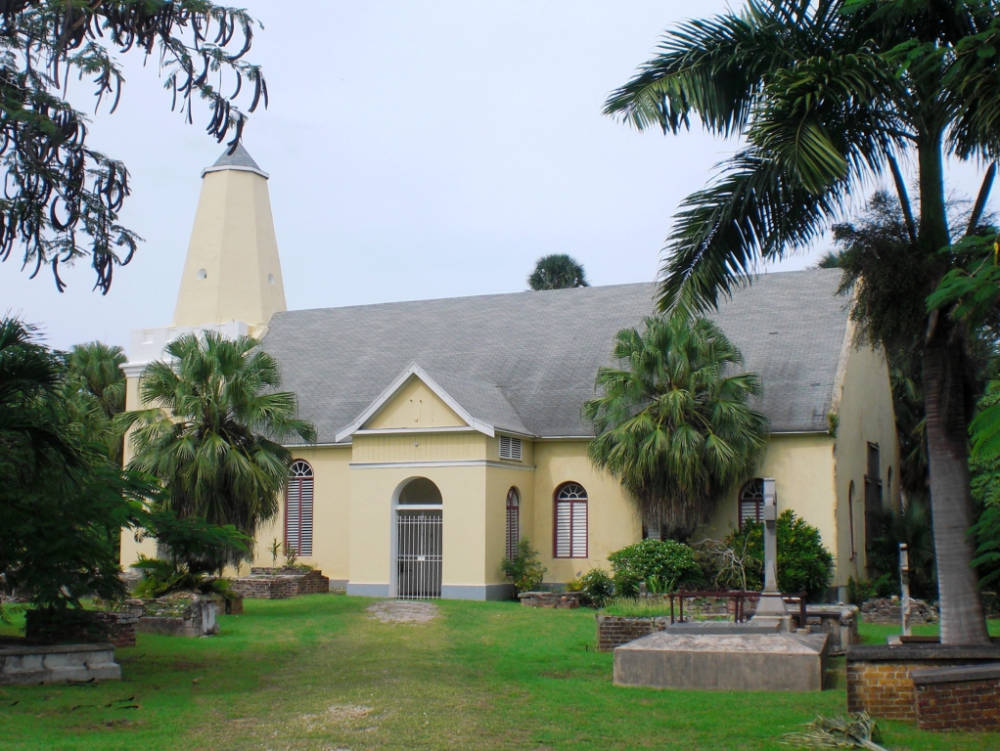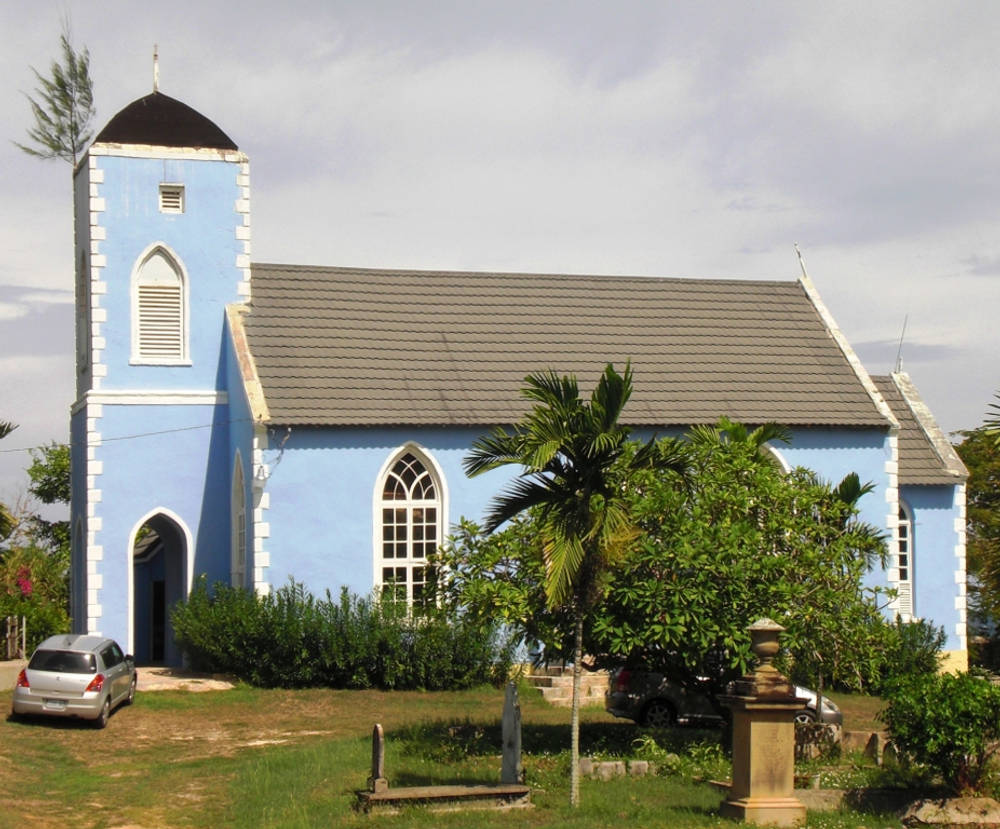 Left: Hanover Parish Church, Lucea. Right: St Mary's Church, Rio Bueno. [Click on images to enlarge them.]
I have included some photographs of Hanover Parish Church at Lucea and St Mary's at Rio Bueno. Some of these churches undoubtedly ugly and functional but a good number are undeniably attractive and contain numerous artistic treasures.
Related material
Further reading
Cundall, Frank. Historic Jamaica. London: Institute of Jamaica, 1915.
Duperly, Adolphe. Daguerian excursions in Jamaica. Paris; c1840.
Green, Patricia. The evolution of Jamaican architecture 1494-1838. University of Pennsylvania MSc thesis, 1988.
Hakewill, James. A picturesque tour of the island of Jamaica. London; Hurst and Robinson, 1825.
Marsden, Peter. An account of the island of Jamaica. Newcastle; Hodgson, 1788.
Nelson, Louis. Falmouth Field Guide. University of Virginia online project, 2015.
Willis, Sam. The Admiral Benbow. London; Quercus, 2010.
Wright, Philip. Lady Nugent's Journal. Kingston: Institute of Jamaica, 1966.
---
Last modified 14 December 2015