Photographs by the author. [Click on images to enlarge them.] You may use these images without prior permission for any scholarly or educational purpose as long as you (1) credit the photographer and (2) link your document to this URL in a web document or cite the Victorian Web in a print one.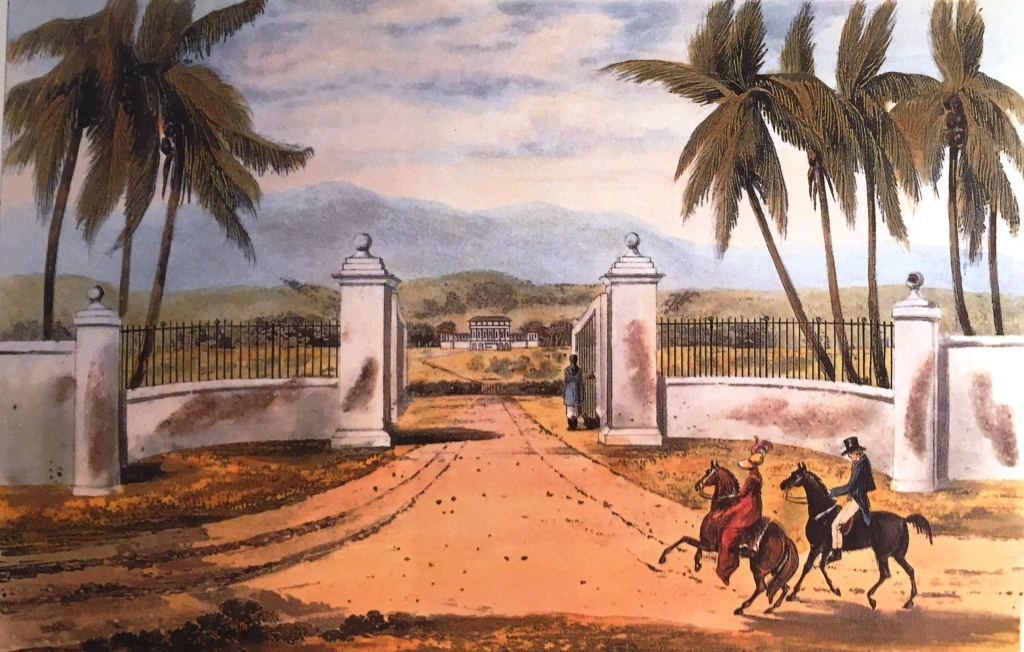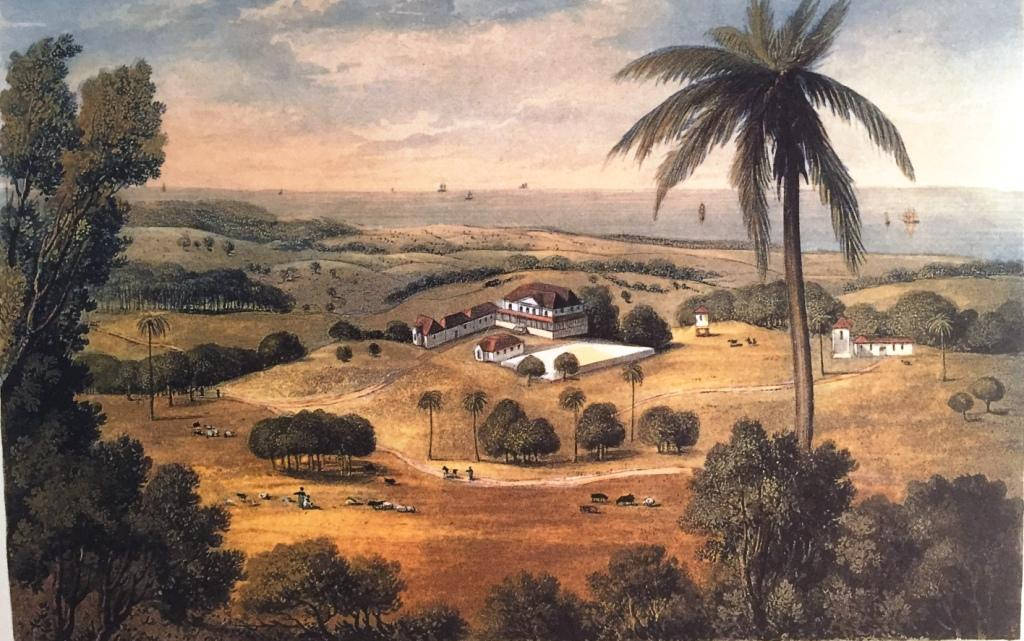 Paintings of two Jamaican Great Houses by James Hakewill: Left: Rose Hall. Right: Cardiff Hall. See below for modern photographs of these buildings.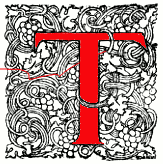 he "Great Houses" are a key part of Jamaica's tourist offering. The Jamaica National Heritage Trust lists no fewer than 29 on their website and Rose Hall near Montego Bay is one of the top visitor attractions on the island. There are said to be 400 surviving Great Houses out of a total of perhaps 700 at the time of the total abolition of slavery in 1838. But of those 400 many, if not most, lie in ruins and some are used as modest homes for poor families in villages across the island.
In the first century of British rule in Jamaica the Great Houses were not particularly impressive. Edward Long wrote in the 1770s "It is of late that the planters have paid much attention to the elegance in their habitations: their general rule was, to build what they called a make-shift; so that it was not unusual to see a plantation adorned with a very expensive set of works, of brick or stone, well-executed; and the owner residing in a miserable, thatched hovel, hastily put together with wattles and plaster, damp, unwholesome, and infested with every species of vermin." (p.22). Even today the visitor to Maggotty or Kenilworth sugar works is struck by the magnificence of the sugar factory which is more reminiscent of a ruined English abbey than a commercial enterprise. A mile away the remains of Kenilworth Great House are altogether more prosaic.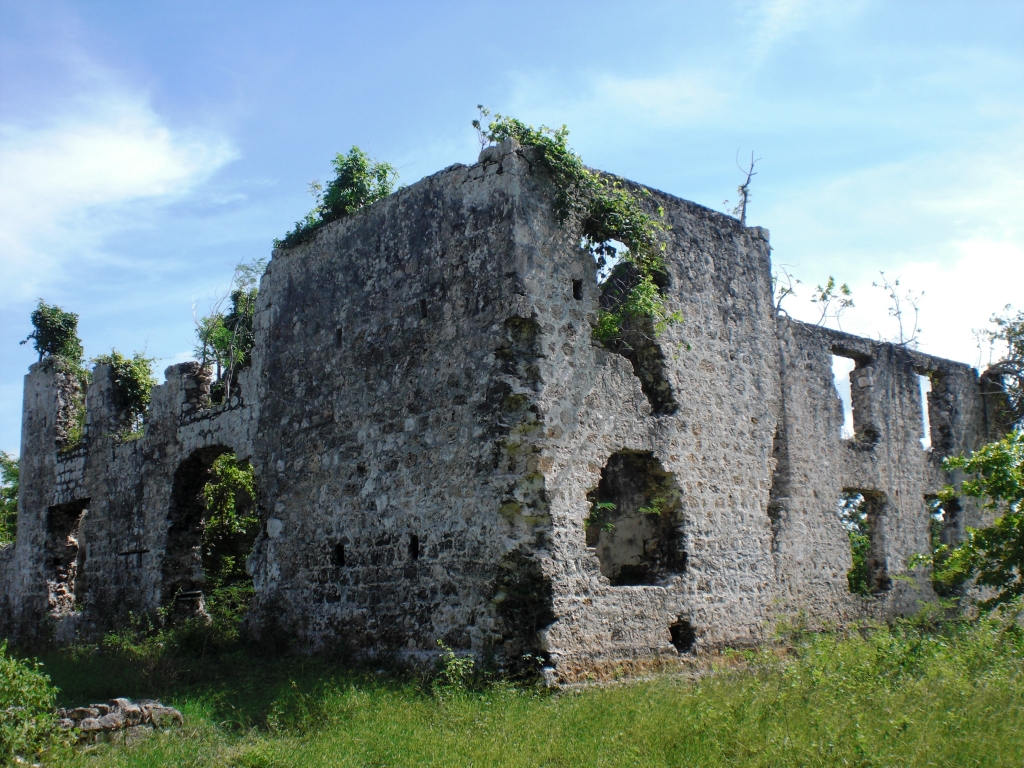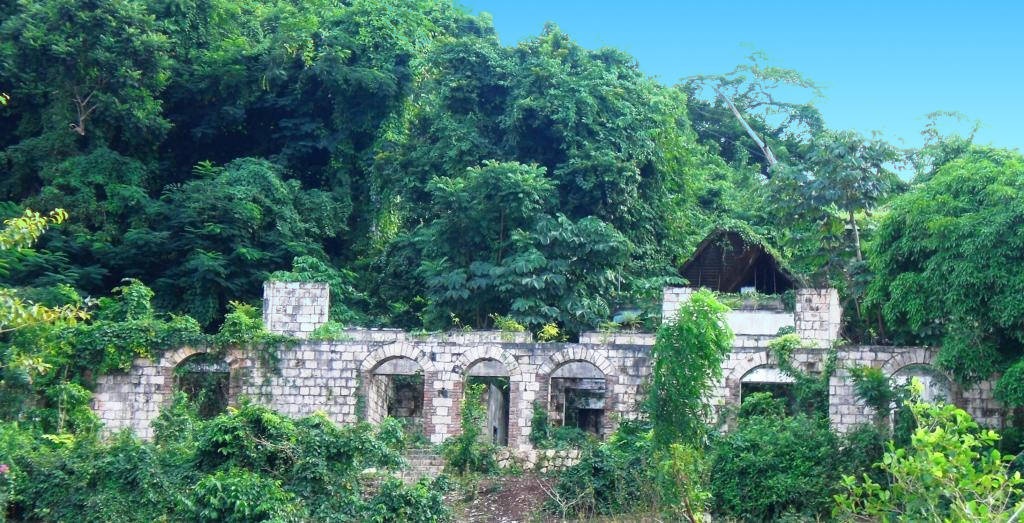 Two Great Houses in ruins. Left: Stewart castle. Right: Kenilworth Great House.
Another feature of the early Great Houses like Colbeck Castle and Stewart Castle is that they were built with defence in mind. At that stage of Jamaica's history the concern was not so much of slave revolts or even of the Maroons in the mountains but of French attack. My photograph of Stewart Castle, built in 1754, has more in common with a mediaeval castle on the Welsh borders with fortified towers at the corners, thick walls with loopholes spaced 10 feet apart and a large courtyard where the livestock could be protected against raiders from the sea. But by the time Rodney had defeated the French fleet at the Saintes in 1782 the external threat had significantly diminished.
Peter Marsden wrote in the late 1780s about Rhimesbury Estate in Clarendon "The great house or pen was formerly large and straggling, but it has lately been rebuilt and made very commodious; it consists of a suite of rooms raised upon piazzas, with a large dining-room in the centre, all floored with mahogany; there are also galleries above, covered with handsome Venetian blinds on every side, which render them cool and agreeable". (p. 16 and 17).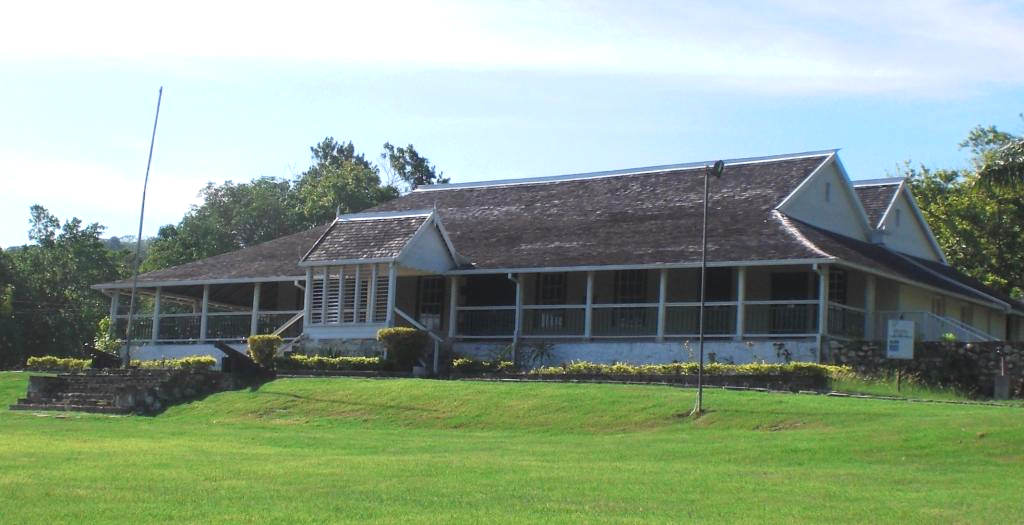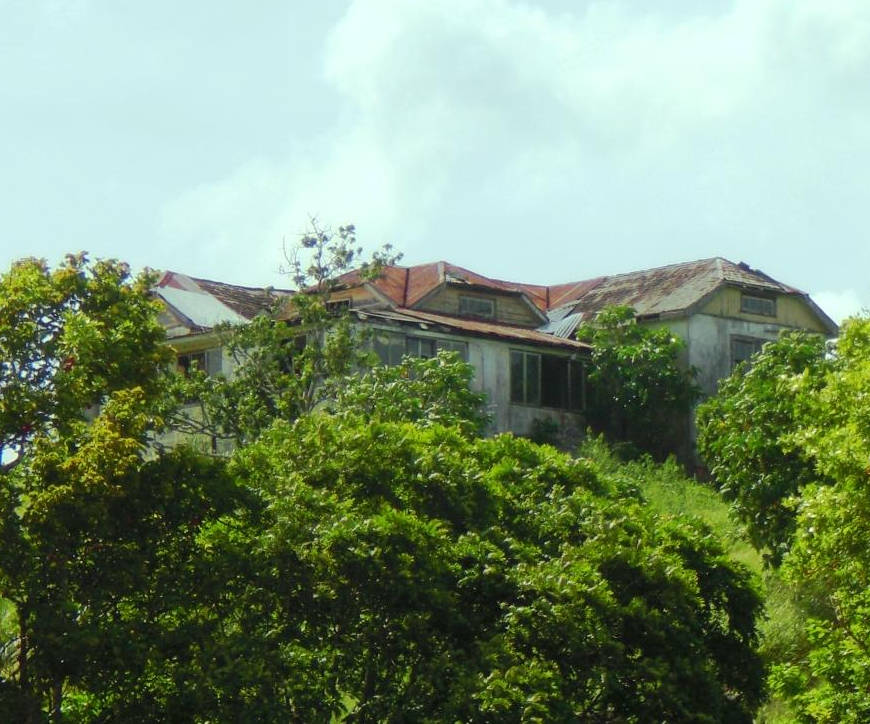 Left: Seville Great House. Right: Tilston Great House.
There is no particular architectural style discernible in the Great Houses. Some writers have classified them as "Jamaican-Georgian" or "Georgian Vernacular" but in truth their design is mainly dictated by the environment and is a development of earlier Spanish ideas. Wherever possible they are as high as possible to benefit from any cool breeze and to avoid disease and the stench of the sugar manufacturing process. The hilltop Great House at Tilston near Falmouth, now in ruins, still dominates the surrounding cane fields giving the owner a commanding view of his property. Often they are single storey so as to minimise the effects of earthquakes and hurricanes. Seville (see photo) was reduced from two storeys to one after such an occurrence. And for the same reasons they were usually built of limestone blocks on the ground floor with wood used on any upper floor and a hip roof with cedar shingles.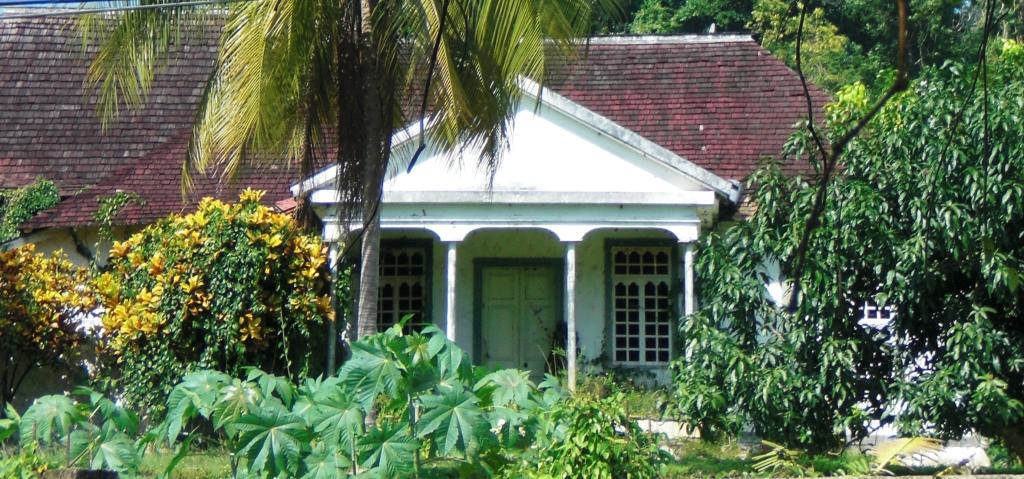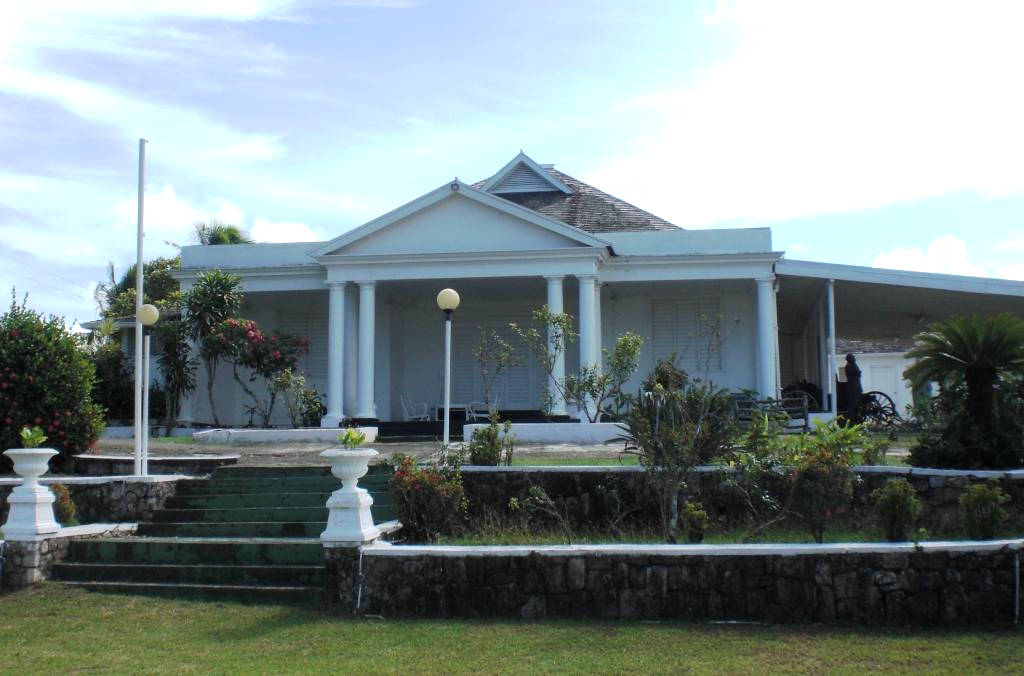 Left: Grange Hill. Right: Whitehall Great House.
Key features were the long gallery with highly polished mahogany floors and windows with louvred windows or jalousies and the "piazzas" which were covered or partially enclosed verandahs around the outer walls of the house. As Long says "nor can there be a more agreeable indulgence enjoyed by the master of the house, than to sit in an elbow-chair, with his feet resting against one of the piazza-columns; in this attitude he converses, smokes his pipe, or quaffs his tea, in all the luxury of indolence" (p. 22). Green (pp. 96-97) analyses the meaning of "piazza" in Jamaica and how it evolved from originally referring to an addition to the ground floor to its becoming synonymous with the first floor open gallery.
By the time Philip Gosse visited Jamaica in the early 1840s the Great Houses were still at their peak before the rapid economic decline brought on by abolition.
A flight of stone steps, with iron balustrades, on which run beautiful twining or creeping plants .... leads the visitor up to the front door, and he is immediately ushered into a spacious hall, of the form of a cross, extending the whole length and breadth of the house. This large hall is characteristic of all Jamaica houses; it forms the principal sitting room; and, from its shape, admits the cooling breeze to sweep through it, whenever there is a breath of fresh air. The two square areas formed by one side of the cross are filled by bedrooms; but with these exceptions the whole of the sides and ends of the hall are either occupied by windows, or open, and furnished with jalousies, a broad sort of transverse Venetian blinds, which freely admit the air while they exclude the glare of light. This large and cool apartment is furnished with sofas, ottoman, tables, chairs, etc., not differing from ours; but there is no fireplace, nor any carpet. Instead of the latter the floor is made of the most beautiful of the native woods, in the selection of which much taste is displayed, as also in the arrangement, so that the various colours of the wood may harmonize or contrast well with each other. Mahogany, green-heart, bread nut, and blood-heart are among the trees whose timber is employed for floors. Great hardiness is an indispensable requisite in the wood used, and capability of receiving a high polish, which is given and maintained with great labour. Scarcely anything surprises a European more than to tread on floors so beautifully polished as the finest tables of our drawing rooms. [pp.124-26]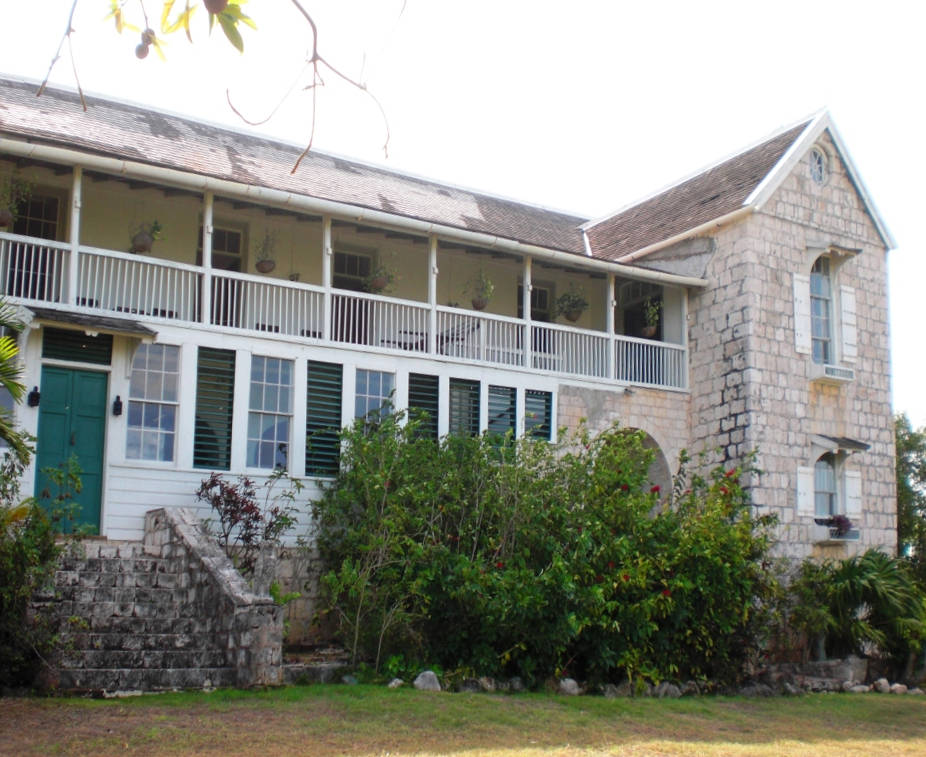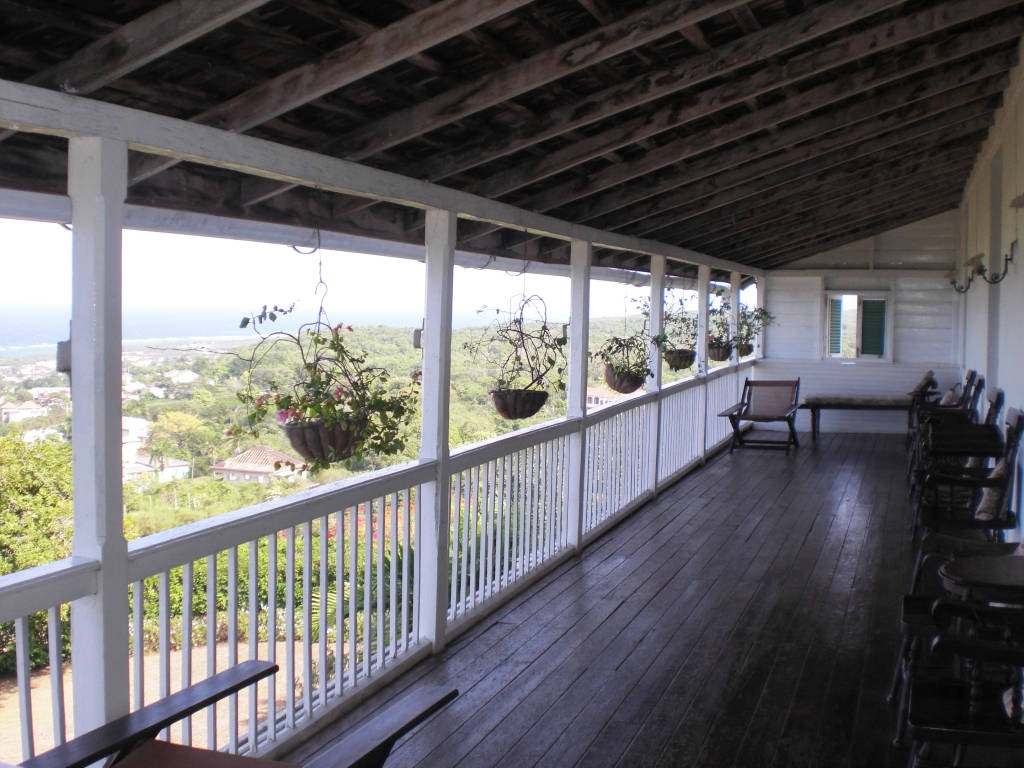 Exterior and interior views of the piazza at Greenwood .
C. R. Williams comments on the furniture: "The Piazza is about fifteen feet wide, furnished with a few chairs made of cherry-tree wood, a spy-glass, a backgammon board, and chessmen. The furniture of the dining-room is much of the same character, except a set of tables, a sideboard, and a dozen chairs, all of mahogany, and the entrance-hall contains a couple of sofas. The sleeping-rooms are furnished in the same simple manner; a bedstead, with a mattress and a pair of sheets, covered solely with a lawn net to keep off the mosquitoes, a chest of drawers, and two or three chairs.." (pp.314-17).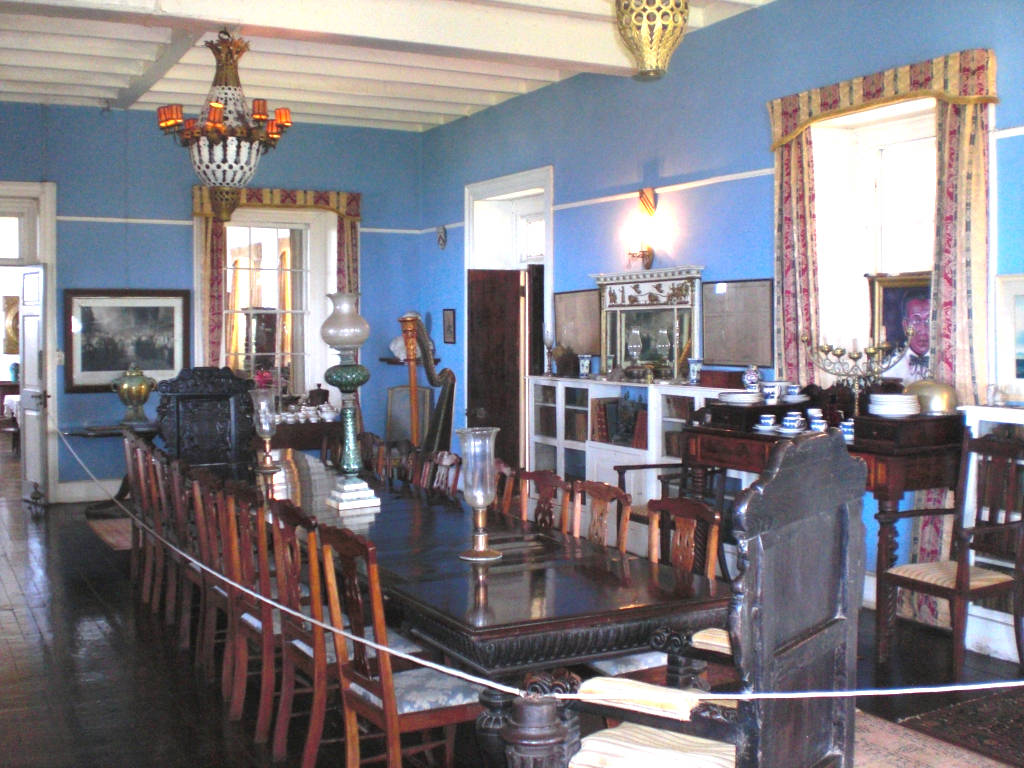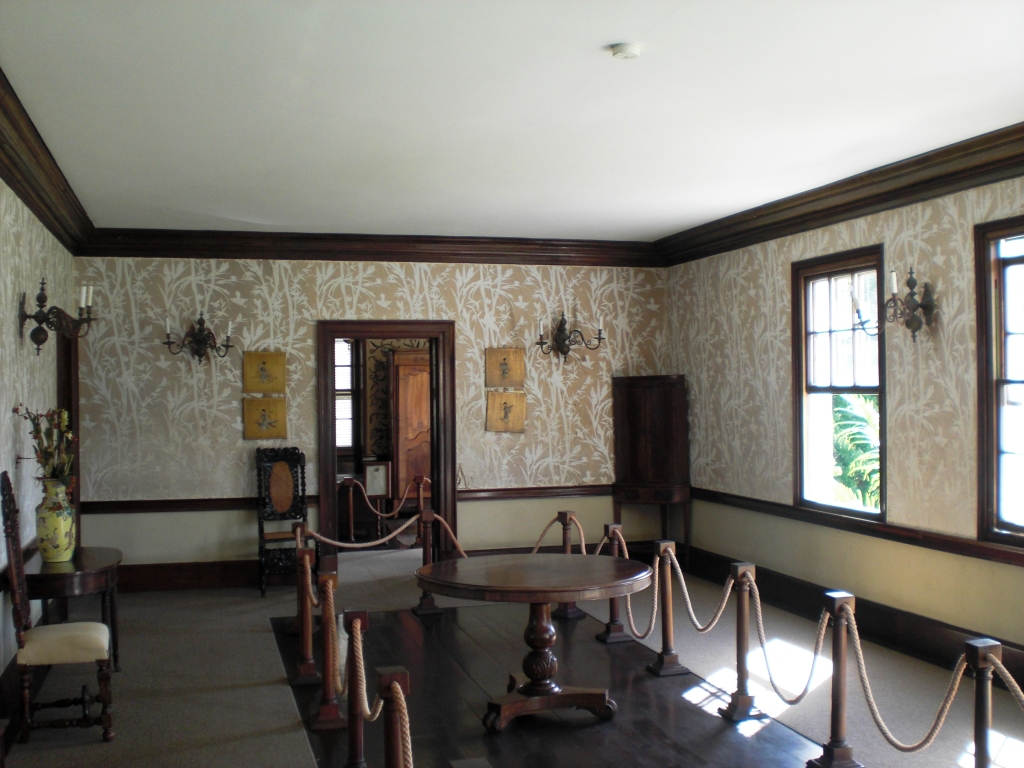 Interiors of Great Houses: Left: Greenwood. Middle: Door at Liberty Hill with its louvred fanlight. Right: Rose Hill. .
I have included a selection of Great Houses in the accompanying photographs. Rose Hall and Cardiff Hall are depicted in Hakewill's "A picturesque Tour" and I have provided "Then and Now" photos of both houses which have been restored to near-perfection. Whitehall, Grange Hill and Seville are single storey houses with porticos. At the other end of the scale I offer Flint River and Kenilworth which both lie in jungle-covered ruins close to the north coast highway. For interior views I have relied on Greenwood, Rose Hall and Liberty Hill to demonstrate the homely ambience, and the widespread use of local and highly polished woods.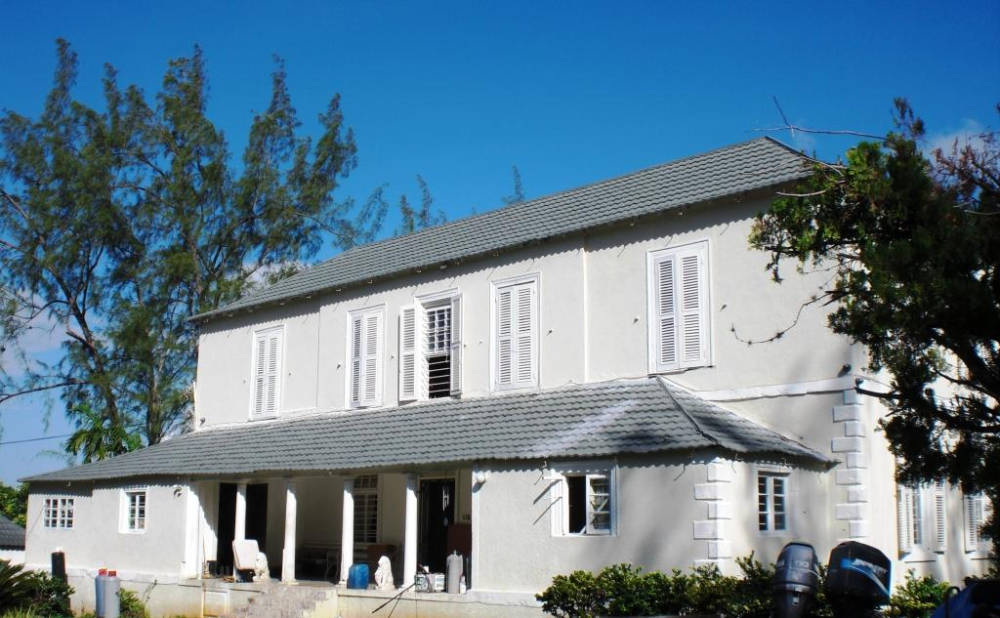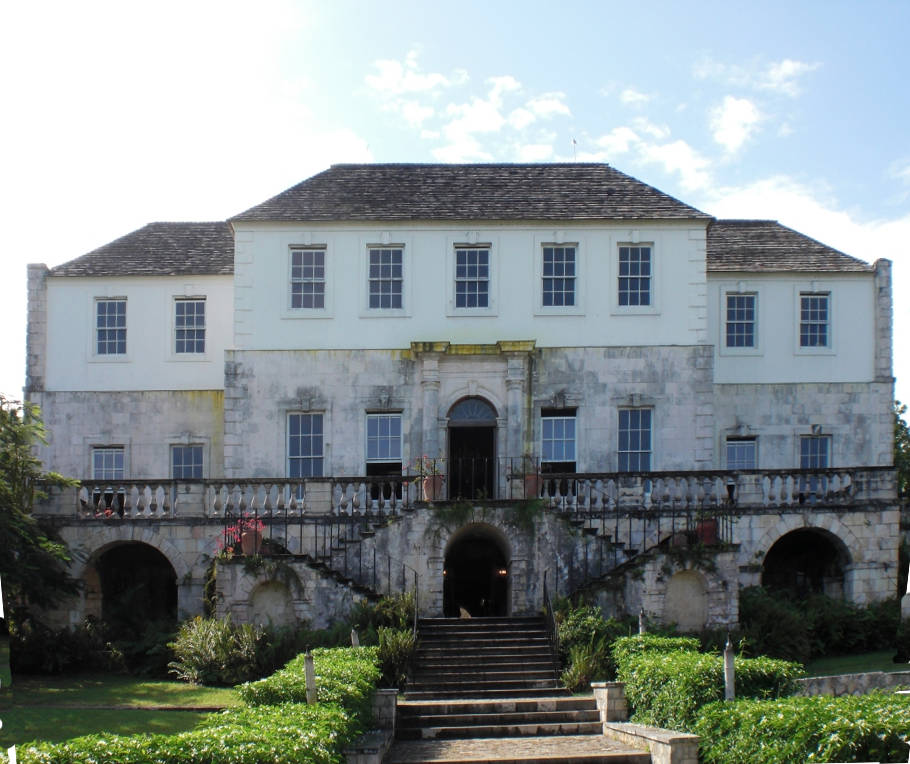 Left: Cardiff Hall. Right: Rose Hall.
For the enthusiast I can do no better than recommend Michael Mosley's labour of love; his Great House website replete with excellent photographs and background history.
Additional images
Further reading
Cundall, Frank. Historic Jamaica. London: Institute of Jamaica, 1915.
Georgian Society of Jamacia website.
Gosse, Philip. A Naturalist's Sojourn in Jamaica London, 1851 pp. 156-57; quoted in Edward Brathwaite, The Development of Creole Society in Jamaica 1770-1820. Oxford: Clarendon Press, 1978
Green, Patricia. "The evolution of Jamaican architecture 1494-1838." University of Pennsylvania MSc thesis, 1988
Hakewill, James. A picturesque tour of the island of Jamaica. London: Hurst and Robinson, 1825.
Jamaica National Heritage Trust website.
Long , Edward. The History of Jamaica. London; Lowndes, 1774.
Marsden, Peter. An account of the island of Jamaica. Newcastle: Hodgson, 1788.
Mosley, Michael. A Tour of Jamaica's Great Houses, Plantations and Pens. Website.
Williams, Cynric R. Jamaica: A Tour through the island of Jamaica. London, Hunt and Clarke, 1826.
---
Last modified 30 December 2015