Eunice and Ron Shanahan have shared with readers of the Victorian Web this material from their website, Letters from the Past.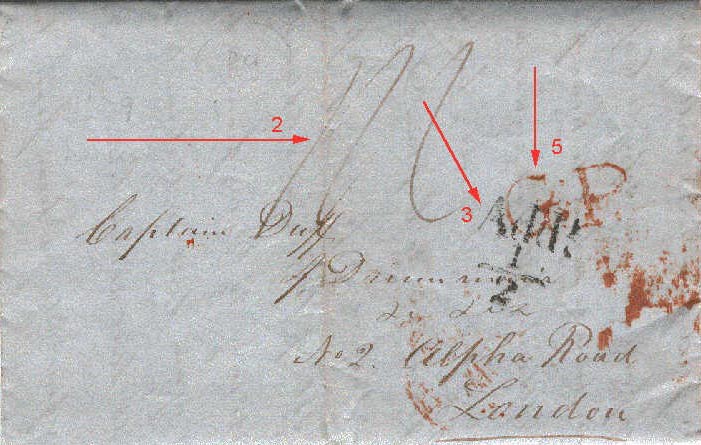 The six postal markings are all unusually clear. Three - on the front of the cover - were struck at the beginning of the journey:
circular date stamp applied in Edinburgh APR 27 E 1838
Manuscript charge mark of 1/1 (one shilling and one penny) for a distance between 300 and 400 miles 1812-1839 - Edinburgh to London was 396 miles
Additional 1/2d Scottish mail tax applied in Edinburgh type 2a in use from 5 September 1827 to 24 May 1839, identifiable by the size, which is 19mm x 16mm.
The other three applied at the London end, all in red ink:
London arrival date stamp 29 APR 1838 S signifying Sunday- in use 1812-1842
G:P. General Post stamp applied when the 1 penny fee for the Penny Post had not been paid, this type with a semicolon between the letters and a full stop at the base of the letter P was in use 1837-1839
Transfer date stamp applied at the City Office of the London Twopenny Post Office showing 10 Fn APR 30 1838. The City Office date stamps always showed the month before the day. This type of indented stamp was in use from1838 until 1842.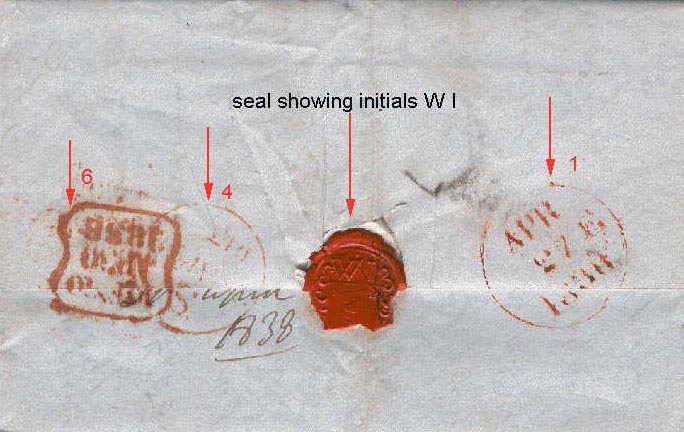 [Return to transcription and analysis of letter]
---
Last modified 27 May 2010