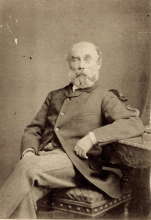 WRH Powell became Squire of the 3,500 acre Maesgwynne estate near Llanboidy, Carmarthenshire on his coming of age in 1840. His father had died in 1834 and in 1839 the young Powell had been called home from Christ Church, Oxford to deal with the Rebecca uprising in which Tollgates were smashed by farmers and labourers retaliating against oppression by the ruling elite of squires, landowners and clergy. To his ilk's utter fury Powell sided with the oppressed and helped put a stop to the Turnpike Trust's plans to replace the gates destroyed at Efailwen and Maesgwynne and to erect new ones between Llanboidy and Whitland. Peace was restored to the area but further a-field there was no one of Powell's ability to intervene and the troubles intensified and lasted for three more years ending with death and deportation. It was the start of Powell's life-long dedication to improving the lot of the working classes.
However, today, his work in the community is largely forgotten and the few who have heard of him associate Powell with hunting and horse racing. It is, of-course, true that Powell was a leader in the developing sporting activities of the age. In 1839 he founded his own pack of foxhounds, the Masesgwynne, which he maintained at his own expense and acted as Master for 50 years! His passion for horse racing led him to construct a race course at Cefnbrafle over whose banks the top Irish and English chasers were usually led home by the stars of the Maesgwynne Stables. In the mid 1860s Powell turned the failing Carmarthen Steeplechases into the best race meeting in Wales with the 'open' winner guaranteed a run in the Aintree Grand National. The Field and Bell's Life in London sent their correspondents to Carmarthen to report on the 'premier meeting in Wales' as well as to Llanboidy, where they stayed at Powell's purpose built Maesgwynne Arms Hotel, to record events at the remarkable week-long spectacle and 'typically Welsh gathering' that was Llanboidy Races. But Powell's lasting legacy was social and political.
He was a patron of education and built a school at Llanboidy in which the teaching of religious dogma was prohibited and 230 pupils were educated at his cost. He advocated ending Hiring Fairs because of the demeaning animal-style treatment meted out to male and female servants. He urged farmers to adopt a parental caring attitude towards their young employees and to stop the practice of 'bandling' [courting in bed] which landed so many before the magistrates. Powell established agricultural shows to improve farm stock and agricultural produce. He urged farmers to set up butter factories in Carmarthenshire to improve the consistency of, and hence the demand for, local butter.
Labourers benefited from Powell's cottage building programme and from his Three Counties Friendly Benefit Society which provided income to members during illness and pensions in old age. [It took 30 years before another Welsh radical, David Lloyd George, made the State responsible for people's basic welfare]. Powell built a Hall in Llanboidy for marketing farm and garden produce and for holding concerts and eisteddfodau. An extension to the building housed a library and a coffee tavern. He promoted and supported eisteddfodau at Clunderwen, Whitland and Crymych.
On the basis of fairness and justice he advocated the disestablishment of the Church of England in Wales, education for all, tenants rights, expansion of the franchise, local democracy, Home Rule for Ireland and for Wales. Powell may have gone to Church on Sunday but for the rest of the week he was a dissenter! He was 'manna from Heaven' to the radical Liberal non-conformists whose army of canvassing preachers saw him home and dry in the Carmarthenshire constituency in the 1880 General Election.
His commitment to his electors was total; working from 5 a.m. to past midnight and often writing 70 letters a day. He was equally committed to the Liberal party in the Commons where his voting record was bettered by few other than the Whips. But Powell's greatest contribution to politics was his spreading of the radical reform message of the Liberal movement throughout his constituency. His speeches at agricultural shows often drew protest from Tories for being too political. He was much in demand as an orator at Liberal gatherings, at public meetings and at political demonstrations from Lampeter to Carmarthen and from Llanelli and Brynaman to St Clears and Whitland. Henry Richard and William Abraham [Mabon] admired him and campaigned for him.
His emergence as a radical reformer, prepared to give voice to people's desire for change, alerted the Tory press who, from then on, never missed a chance to belittle him as a politician, portraying him as nothing but a sporting squire with nothing to contribute in the political arena. But the electors thought differently and voted Powell to Westminster with thumping majorities!
Throughout his life this remarkable man was first and foremost a combination of a caring local landlord and benefactor and a radical reformer whose zeal succeeded in turning the conservative Carmarthenshire constituency into a radical stronghold.
All for the benefit of ordinary people.
Related Material
Bibliography
Owen, William Denley. Powell Maesgwynne: Philanthropist, Sporting Great and Radical Hero. An account of the life and times of WRH Powell, MP, Llanboidy, Carmarthenshire (1819-1889). Carmarthenshire Antiquarian Society, 2012.
---
Last modified 14 August 2013