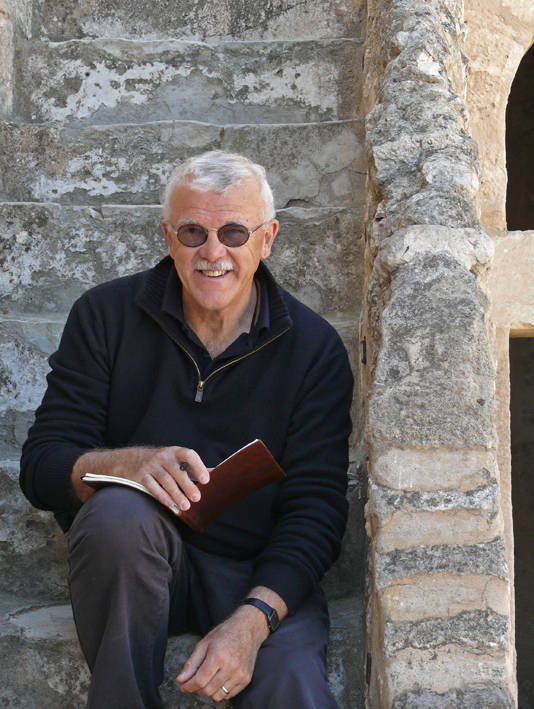 Graham Lupp concludes that the love of history expressed in his art, may come from his somewhat exotic family tree: "The name Lupp was originally Lup, a Chinese first name. Around 1865 the family, initially from Canton, arrived in Australia from Tai Ho Chung, a village in the New Territories near Hong Kong. However, my father's mother, Leonora Vistarini, was descended from an Italian family prominent in the city of Florence and later, Milan. Her father, a surveyor, was murdered by bushrangers in Queensland; her mother and sister died in childbirth and a few years later, on 10th June 1915, her young brother, Hector, was killed in the wasteland at Gallipoli. On my mother's side my origins are equally mixed being English, Welsh, Scots and Irish. My maternal grandmother, Jesse Rosetta Douglas, was a descendant of Charles Peet and Hannah Mullens, convicts from London, who arrived on the Scarboroughs and Lady Penryhn respectively, with the First Fleet in 1788."
The artist was born in Bathurst, New South Wales, Australia, in 1946, won a Commonwealth Scholarship for tertiary study (1964) and received his Bachelor of Architecture (Hons1), University of NSW, Sydney, after which he spent a foundation year at Ealing Technical College, London, before completing a Bachelor of Arts (Hons1), Hornsey College of Art, London (1973-76) and a Master of Arts at the Chelsea School of Art, London, in 1976-77. He served as a tenured lecturer at the Mitchell College of Advanced Education (now Charles Sturt University), in Bathurst, where he taught art history, visual art and photography. He has devoted himself to painting full time since late 1984. His travels, sketchbook in hand, include Japan, Hong Kong, China, Russia, India, USA, Great Britain, France, Italy, Austria, Spain, Egypt, Tunisia, Malta and Morocco. Represented in public and private collections in Australia, UK, USA, Canada, and Hong Kong.
During his career Graham Lupp has been included in nearly thirty group exhibitions and is presently (July 2010) working on his 50th solo show; a major exhibition called Building Faith which is a personal survey of the world's religious architecture encountered since he began travelling in 1972. It is intended for this exhibition to be eventually shown in the gallery at NSW Parliament House, Sydney late in 2011.
In November, 2009, having been a finalist in 2007 and 2008, Lupp won the $35,000 Country Energy Art prize, Australia's richest prize for landscape painting.
Although the scope of Lupp's art reflects an interest in a broad range of subjects, his early training in architecture remains a pervading influence — not only in his depiction of buildings, but in the carefully structured compositions that typify his work. Lupp employs nearly all media in his art, moving freely between oils, acrylics, gouache, watercolours and pastels. When drawing he prefers compressed charcoal or coloured pencils. When travelling he sketches in pen and ink and watercolour. Because of his diverse interests his work falls into distinct categories, which he revisits as his inclinations dictate. These categories are clearly seen on his website.
At times Lupp's style clearly falls into the school of Hyperrealism although when drawing and working in his favourite medium, pastel, his work is looser and more expressive. Because of his life-long love of history, especially of the built environment, Lupp explains his near-obsessive Hyperrealism as an attempt to explore the subject so thoroughly, over weeks and sometimes months, that he eventually becomes imbued with some of its essential character. He summarises his endeavours as an ongoing homage to the great achievements of the past. In particular this applies to his paintings of the world's great monuments — the gothic cathedrals of Europe and Britain, the temples of Egypt, Greece and Rome, and the marvels of Islamic culture such as found in the Great Mosque of Cordoba. His efforts are devoted to those examples which, through the skill of their creators, best express human spirituality and he considers religious architecture, from all parts of the globe, to be perhaps the pinnacle of human creativity.
The astounding achievements of the Victorians are obviously a source of great inspiration for Lupp who has plans for a book dealing with the notable Victorian buildings that make his birthplace of Bathurst, NSW of particular heritage value in Australia. In this context Lupp hopes to contribute items of interest to Victorian Web.
Email: enquiries@grahamlupp.com.au
---
Last modified 21 July 2010