The author has kindly shared with readers of the Victorian Web his work which appears on his site on the important Victorian composer. Please visit the original site which has additional materials.

ichael W. Balfe was born Dublin, Ireland, on 15 May 1808, at 10 Pitt Street, which in 1917 was renamed Balfe Street. He was the son of a dancing schoolmaster, William Balfe, who offered classes in Dublin and Wexford. Young Balfe showed good musical ability at an early age. In Dublin he took violin and music lessons with violinist James Barton and composer William Rooke (1794-1847), and with others in Wexford.
At age nine, Balfe, a child prodigy performed on the violin at a concert in Dublin's Rotunda Concert Rooms (shown here at the right) on 30 May 1817. This was his first public concert. Others quickly followed, at the Crow Street Theatre and again at the Rotunda all with great success over the next few years. his first composition "The Lover's Mistake" was published in 1822 by Isaac Willis, of 7 Westmoreland Street, Dublin.
Balfe's training and career as an opera singer
On the death of his father early in 1823, Balfe left Dublin for London where he took music lessons with Charles Horn (1786-1849) and Horn's father Karl Frederick Horn (1762-1830). In 1824 Balfe, joined the orchestra at the Drury Lane Theatre, which was then under the direction of Irishman Tom Cooke (1782-1848), whom Balfe had known from his days in Dublin. In 1825, Balfe, interested in broadening his studies first went to Paris where he was introduced to the great composers, Luigi Cherubini (1760-1842), and Gioachino Rossini (1792-1868), who took a personal interest in him and his musical talents. On the advice of Rossini he spend the next few years in Italy studying singing with the famous Rossini singer, Filippo Galli (1783-1853), and taking music composition lessons from Ferdinando Paer (1771-1839), in Rome. Later in Milan he studied harmony and counterpoint with Vincenzo Federici (1764-1827).
He returned to Paris in 1827 and at Rossini's invitation made his debut early in 1828 at the Theatre Italiens as Figaro in Il barbiere di Siviglia, singing opposite Henriette Sontag (1806-54), Giulio Bordogni (1789-1856) and others. He also studied singing with Bordogni. Balfe a bass-baritone, decided to return to Italy in 1829 to gain more experience. He made his debut in the part of Valdeburgo in Bellini's opera La straniera in Palermo in January 1830.
During this period while in the Milan (or possibly in the Bergamo area) he met and married the Hungarian soprano, Lina Roser who was then sharing the stage with him in Bellini and Rossini operas, at the Teatro Carcano in Milan early in 1831. It's possible they were actually married at soprano Giuditta Pasta's Villa at Blevio on Lake Como in the Autumn of 1831, shortly before the great Pasta created Bellini's Norma at La Scala.
In 1834 he made his debut at La Scala, Milan, singing opposite the renowned mezzo-soprano, Maria Malibran (1808-36), in Rossini's Otello. He appeared again with Malibran in Venice early in 1835, singing once more in Rossini and Bellini operas.
Balfe's brilliant career as a composer of operatic works
By 1831, when he was only 23 years old, his first three operas had been produced in Palermo, Pavia, and Milan. He returned to London in August 1835, participating with the great Lablache, Tamburini, Rubini and Grisi in a concert in Vauxhall Gardens. Balfe's London debut as an operatic composer took place with the premiere of his highly successful, Siege of Rochelle on October 28, 1835 at the Drury Lane theatre in central London (shown here). This began Balfe's brilliant career as a composer of operatic works. He was 27 years old!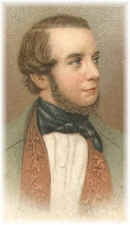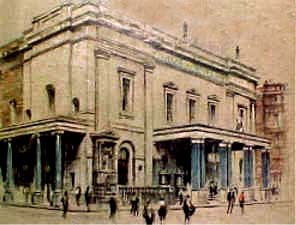 Right: Balfe in London, 1836. Right: Drury Lane Theatre [Click on thumbnails for a larger images.]
His initial success was quickly followed by another opera The Maid of Artois, which he composed to fulfill a promise to Maria Malibran, his good friend who performed in the premiere on May 27, 1836 at Drury Lane theatre in London. Tragically, the renowned Malibran died the following September age 28, in Manchester as a result of a horse-riding accident.
In 1838 Balfe made his first return to Ireland where he sang in operas and in concerts. A public dinner was held at Morrison's' Hotel in Dublin in December of that year. This dinner was attended by 100 business and political leaders and Balfe made an elegant speech about his absence of sixteen years from his native city and sang arias from his operas.
Over the next twenty-five years in London, Paris, Berlin, Vienna and Trieste Balfe composed and produced more that twenty five operas, many with great success. The Bohemian Girl -- the most famous and most lasting of them -- was first produced at the Drury Lane theatre on November 27, 1843. Performances were soon mounted in the following cities: New York 1844; Dublin 1844, Philadelphia 1844, and later in, Madrid 1845, Vienna 1846, Sydney 1846, Prague 1847, Stockholm 1849, Berlin 1850, Trieste & Bologna 1854, Zurich 1854, Amsterdam 1855, Rouen 1862, Gothenburg 1865, Paris 1868, Toronto 1874, New Orleans 1876, Mexico 1884 and in Cape Town in 1887.
An Italian translation of The Bohemian Girl called, La Zingara was mounted in Trieste in 1854. Performances quickly followed in other Italian cities, Bologna, Bergamo, Brescia, and Verona. Later it was performed in Italian in London (1856), Dublin (1858) and New York (1858). A version in German Die Zigeunerin premiered in Vienna, in 1855, and was later heard in Berlin, Frankfurt (Jenny Lind attended the Frankfurt performance), Hamburg, Darmstadt, Munich, Stuttgart and other cities.A few years later a French version La Bohemienne premiered in Rouen in 1862; it reached Paris in 1868. Iw as also performaed in Zurich and Madrid, and possibly in St. Petersburg.
Balfe the Composer and Conductor
Balfe's output during the years 1835-1860 was incredible. Some years he was actually composing operas for London and Paris at the same time, and/or had two opera running in London at the same time. In addition to composing for opera, Balfe also wrote about 250 songs over a 35-year period. Some of his best known works include the following: "Killarney," "Come into the Garden, Maud," "Sands of Dee," "The Arrow and the Song," "Excelsior," "Margarita," "There is a name I never Breath," and "The First Kiss."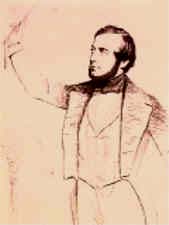 Balfe conducting. Click on the thumbnail for a larger image.
Balfe was considered an outstanding conductor by his peers. From 1846 to 1852 he was also the principal conductor for the Italian Opera at Her Majesty's theatre, London. He conducted Jenny Lind's< (1820-87) London debut in opera and all of her subsequent performances in that city. Balfe also conducted the London premiere of Verdi's first successful opera, Nino (Nabucco). When Giuseppe Verdi (1813-1901), came to London in 1847 to conduct the premiere of his new opera I Masnadieri, starring Jenny Lind, after two performances he turned over his baton to Balfe to finish the run.
Balfe was married for 39 years to Lina Roser-Balfe (1808-88), an eminent Hungarian born soprano, whom he met at the Teatro Carcano in Milan or in Bergamo in 1831. They had two sons and two daughter. One son died in infancy the other son named Michael W. survived his father. The first daughter Louise was born in London around 1833-5. She married a well established German merchant Max Behrend and lived in Danzig and Berlin. She died prematurely in 1858. There were children from the marriage. The other daughter, Victorie, became a singer.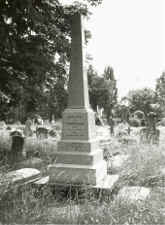 Balfe's Grave [Click on the thumbnail for a larger image.]
Michael W. Balfe died at his home Rowney Abbey in Ware, England in October 1870 from bronchial asthma (a condition from which he suffered most of his life) complicated by pneumonia. He had been ill for almost a year before his demise. He was 62 years old. His wife, Lina Roser Balfe died in London in 1888. They are both buried in Kensal Green Cemetery, London.
Today, a very large marble statue of Michael W. Balfe stands on a pedestal in the center of the entrance foyer to the Drury Lane theatre, London, the very same theatre where Balfe experienced so much success with his operas, during the nineteenth-century. In April 1879 a stained glass window was erected in his honor in St. Patrick's Cathedral Dublin. A plaque honoring him was placeed in Westminster Abbey, London, in October 1882.
---