Dame Ellen Terry (1847-1928) was born into a theatrical family. From the age of eight Ellen made regular appearances on the stage both in London and in touring productions alongside her parents and older sister, Kate. In 1863, the sisters were appearing at London's Haymarket Theatre, where Kate's performance met with such success that, chaperoned by her younger sister, Ellen, she was invited to sit to the great portrait artist of the age, G.F. Watts. The Sisters (1863; private collection) is the result of this first encounter. It was, however, Ellen who captured the artist's attention, and who appears in the following months in a touching and beautiful series of paintings and drawings reunited for this exhibition.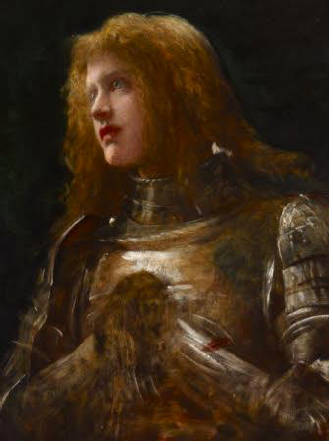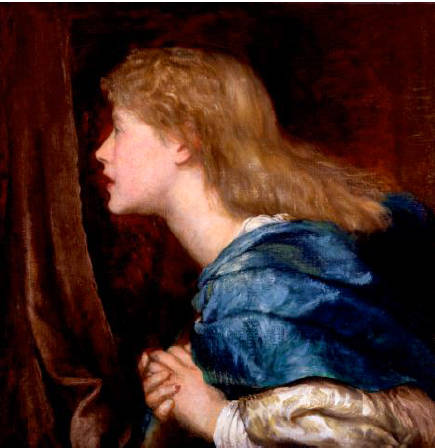 Left to right: (a) Choosing. (b) Watchman, What of the Night?. (c) Ellen Terry [Click on these images for larger pictures.]
On February 20 1864, the 46-year-old Watts married Ellen, aged just sixteen. Ellen herself recalled how the experience of sitting in the artist's studio made the stage seem "a poor place" in comparison, and indeed Watts had intended that she should – as young actresses typically did upon marriage – renounce the theatrical life, in her case in favour of a new role as muse to a great painter.
For a brief time, this was Ellen's fate, "starring" in what are some of the great portraits of the Victorian age. In Watchman, What of the Night? (1864; Smallhythe Place, National Trust) Ellen appears as Joan of Arc, a noble-hearted young heroine; while in Choosing (1864; National Portrait Gallery) Ellen wears the brown silk wedding dress designed for her by William Holman Hunt, and seeks to decide between the choice of camellias and violets in a modern allegory of the choice between the soul and the senses. Alongside these paintings the exhibition will include some of the intimate drawings made of Ellen by Watts in 1863/4 – among his most memorable works on paper.
1864 was also the year that Julia Margaret Cameron, a close friend of G.F. Watts, acquired her first camera and began to experiment with the medium of photography as an art form. Amongst Julia's early images is a photograph taken of Ellen Terry in Tennyson's bathroom on the Isle of Wight. Entitled Sadness (1864; Smallhythe Place, National Trust) the contemplative image indicates that the Wattses' marriage was already less than happy. By November 1864 Ellen had returned to her parents' home, and in January 1865 a separation agreement was reached. The couple were not, however, divorced until 1877.
Also on show as part of the exhibition's unique presentation of the "private Ellen" will be a selection of the drawings created over a number of years by Ellen Terry's daughter, Edith Craig, and Edith's close friend Pamela Colman Smith.
In counterpoint to these private images, the exhibition will also showcase a survey of representations of Ellen Terry on the stage – the public woman – including original artwork by artists including Aubrey Beardsley and William Nicholson, as well as images by the leading photographers of the period. A film will show how Ellen's image reached from the mid-Victorian bohemian set all the way into the age of Cinema. Commenting, Nicholas Tromans, Curator, Watts Gallery, said: "The artist and aesthete W. Graham Robertson, a key figure in the history of Watts Gallery, wrote that Ellen Terry was "par excellence the Painter's Actress". A star of the English stage for many decades from her eventful youth of the 1860s to the 1920s, Ellen Terry formed a unique point of exchange between the theatre, painting, photography and fashion, inspiring visual artists working across a range of disciplines." "Although the alliance with G.F. Watts was brief, and perhaps mismatched, Ellen Terry's presence was to be felt in Watts's art. This exhibition reunites the greatest of Watts's images of Ellen, which are perhaps the very finest of all his portraits and are among the most striking in all Victorian art."
---
Last modified 15 June 2014