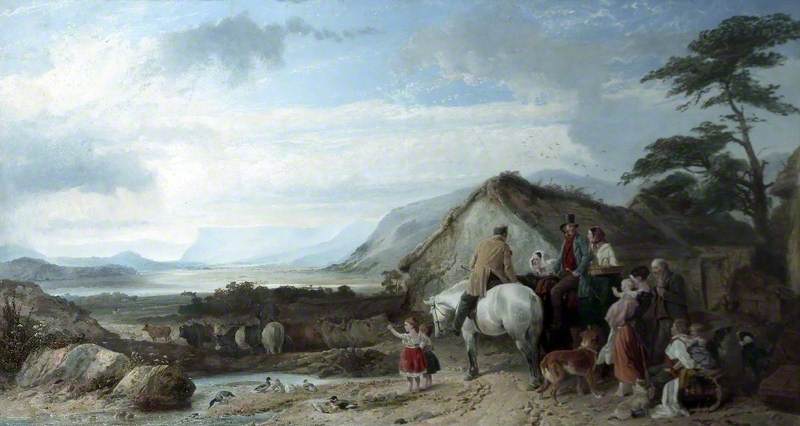 The Drover's Halt by Richard Ansdell, RA (1815–1885). 1846. Oil on canvas. 94.6 x 185 cm. Atkinson Art Gallery, Southport, Merseyside. Accession no. SOPAG:189. Gift from George Audley, 1921.
The Highland drovers were, during the eighteenth and early nineteenth centuries, the backbone of the livestock industry in Scotland, taking the cattle and sheep many miles south to market over difficult routes while preserving them from loss and theft, and helping to support the small communities along the way, bringing them news and business. They also had to drive hard bargains once they arrived at the livestock auctions. "These men combined skilful animal husbandry with physical toughness and the ability to negotiate fair prices and manage the complex and risky commercial structures of the livestock trade" (qtd. in Williams, Ch. I). By 1846, when Andsell painted this scene, droving was already "in sharp decline" (Morris 173), and with the spread of the railway network it would gradually disappear. But that only served to increase a sense of nostalgia surrounding it.
Here, it seems, a drover has arrived at one of the small crofting communities, and will now have to make a difficult onward journey. As Edward Morris says, the scene is "rich in domestic and family incident and detail" (173). From a similar but earlier painting (The Driver's Halt, Island of Mull in the Distance, 1845, it is clear that the drovers travelled with their families. But some here, such as the old man, the woman with an infant, and the children watching at the right, may be locals who have turned out to bid farewell. The rider on the sturdy white horse may be giving or taking directions. As for the waterway ahead, with the craggy distant view encircling it, nothing could better suggest the challenges that the drover faces. But his dog looks up at him expectantly, and one of the little girls towards the centre, in a red skirt, points ahead. Some cattle are already en route. The journey continues. Drovers were admired by those who depended on the system for their livelihoods.
Image download, text and formatting by Jacqueline Banerjee, with thanks to the Atkinson Gallery for allowing the image to be used via ArtUK on the CC BY-NC-SA (Creative Commons-NonCommercial-ShareAlike) licence. [Click on the image to enlarge it.]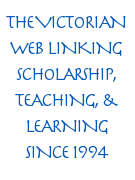 Bibliography
Morris, Edward. Public Art Collections in North-west England: A History and a Guide. Liverpool: Liverpool University Press, 2001.
Williams, Terry J. Walking with Cattle: In Search of the Last Drovers of Uist. Edinburgh: Birlinn, 2017. Ebook.
---
Created 30 August 2018