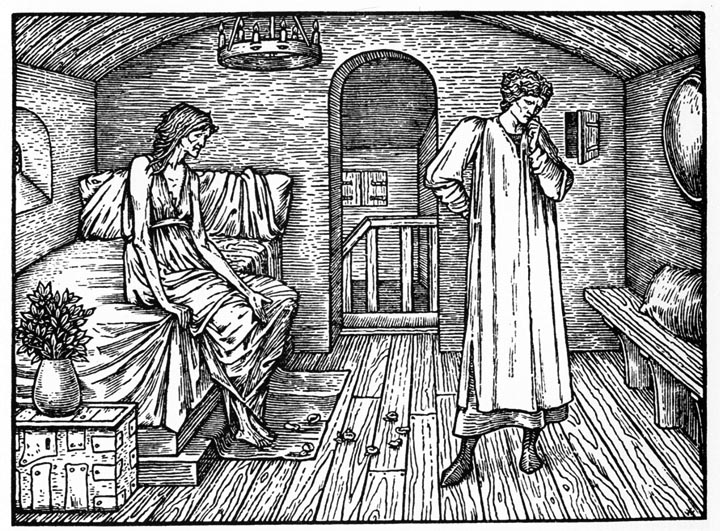 The Tale of the Wife of Bath from The Kelmscott Chaucer by Sir Edward Coley Burne-Jones, Bt ARA (1833-1898). Wood Engraving.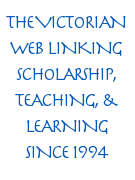 "In deciding what to illustrate Burne-Jones showed a clear preference for the more chivalric and courtly elements in Chaucer's work. His early sketches contain marginal notes such as 'no picture to Miller/no picture to Reeve/no picture to Cook's Tale'. All of these, with their bawdy, native humour characteristic of at least half of The Canterbury Tales, proved too strong for the delicate feelings of the artist. In a letter to Swinburne he confessed: 'I have abstained from decorating certain of the Canterbury Tales... .Morris has been urgent with me that I should by no means exclude these stories from our scheme of adornment — especially he had hopes of my treatment of the Miller's Tale, but he ever had more robust and daring parts than I could assume.' In fairness it should be added that Morris himself concentrated on the romance aspect of Chaucer's poetry. Whatever his private views, his own work showed a restraint altogether in line with Victorian standards of expression. His Earthly Paradise was recommended by the Saturday Review of 30 May 1869 'for conveying to our wives and daughters a refined, although not diluted version of those wonderful creations of Greek fancy'." — Duncan Robinson
Bibliography
Robinson, Duncan. William Morris, Edward Burne-Jones, and The Kelmscott Chaucer. London: Gordon Fraser, 1982; Mt. Kisco, N.Y.: Moyer Bell, nd.
---
Last modified 5 June 2020