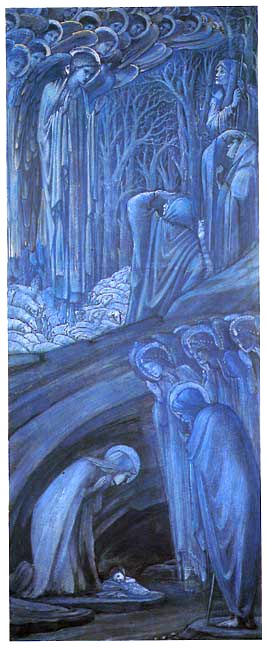 The Nativity
Sir Edward Coley Burne-Jones, Bt ARA (1833-1898)
1887
Guache and gold paint on white paper
57 x 23 1/4 inches; 145 x 59 cm.
"The Nativity is the finished preparatory study for the stained class window in the chancel of St Philip's Cathedral, Birmingham, exececuted in 1888. There is a cartoon (a photographic enlargement by Frederick Hollyer worked over in watercolour) in the Victoria and Albert Museum; see A. C. Sewter, 1975" (Waters, 55).
Related Material
Provenance: The artist's studio sale, Christie's, 16 July 1898, lot 53 (44 guineas to Agnew); Francis 7th Earl Cowper, Panshanger, Hertfordshire and by descent to Lady Desborough, her sale Christies 1953 to William Scudamore Mitchell.
Peter Nahum, London, has most generously given its permission to use in the Victorian Web information, images, and text from its catalogues, and this generosity has led to the creation of hundreds and hundreds of the site's most valuable documents on painting, drawing, and sculpture. The copyright on text and images from their catalogues remains, of course, with the Peter Nahum. [GPL]