Echoes of a Far-Off Storm, by John Brett (1831-1902). 1890. Oil on Canvas, 107 x 213 cm. © Guildhall Art Gallery. In later life, Brett concentrated almost entirely on coastal scenes and seascapes, and painted large canvases like this one, though he was less commercially successful than he had been earlier (see Newall). Photograph taken by kind permission the City of London Corporation's Guildhall Art Gallery, while on display as part of the "Victorians Decoded" exhibition of 20 September 2016 - 22 January 2017.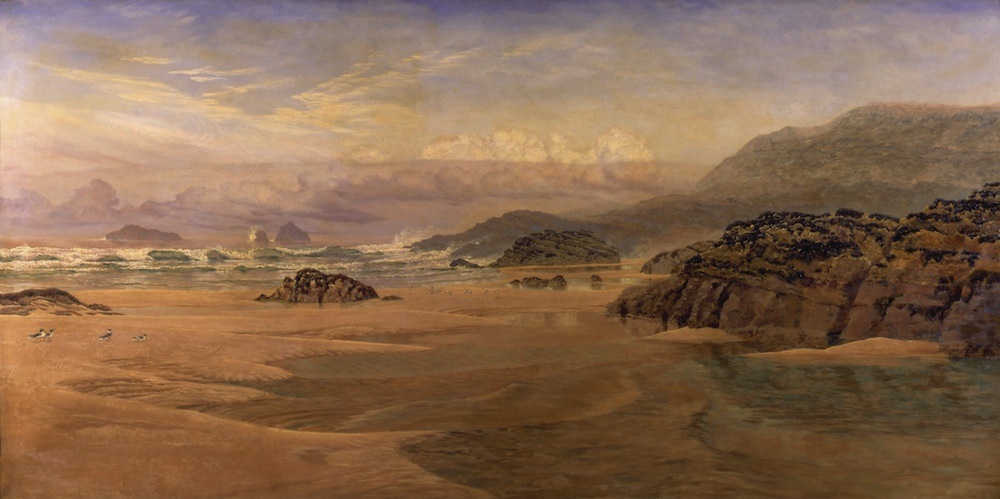 The photograph of the painting on the right here, minus its frame and much darker in tone, was provided by the gallery in the press release about the exhibition. The marked contrast must be the result of work by the gallery' conservation department, which restores both the paintings and their frames on such occasions (see "Conservation"). [Click on both images to enlarge them.] — Jacqueline Banerjee.
References
"Conservation." Guildhall Galleries. Web. 24 September 2016.
Newall. Christopher. "Brett, John (1831–1902), landscape and marine painter." Oxford Dictionary of National Biography. Online ed. Web. 24 September 2016.
---
Created 24 September 2016