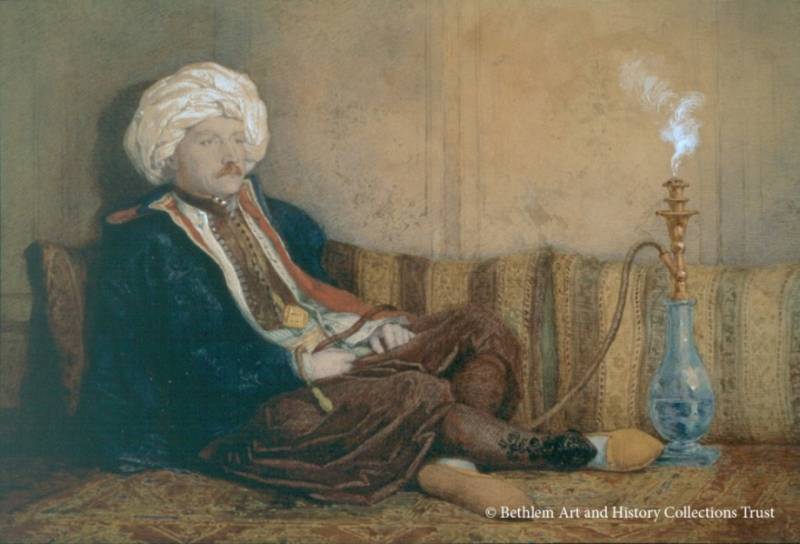 Portrait of Sir Thomas Phillips in Turkish Dress by Richard Dadd, 1817-1886. 1842-43. Watercolour on paper, 17.4 x 25.3 cm. ©Bethlem Art and History Collections Trust, reproduced here by kind permission of the Trust. Commentary by Jacqueline Banerjee.
Sir Thomas Phillips, the Mayor on Newport in south-east Wales, whose heroic stand against Chartist rioters had won him a knighthood, set off for a grand tour after recovering from his wounds. He planned to see the world before settling down in London. Nicholas Tromans suggests that such episodes and enterprises were all part of the utopian aspirations of the time: "As embryonic Brtish socialism dreamed of its possible futures, the Orient became one source of metaphors for such utopian states" (15).
Phillips took Richard Dadd with him to record the tour, and they embarked on their Odyssey in July 1842, covering both Europe and the Middle East, until Dadd finally left him in Paris in the following May, returning to London after having suffered increasingly worrying symptoms of mental imbalance. The pair had covered a vast amount of ground, taking in, amongst others, the Rhine Valley, Venice, Athens, Constantinople, Asia Minor, Tripoli and Damascus, the Holy Land, Thebes, Alexandria, Malta, and then the west coast of Italy (see Demarest). The utopian vision is rendered symbolically here, with Sir Thomas smoking a chibouk, a type of Turkish pipe, an Oriental touch often found in such portraits of travellers, such as that of George Cummings by Andrew Geddes. "Equally, the cross-legged or lounging pose habitually adopted on low-lying Ottoman seating was deemed appropriate for portraying the traveller throughout the eighteenth century and beyond" (Riding 50). There was also a companion portrait of Phillips in Arab costume (see Allderidge). Dadd's memories of this grand tour often resurface in his later work in Bethlem and Broadmoor.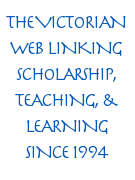 Related Material: Other Paintings of British Travelers in Oriental Costume
Bibliography
Allderidge, Patricia. "Dadd, Richard (1817-1886)." The Oxford Dictionary of National Biography. Online ed. Web. 8 June 2011.
Demarest, Marc. "Richard Dadd (1817-1886)." Web. 8 June 2011.
Riding, Christine. "Travellers and Sitters: The Orientalist Portrait." The Lure of the East: British Orientalist Painting, ed. Tromans. London: Tate Publishing, 2008. 48-61.
Tromans, Nicholas. "Introduction: British Orientalist Painting." The Lure of the East: British Orientalist Painting, ed. Tromans. London: Tate Publishing, 2008. 10-21.
---
Last modified 27 June 2020