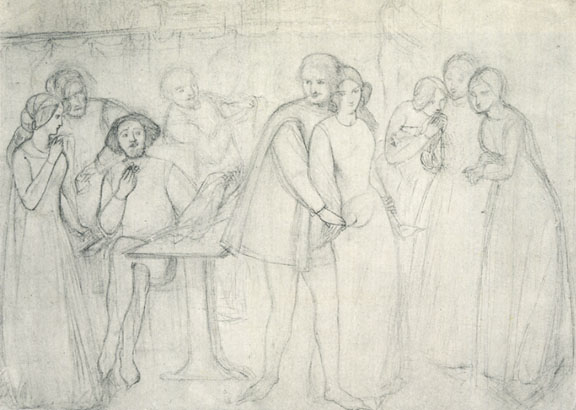 Study for Benedick and Beatrice by Dante Gabriel Rossetti (1828-1882). Pencil on white paper. Dimension: 11 x 14 inches, 28 x 35.6 cm.
Commentary by Hilary Morgan
Shakespeare's Much Ado About Nothing. Doughty and Wahl assume that it was to be a watercolour rather than an oil, but there is no evidence for this. According to a letter to his brother William, Rossetti turned to this subject in September 1850, having failed to make enough progress with the important projected oil painting, 'Hist! said Kate the Queen', to exhibit it.
It shows that at this date Rossetti still hoped to produce complex paintings with themes from literature comparable to those produced by his friends Hunt and Millais. The subject is taken from the last scene of the play where the requited lovers are teased about their engagement.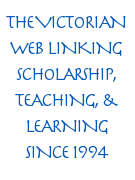 Provenance: H. C. Marillier, Christie's sale, 25 January 1952, part of lot 80 to Bruce Sotheby's sale, 12 July 1967, lot 286; L. S. Lowry, RA.
Exhibited: Manchester City Art Gallery, 1911, Loan Exhibition of Works by Ford Madox Brown and the Pre-Raphaelites, number 180. Tate Gallery, Paintings and Drawings of the 1860 Period, 1923, number 190. Newcastle-upon-Tyne, Stone Gallery, Summer 1967, number 46.
Bibliography
Morgan, Hilary and Nahum, Peter. Burne-Jones, The Pre-Raphaelites and Their Century. London: Peter Nahum, 1989. Catalogue number 20.
Peter Nahum Ltd, London has most generously given its permission to use in the Victorian Web information, images, and text from its catalogues, and this generosity has led to the creation of hundreds of the site's most valuable documents on painting, drawing, and sculpture. The copyright on text and images from their catalogues remains, of course, with Peter Nahum Ltd.
Readers should consult the website of Peter Nahum at the Leicester Galleries to obtain information about recent exhibitions and to order their catalogues. [GPL]
---
Last modified 27 June 2020