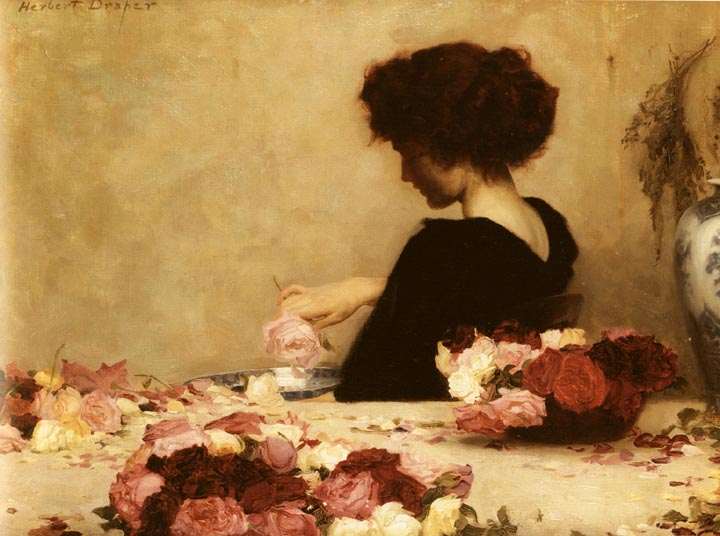 Pot Pourri by Herbert James Draper, 1864-1920. 1897. Oil on canvas, 51 x 68.5 cm. Tate Gallery, London.
Simon Toll describes this "charming image of contemporary feminine beauty" as a "young brunette dressed in violet, sat in profile, behind an expanse of table littered with roses" and explains that it "was much admired for its strong fresh colour and the beauty of the girl." He also explains that the painter had a lifelong affection for flowers, particularlly roses, which "appear regularly throughout Draper's work, as symbols ot femininity, passion and beauty. He had been born in a house overlooking Covent Garden's flower market and it would appear that the colour and perfumes of his childhood created a love of flowers which manifested itself in his work. His earliest known painting and his last exhibited picture were both botanical studies" (81). All that seems unexceptionable, but he then adds: "In the rose bower and the ocean cove Draper found his ideal images of women, but both the rose and the sea have hazards: thorns and sirens. However, just as the rose also has beautiful blooms, the ocean blossoms with the undines, the playful creatures that the French art critic, Sylvestre, described as . . . the innocent flower of the sea's deep garden" (81). As in his discussion of The Gates of Dawn, he seems to have transferred the ideas found in Lamia and The Golden Fleece to a picture that does not seem able to sustain them. Sometimes a rose is just a rose, or at least a rose of passion doesn't convey mortal danger. — George P. landow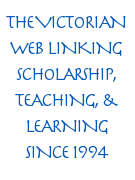 References
Toll, Simon. Herbert Draper, 1863-1920: A Life Study. Woodbridge: Antique Collectors Club, 2003.
---
Last modified 19 March 2002