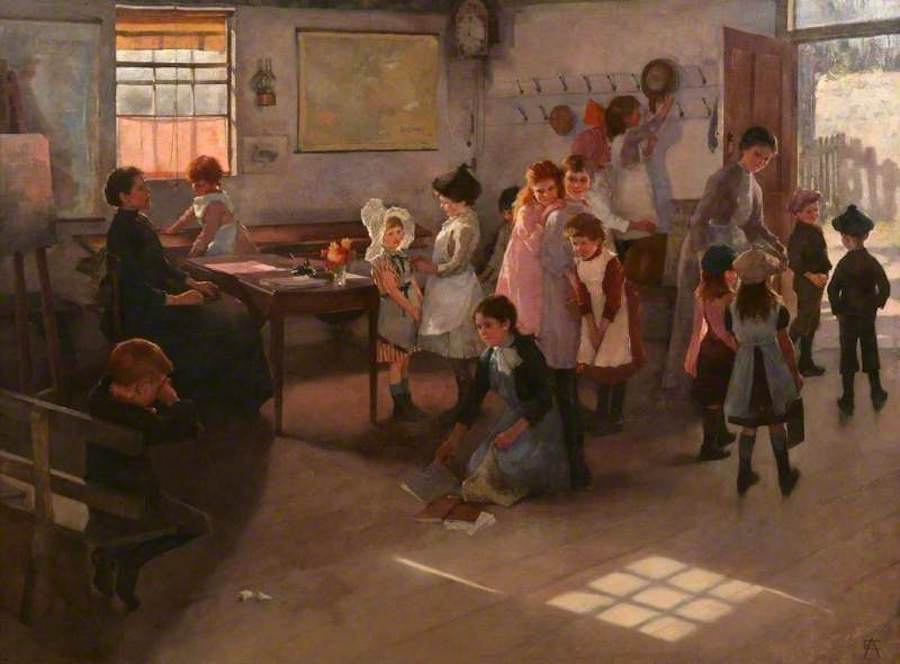 School is Out by Elizabeth Adela Forbes (née Amstrong), ARWS (1859-1912). 1889. Oil on canvas. H 106 x W 145 cm. Penlee House Gallery & Museum, Penzance. Accession no. PEZPH: 1989.62; gift from Monica Anthony. Image kindly made available by the gallery on the Creative Commons Attribution-NonCommercial licence (CC BY-NC), via Art UK.
Through the window comes the afternoon sunlight, and the school door opens on to a pleasant yard with a little fence. It is time to go home. According the the gallery, "This painting depicts the schoolroom in the small village of Paul, just outside Newlyn. It was painted in 1889, shortly before Elizabeth's marriage to Stanhope Forbes. Elizabeth was extremely fond of children and portrayed them in a number of her works." In 1900, she exhibited her work at the gallery of the Fine Art Society, under the title "Children and Child Lore" (Birch 72), and in 1904, according to Penlee House, she held an exhibition with the same title at the Leicester Gallery.
The sense of reality here is very strong, with typical interplay between teachers and children at the end of a school day. Some of the younger children are being shepherded out of the door, wearing their berets, and a little girl is standing on a chair to reach hers, on one of the pegs at the back of the room. A soberly dressed older girl, perhaps a monitor, is just packing her bag, while the little boy on the bench at the left is rubbing his eyes. The Art UK website further suggests that "the small boy is Richard Vivian Spargo, whose two elder sisters are the red-haired girls laughing at him." Is he being kept behind for being naughty? Is it his fault that the books, and some crumpled paper, are on the floor, and is that why his siblings find his discomfiture amusing? There are many other small details to note here, including the child by the desk, perhaps still tying on a younger one's pretty bonnet. Despite being indoors, the painting is filled with light and movement, and is a lovely example of the Newlyn School's prouctions.— Jacqueline Banerjee.
Related Material
Bibliography
School is Out. Art UK. Web 28 February 2021.
Birch, Mrs Lionel. Stanhope A. Forbes, ARA, and Elizabeth Stanhope Forbes, ARWS. London: Cassell, 1906. Internet Archive. Contributed by the Kahl/Austin Foundation. Web. 27 February 2021.
Oil Painting: Acc.no: PEZPH: 1989.62. Penlee House. Web 28 February 2021.
---
Created 27 February 2021