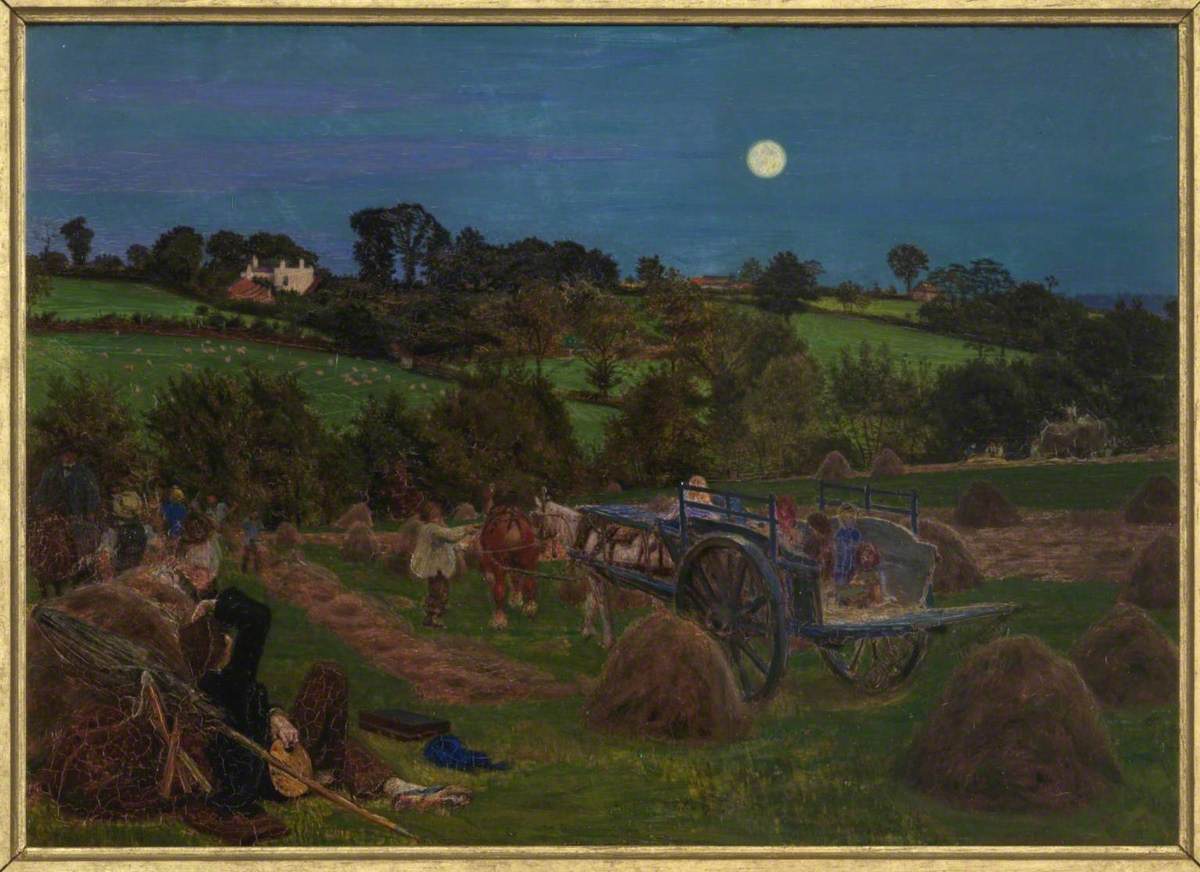 The Hayfield. Ford Madox Brown (1821-1893). 1855-56. Oil on mahogany, 24.1 cm x 33.3 cm. Tate Gallery, Accession no. TO1920 (purchased 1974). Source: Art UK, available for re-use under the terms of the Creative Commons Attribution-NonCommercial-NoDerivatives licence. Commentary and formatting by Jacqueline Banerjee. [Click on the image for a larger picture.]
About The Hayfield, Brown himself wrote,
It was painted at Hendon late in the summer of 1855. The stacking of the second crop of hay had been much delayed by rain, which heightened the green of the remaining grass, together with the brown of the hay. The consequence was an effect of unusual beauty of colour, making the hay, by contrast with the green grass, positively red or pink, under the glow of twilight here represented. [qtd. in Ford 101-02]
Apart from the representation of the artist, sitting in the lefthand corner gazing at the moon — the source of the light which bathes everything with such splendour — it is a busy scene. Indeed, the artist too still has his palette in his hand, and must have just finished his own work for the day. Julian Treuherz sees the completed painting as the "rural counterpart" of Brown's later and more famous Work (170).
Bibliography
Ford, Ford Madox. Ford Madox Brown: A Record of His Life and Work. London: Longmans, 1896. Internet Archive. Web. 21 July 2017.
Treuherz, Julian, with contributions by Kenneth Bendiner and Angela Thirlwell. Ford Madox Brown: Pre-Raphaelite Pioneer. London: Philip Wilson, 2011.
---
Created 21 July 2017