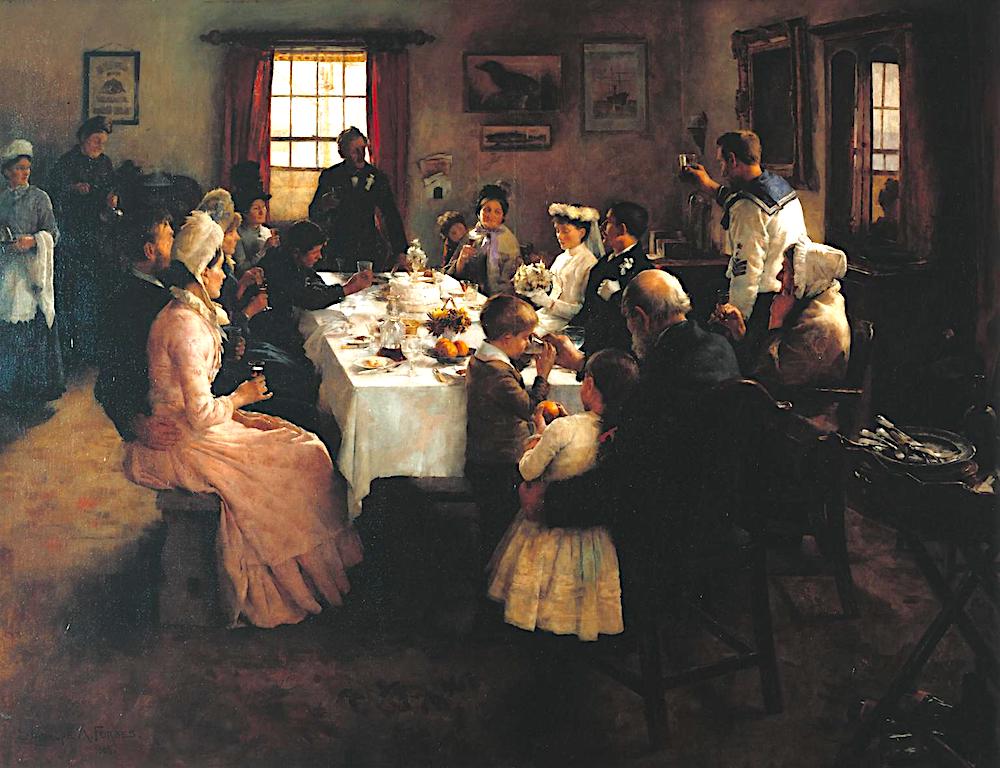 The Health of the Bride by Stanhope A. Forbes, RA (1857-1947). 1889. Oil on canvas. Support: 1524 × 2000 mm; frame: 2005 × 2465 × 155 mm. Collection: Tate, presented by Sir Henry Tate in 1894. Reference N01544. Image kindly released under the Creative Commons Attribution-NonCommercial-ShareAlike licence (CC BY-NC-SA). The closer views below were cropped from the original image, which was downloaded by Jacqueline Banerjee, who also added the commentary. [Click on all the images to enlarge them.]
The Tate's entry on this painting quotes from Forbes's letter of 16 July 1889 to Henry Tate not yet Sir Henry), "I myself will be rather occupied down here - no less a matter than my own wedding. It was inevitable after painting this picture." Indeed, he would be married in the next month, much helped by Tate's generous payment (£600) for this very work.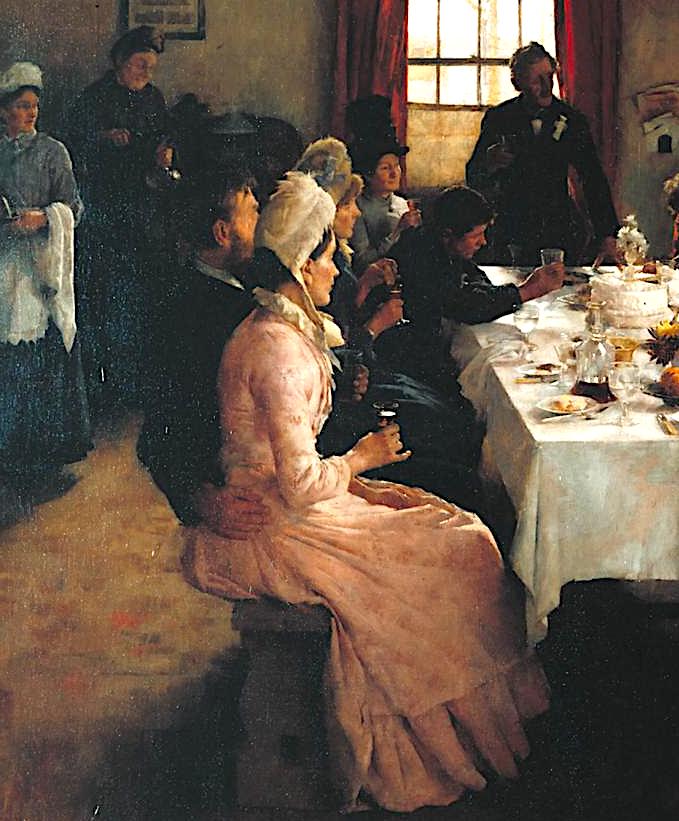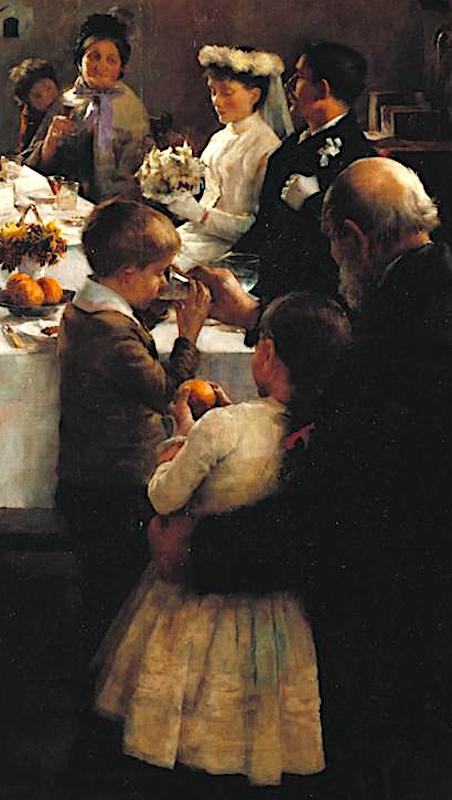 Left: The guests (and people of the inn) look on while the toast is raised. Right: The affectionate grandfather and his grandchildren.
In accordance with Forbes's own philosophy, the scene is set in a local Newlyn inn with various signs of its seaside context — the mariner in his sailor's suit raising his glass, a picture of a ship on the wall to the left, a glass case next to it containing a fish, and so on. Interaction between the guests is natural and touching: the grandfather giving his young grandson a taste of a drink to toast the bride, with his other arm round his granddaughter's waist, the bride blushing and looking bashfully at her posy, the serving maid pausing to look on, and so on. The Forbes's biographer tells us that these were all local people, and comments, "Perhaps for the first time the painter has fully reached in this picture what was to remain for ever after a dominant note of his life's message, his sense of sympathetic humanity. These people, in their humble little parlour, are real and living. Intolerant of all shams and false sentiment, the painter has made himself one with the people he depicts; he has understood the humour which lies so close to tears." (Birch 37).
The Tate commentary concludes by setting this work alongside others by Forbes "which reveal an unchanging view of life in Newlyn at a time when rural activities and traditional ways of life were gradually disappearing. Forbes had a monopoly on such subjects in the eyes of the Victorian public, his paintings being characterised by their subdued palette and square brushwork."
Bibliography
Birch, Mrs Lionel. Stanhope A. Forbes, ARA, and Elizabeth Stanhope Forbes, ARWS. London: Cassell, 1906. Internet Archive. Contributed by the Kahl/Austin Foundation. Web. 1 March 2021.
---
Created 1 March 2021