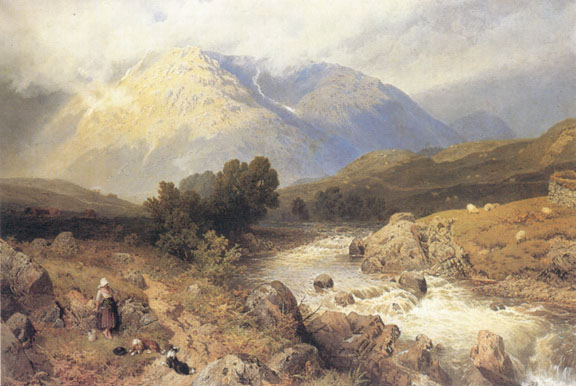 Highland Scene near Dalmally by Myles Birket Foster, RWS 1825-1899. c.1885. Watercolour on white paper, signed with the artist's monogram and inscribed with the aiftist's name and address on the reverse. 30 x 50 inches, 73.7 x 124.5 cm
Commmentary by Hilary Morgan
This is a splendid example of a Victorian finished exhibition watercolour, large in scale, meticulous in finish, always designed to be framed in gold and displayed as if it were a work in oil. It is interesting that this work was first exhibited at the Winter Exhibition of the Old Water Colour Society, for this display, set up at the beginning of the 1860s was first intended to give watercolour artists a chance to exhibit their studies and more informal works. It is clear that by the 1880s the distinction between Summer and Winter exhibitions had diminished, for the present book is one of Birket Foster's largest and most ambitious works. This is also indicated by the fact that it was exhibited so often subsequently.
Birket Foster is popularly associated with rural scenes of Surrey, where he lived at Witley from the early 1860s. However, Scotland too held a peculiar attraction for the artist. He was a regular visitor to the country throughout his life, and, as late as 1896, Tooth and Sons exhibited Scottish scenes which he had executed specially for them. This watercolour, painted near Dalmally in Argyllshire, was one of several large scale Scottish landscapes produced by the artist. Others include 'Loch Maree' and 'Ben Nevis'.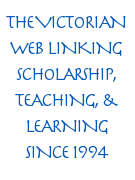 Provenance: J.H. Foster Esq, 1906; L.H. Lefevre Gallery, St James's; Sheriff Wakefield Esq, 1907, 1908; Colonel Sir William Tomlinson, 1943.
Exhibited: London, The Royal Society of Painters in Watercolours, Winter Exhibition, 1885-1886, number 88; Manchester, Royal Jubilee Exhibition, 1887; London, The Irish International Exhibition, 1907; London, Franco-British Exhibition, 1908, number 465
References
Cundall, H.M. Birket Foster RWS. London: A. & C. Black Ltd., 1906.
Spielmann, Sir Isidore. Souvenir ofthe Fine Arts Section, Franco-British Exhibition 1908. London: Bernrose and Son, 1908.
Lewis, Frank. Birket Foster. Leigh on Sea: Lewis, 1973.
Reynolds, Jan. Myles Birket Foster. London: Batsford, 1984.
Morgan, Hilary, and Peter Nahum. Burne-Jones, the Pre-Raphaelites, and Their Century. London: Peter Nahum, 1989. Catalogue number 39.
Peter Nahum Ltd, London has most generously given its permission to use in the Victorian Web information, images, and text from its catalogues, and this generosity has led to the creation of hundreds of the site's most valuable documents on book, drawing, and sculpture. The copyright on text and images from their catalogues remains, of course, with Peter Nahum Ltd.
Readers should consult the website of Peter Nahum at the Leicester Galleries to obtain information about recent exhibitions and to order their catalogues. [GPL]
---
Last modified 27 December 2001