The Dawn of Womanhood by Thomas Cooper Gotch (1854-1931). 1900. Oil on canvas, 114 x 180 cm. Exhibited Royal Academy, 1900, no. 392. Illustrated The Studio (1900), p. 36.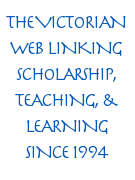 The child, enthroned, sees in a vision approaching womanhood; the phantom figure wears a mask, since all who are no longer children must conceal themselves. The familiar spirit of childhood, on the steps of the throne, is aware of a strange presence and prepares to fly away. — Hughes and Mibus
References
Baldry, A. L. "The Art of 1900." The Studio. 20 (1900): 36.
Hughes, David, and Adrian Mibus. Fin de Siècle: Symbolist, Vienna Secession, Salan and Academy 1900, Belle Epoque. Exhibition catalogue. London: Whitford and Hughes, 1980. no. 26.
---
Last modified 20 May 2007