Introduction
Halliday was born in Epsom Surrey on April 18, 1829, the son of Michael Halliday, a captain in the Royal Navy, and his wife Jane Hester Slack. He was baptized on May 18, 1822 at St. Martin's in Epsom Surrey. He worked as a parliamentary clerk in the House of Lords from 1839. He developed his interest in art later in life, became a friend of members of the Pre-Raphaelite Brotherhood, and started to paint in their style. His post at the House of Lords fortunately allowed him the time and independence to pursue a part-time career as an amateur artist. In 1854 he was asked to join The Folio, a sketching club primarily consisting of members of the Pre-Raphaelite circle. Although an amateur artist, he exhibited at the Royal Academy from 1853-66. He is best known as a figurative painter but also painted landscapes.
In the autumn of 1855 he travelled to the Crimea where he visited the front and painted works related to the Crimean War. In 1856 he exhibited two paintings related to this trip at the Royal Academy, as well as sketches of the Malakhoff and the Redan at the Hampstead Conversazione. In 1857 he participated in the first Pre-Raphaelite group exhibition held at No. 4 Russell Place, Fitzroy Square, London. He was a member of the Junior Etching Club and in 1858 contributed one etching to Passages from the Poems of Thomas Hood, illustrated by the Junior Etching Club. In 1859 he was elected a member of the Hogarth Club. Halliday was serious in his artistic pursuits and supplemented his education by attending life classes at the Artists' Society of Langham Chambers, also known as the Kensington Life Academy.
He was a member of the Artist Rifles and a first-rate rifle shot. He was one of the first eight who competed for the Elcho Shield at Wimbledon in 1862. He was a frequent attendee at the famous musical evenings held at Moray Lodge, the home of Arthur Lewis, a merchant but also an officer in the Artist Rifles, an amateur artist, and also an attendee of the Langham Chambers sketching club. In 1864 Halliday travelled to Algeria, possibly for his health or to seek more exotic subjects to paint. Halliday died suddenly after a short illness on June 1, 1869 at his residence on Thurloe Place, South Kensington, in London. He was buried in the Brompton Cemetery. — Dennis T. Lanigan.
Artistic Relations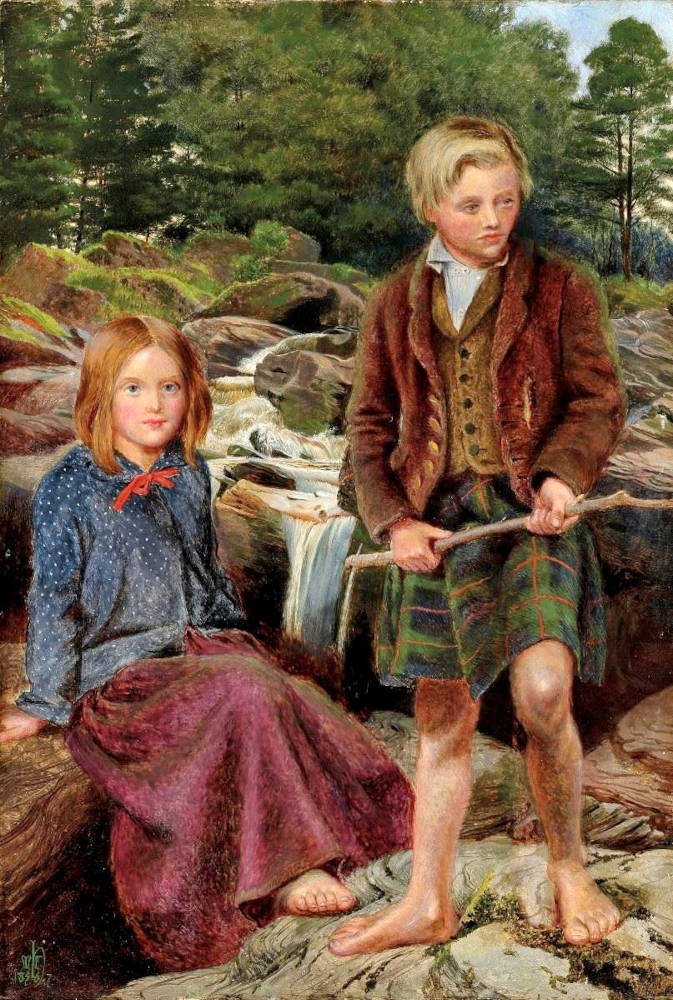 Works
Bibliography
Frith, William Powell. John Leech, His Life and Work. 2 Vols. London: Richard Bentley and Son, 1891.
Hunt, William Holman. Pre-Raphaelitism and the Pre-Raphaelite Brotherhood. 2 Vols. London: Macmillan and Co. Ltd., 1905.
Lutyens, Mary. Millais & The Ruskins. London: John Murray, 1967.
Peattie, Roger M. Ed. Selected Letters of William Michael Rossetti. University Park: The Pennsylvania State University Press, 1990.
Surtees, Virginia Ed. The Diary of Ford Madox Brown. New Havven and London: Yale University Press, 1981.
Surtees, Virginia Ed. The Diaries of George Price Boyce. Norwich: Real World, 1980.
Waters, William and Alastair Carew-Cox. Angels & Icons. Pre-Raphaelite Stained Glass 1850-1870. Abbots Morton: Seraphim Press, 2012.
---
Last modified 20 February 2022